One indicator of commercial activity is shipments, such as train and truck traffic.
Reader Marshall Auerback provided this sighting which shows that the decline in shipments is accelerating. Note that one of the general reasons for optimism is that many indicators are getting worse less quickly and some appear to be stabilizing.
Now this is merely a one-week shift and may be noise, but the change was pretty dramatic, and in the wrong direction. As Marshall noted:
The latest data out of the Association of American Railroads has been released. While a month ago the weekly YoY decline hit a very troublesome -17.1%, the last weekly decline added another almost 3% to the deterioration, and is now down -19.8% for Week 36. Cumulative traffic decline is flat at -18.4%. Including intermodal traffic or ton-miles in the calculation does nothing to improve the conclusion. Not a single "carload originated" category has improved, and in fact even the relatively stable ones from the prior update have slumped.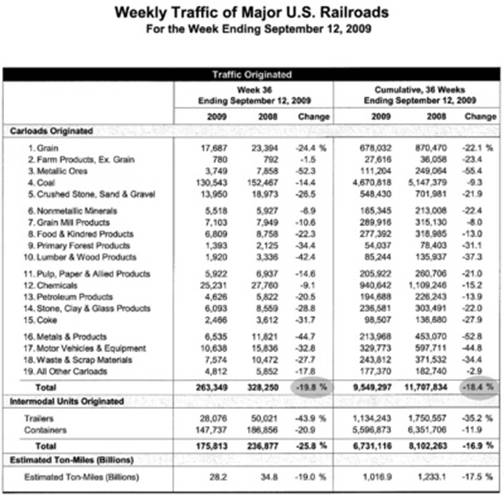 The data are not seasonally adjusted so when you actually take a look at the levels, they are all the way down to where they were in 1993.