The Administration put on a full court press this weekend to shore up Bernanke's confirmation vote, which was looking increasingly doubtful as of Friday. Over the weekend, Democratic and Republican leaders in the Senate said they were confident that Bernanke would be confirmed. The media took up the call, with stories appearing in virtually every MSM outlet blaring that Bernanke was in.
But how seriously should we take this declaration of victory? Contrary to the efforts to present the confirmation vote as sealed, it is not in the bag:
Of senators who made statements or were contacted by Bloomberg yesterday and today, 27 said they would vote for or were leaning in favor of Bernanke, while 16 were opposed or leaning against him, and 30 were undecided.
Jim Bianco made a tally Sunday afternoon and this was his bottom line:
Bernanke's reappointment vote is coming down to the wire, it is going to be close. Recall that Bernanke was reappointed in August by Obama and the Senate Finance committee approved him on December 17. Now with seven days until his term expires, his nomination has gone from a sure thing to in doubt.

And, if you think this is not political, consider the 36 senate senate up for election in December:

8 said they would vote "aye" (5 democrats, 8 republicans)

9 said they would vote "no" (3 democrats, 6 republicans)

4 are publicly declared undecided and all are retiring and not running again ( 2 republicans and 2 democrats)

15 have made no public statements, all are running for reelection (8 democrats, 6 republicans)

In other words, senators up for reelection are saying "no" at a rate of 47%, not enough to get Bernanke reappointed let alone achieve 60% for cloture. Party affiliation does not matter.
Bianco thinks that what might push the nomination over was the biggish down day on Friday, which as one equities trader correspondent noted:
Also, I love how the MSM perpetuates the idea that a market sell off simply reflects "investor fear" over what a less bank-friendly Fed Chairman might portend. It couldn't be that the banks themselves are doing the selling in order to create that appearance.

That could never happen. Nope. Never.
So the US has become a country of democracy by financial markets rather than the ballot box,
Bianco believes, interestingly, that the market reaction is not over dismay at the prospect of losing Bernanke (as Matt Yglesias points out, Bernanke being replaces as chairman makes less of a difference to the Fed than one might imagine) than of the specter of the Administration floundering at the lack of a plan B.
So faithful (and promiscuous) readers, this is a long-winded introduction to saying this is a time when manning the phones and e-mails can make a difference.
Recall that on the first TARP vote, the House leadership thought it could push the vote through, and failed. And while the banksters won in the end, the groundswell came out of the blue and stunned Congress.
Here we have a very different fact set, and a key leverage point. A push to get the Senate to turn down Bernanke is not about Bernanke per se, even though Bernanke does not deserve to be Fed chair again. Per Steve Keen's post today and other posts I have written, there is ample reason to replace Bernanke, starting with his intellectual capture and failed record. What kind of endorsement is it to say someone is a decent firefighter when he was the one that helped torch the house in the first place? And even if you believe he did a good job in the crisis (which I do not, the failure to examine the health of the major investment banks and plan for an failure in the wake of the Bear collapse ALONE is a shocking lapse), he is evidently satisfied to patch up the system with duct tape and baling wire. Unreconstituted, unreformed, and more concentrated, the financial system will break down again, likely in a more spectacular way.
The real issue is that that the election of Scott Brown in Massachusetts has finally begun to penetrate the Administration reality distortion field. Unfortunately, they still labor under the delusion that Obama's smooth talking and mere Potemkin reform can assuage those clearly irrational voters. They just have to up their game, that's all. So Tim Geithner momentarily retreats to the background, Volcker gets more photo ops, Obama scowls more when he talks about bankers, and they serve up some tough-sounding measures, like "limiting" proprietary trading….which it turns out will, like every other "reform" Obama has proposed, leaves the status quo almost entirely intact.
While the Administration is still shaken and trying to regroup is time to keep the pressure high. And unlike health care or bankers' bonuses, the Fed is not considered to be of much interest to the average voter. So evidence of voter disapproval on a matter that would normally be off the popular radar screen will send a potent message that the public is engaged, is following the politics blow by blow, and is no longer easily snookered.
The Bernanke vote is a powerful way to send a message to the Administration that the public is NOT buying what they are selling on the financial front, and much more fundamental change is needed.
In particular, one finesse that some Senators are no doubt considering is a "yes" vote on cloture (with Senators threatening to filibuster, the motion to end debate and proceed to a vote requires 60 votes to pass) and a "no" vote on the confirmation (which requires only a simple majority for Bernanke to be confirmed). Thus Senators could say they voted 'no" on Bernanke, yet have fallen in line with the vote that mattered, the cloture vote.
So it is important in contacting Senators to tell them specifically that you want a no on both the cloture vote AND the confirmation vote.
The vote could be as early as Wednesday, so calls and e-mails today and tomorrow are critical. And the longer the confirmation process drags on, the more the momentum of the weekend (the shoring up of Bernanke) starts to dissipate.
Remember, if you aren't part of the solution, you are part of the problem. Turn up the heat. This is a juncture when a big show of public interest can have an impact.
Flood senator's inboxes. Here is a contact info, which you can search alphabetically or by state.
Keep it short and simple. Michael Shedlock, who was effective in rallying his readers on previous votes, has this advice:
Whether they are in your state or not, please call 5 undecided senators.

Concentrate on the senate. The house has no say on this.

What To Say: Make it simple so as to not tie up the lines … "Vote No on Cloture to end debate on Bernanke. I am opposed to the reappointment of Bernanke [give your personal reason] and I think we should start all over on health care [or whatever you think about that issue]. "

That part in bold is crucial. Specifically say "Vote No on Cloture".

Be prepared to name your city and give a zipcode. Here is the Zip-Code Database.

Next call and email your senators with the same message.

Here is a directory sorted by state of all the Senators of the 111th Congress.

You can also look up the phone numbers in the Online Directory For The 111th Congress but the first link may be easier to use for just senators.
Here is the Sunday tally per Jim Bianco:
Senators who have said they are undecided: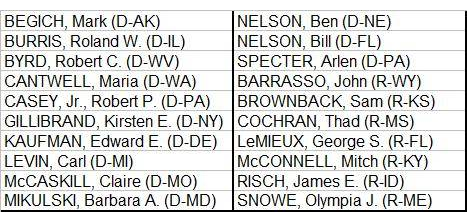 Senators who have not taken a stand on Bernanke: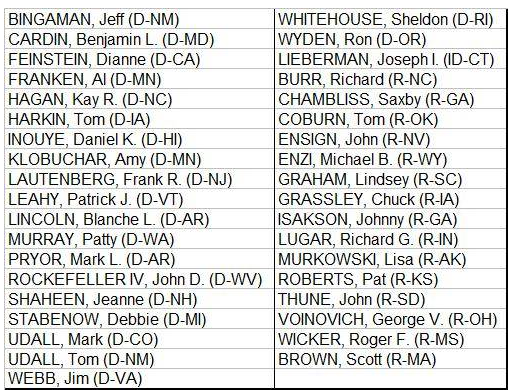 Time to quit complaining and take action. Make a difference.