By Richard Alford, a former economist at the New York Fed. Since then, he has worked in the financial industry as a trading floor economist and strategist on both the sell side and the buy side.
A week ago, in Atlanta, Bernanke responded to his critics, including John Taylor of Taylor Rule fame (the Taylor Rule is a benchmark widely used by central banks in setting their "policy" interest rates). Bernanke asserted that monetary/interest policy has been appropriate-and was not" too low for too long" from 2001-2006. Taylor responded in a WSJ Op-Ed piece on January 11th reasserting his position that interest rates were "too low for too long". A very public debate has been joined. Taylor's view is based on his chosen variant of the Taylor Rule, while Bernanke cites his own chosen variant of the Taylor rule.
This post establishes that interest rates were "too low for too long" (from 1996-2006) while dispensing with the Taylor Rule and its sensitivity to choices of inputs and assumptions. It does so in a framework that employs definitions and measures favored by Bernanke. The frame work of the analysis is then used to answer other questions about economic policy in the past and going forward.
The Deflationary Threat?
Price stability/inflation targeting has been center stage of interest rate policy since Japan began its lost decades. Fear of deflation dominated the thinking of the Fed. This was especially evident in the response to the recession of 2001. The decidedly expansionary monetary policy adopted at the time was justified in terms of preventing a deflationary episode like Japan's. In a February 2002 speech titled "Deflation: Making Sure 'It' Doesn't Happen Here." Bernanke defined deflation as:
"Deflation is a general decline in prices, with emphasis on the word "general".
Bernanke was drawing a distinction between changes in relative prices of some goods on the one hand and deflation – pervasive declines in prices – on the other. Later in the speech, Bernanke re-emphasized the point: "Deflation per se occurs only when price declines are so widespread that broad-based indexes of prices register ongoing declines." However, Bernanke and the Fed allow for exceptions. For example, food and energy inflation/deflation have been ignored even when changes in food and energy prices registered on broad-based indexes.
In the speech, Bernanke also specified the cause of deflation: "Deflation is in almost all cases a side effect of a collapse of aggregate demand –a drop in spending so severe that producers must cut prices…to find buyers." In a footnote, Bernanke added:" I don't know of any unambiguous example of a supply-side deflation, although China in recent years is a possible case."
Bernanke therefore defines a deflation as a generalized, broad-based, widespread decline in prices brought on by a severe drop in spending. The 425 bps of rate cuts in the Fed funds target during 2001 was presented as necessary to prevent a demand-lead deflationary spiral.
However, a simple decomposition of Bernanke's favorite inflation measure, the PCE, for the bubble years 1996-2006 indicates that price declines were not broad-based, widespread, or "general", but localized even as they introduced disinflation to the broad-based price indexes. Furthermore, there is evidence that demand by US-based economic agents did not drop below the level implied by full employment.
Chart (I) is of the PCE (and its components) price deflator(s). It clearly indicates that deflationary pressure was far from broad-based or generalized. The deflationary pressure was confined to the consumer durable goods component of PCE. The durable goods component had a weight between 12 to 13% during the period 2001-2006.
Chart I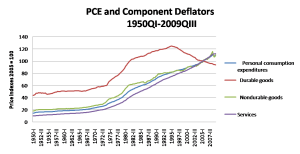 The price indexes for the PCE and the non-durable goods components would have been weaker in the absence of the expansionary monetary policy of 2001. However, two points are clear:
1. the deflationary pressure was concentrated in the durable goods component, and

2. from 1996 to the present, the behavior of the price index for the durable goods component of PCE was largely independent of US economic performance, the overall PCE deflator, and the stance of monetary policy.
The behavior of prices during the period 1996-2006 does not fit Bernanke's definition of deflation.
Was the decline in PCE Durable goods deflator reflective of a severe drop in spending?
To answer this question we turn to the Quantity indexes for PCE and its components (Chart II).
During the period in question (1996-2006), the quantity index for the durable goods component of PCE indicates that the quantity of consumer durables goods purchased not only grew, it was the fastest-growing component of PCE.
Chart II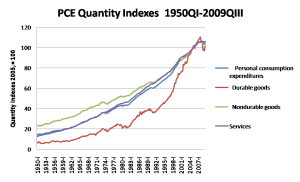 Lower prices and higher quantities are not consistent with a drop in demand and producers having to cut prices to find buyers. They are indicative of a positive supply shock – an outward shift of the supply curve in this case for consumer durables.
What about the supply-demand balance for the economy as a whole?
Chart III presents the Final Sales to Domestic Purchasers (C+G+G), GDP (aka Aggregate Demand –C+I+G+X-M) (both from FRED at the St Louis Fed), and potential GDP as estimated by the CBO (GDPPOT) (all series are in current Dollars). It indicates that demand or final products by US-based purchasers exceeded potential US output as estimated by the CBO for every year during the period in question.
Final Sales to Domestic Purchasers (FSDP) exceeded potential output (GDPPOT) in every year from 1995 to 2007– -and late in the period by over 6%. It also indicates that at the cycle trough in late 2002, the FSDP was still about 104% of GDP. Whatever ills the US economy experienced between 1996 and 2006, they were not because US economic agents weren't spending enough to generate full employment.
Chart III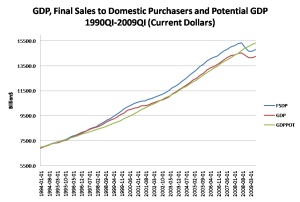 Given Bernanke's definition of deflation, the US did not experience deflation at any point between 1996 and 2006, nor were there imminent bouts of deflation. Disinflation was localized in consumer durables and US economic agents remained willing to buy more than the US could produce. There was, however, a significant decline in the relative prices of consumer durables/tradable goods.
In so far as the interest rate reductions in 2001-2003 and the painfully slow tightening cycle that ended in 2006 reflected fear of a domestic demand induced deflation, monetary policy was inappropriate.
What was the underlying problem if it wasn't insufficient US-based demand?
Three factors were responsible for the combination of disinflation and generally disappointing growth of output and employment. They were
1. globalization which lowered the prices of tradable goods,

2. a Dollar unable to adjust to maintain anything close to external balance, and

3. the absence of any developments or policies to promote/maintain US international competitiveness.
The US experienced disinflation and unemployment not because of a decline in the willingness of US-based economic agents to spend, i.e. the Bernanke explanation for deflation. Globalization was a shift in the world supply of tradable goods that lowered their prices. With the Dollar unable to adjust, some domestically produced, internationally tradable goods became non-competitive. US imports grew relative to US exports. The trade deficit/current account drove a progressively wider wedge between spending on final goods and services by US-based economic agents (FSDP) and the demand for US output (GDP).
Was US monetary policy inappropriate from 1996-2006, but especially 2001-2006?
The short answer: Yes.
Monetary policy is not a substitute for effective exchange rate and/or trade policies. Monetary policy cannot increase the prices of tradable goods and services relative to non-tradables. Monetary policy masked some of the symptoms resulting from globalization and the inability of the Dollar to adjust, but did nothing to correct the underlying problem.
During the period 1996 and 2006, there was a fundamental mismatch between the causes of the disinflation and unemployment and the policy steps taken in response. Policymakers employed the tools of counter-cyclical domestic aggregate demand management when the cause of the problems was a structural/permanent external supply shift. Policy in general – not just monetary policy – was inappropriate. Trade and Dollar/currency policy were inappropriate in that they failed to exist.
The policy mix gave rise to undesirable domestic side effects. Monetary policy does not affect the prices of non-tradables uniformly. Fed policy increased the demand for interest rate-sensitive goods such as housing and financial assets. The prolonged period of low rates altered investor and consumer behavior on a massive scale between 2001 and 2006. Fed policy incented economic agents to borrow short-term and buy real estate and financial assets. It incented financial firms to engage in regulatory avoidance and arbitrage, as well as to lobby regulators to relax limits on the sizes of balance sheets relative to capital. It also increased consumption and depressed savings through wealth effects.
At some point, certainly post-2002, someone at the Fed should have listened to the many voices that were issuing warnings about the growth of the unsustainable trade imbalance, the unsustainable decline in private savings, the unsustainable asset prices bubbles, and the increased use of leverage by financial institutions individually. Each of them implied that the "great moderation" wasn't. At some point, someone at the Fed should have realized the short-term benefits arising from masking the symptoms of globalization were outweighed by the inevitable future costs.
In the mid 1990s the US faced a problem: a manageable trade imbalance. The Fed papered over the problem. Today we still have a trade imbalance, but it is coupled with 1) unemployment at 10%, 2) a severely crippled financial sector, 3) monetary policy at the limits of its usefulness, 4) consumer balance sheets in tatters, 5) state and local government balance sheets in tatters, and 6) a Federal deficit that is at a post-war record. I think it is safe to say that it was a bad trade.
Could the disinflationary effect of globalization be large enough to lead the Fed to set policy that was inappropriate for long-term economic and financial stability?
Given the rate of decline of the prices for consumer durables and the weight(s) attached to that component in the overall index, the deflation in consumer durables pulled the overall index down by about 50 bps each year. In a speech in 2005, Kohn said that research by economists at the BOG in Washington indicated that declines the prices of "tradable goods" reduced core (ex-food and energy) inflation by between 50 and 100 bps a year for the period (1996-2005) (allowing for some secondary effects). Needless to say, there is a good deal of overlap between durable goods and tradable goods.
Isn't 50 or 100 bps a year to small to be a concern? Given that the Fed's inflation target (PCE) is 2% (200 bps) per annum, but that the Fed was in a total and complete panic when PCE inflation was still above 1% (100 bps), 50-100 bps per annum was between half and the whole game.
Chart IV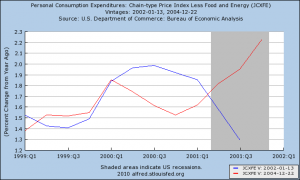 There was also a non-trivial measurement problem. Chart IV shows the reported PCE deflator, ex-food and energy, as it was initially reported at the beginning of 2002 (in blue) and how it was reported after revisions at the end of 2004 (in red). (Data from ALFRED at the St Louis Fed)
Between globalization-driven declines in the prices of tradable goods and the measurement error reported above, it is very likely that the Fed cut rates too much too fast, and by doing so, set the stage for too low too long.
What does this imply for economic policy going forward?
With the current account deficit still in the neighborhood of 3% of GDP and the consumer sector having decided to save and rebuild its balance sheet, the argument that classic Keynesian stimulus will relatively quickly generate a self-reinforcing, sustainable recovery that achieves full employment is nonsense.
There is no reason to assume that self-reinforcing, satisfactory growth will be achieved until external balance is restored and balance sheets are rebuilt.
Given the likely structural "drags" from the trade and consumer sectors, debt-financed stimulus spending will be nothing more than a short-term palliative that will generate higher debt levels relative to income without correcting the underlying problems. Palliatives are in order, but policymakers should not pursue palliatives to the exclusion of curatives.
To bring about sustainable growth, policy must encourage the redirection of resources away from the production of non-tradable goods and services and toward both the production of tradable goods and investment, especially in manufacture of tradable goods. Policymakers must also take steps to make sure US manufactured tradable goods are competitive enough on world markets to restore a sustainable external deficit, if not external balance. Households must be able to rebuild their balances sheets.
Unfortunately, to date, US policy is currently directed at promoting:
1. consumption -at the expense of savings,

2. pegging asset prices (Japanese-style PKOs),

3. promoting investment in housing which does not generate jobs for the life of the investment (as plant and equipment investment can) or contribute to a narrowing of the external imbalance,

4. reducing US competitiveness via regulation and taxation,

5. ignoring the external sector and problems of competitiveness completely, and

6. subsidizing producers of tradable goods and services that failed the market test, but not supporting firms that have passed the test.
US households, labor, businesses and financial firms have all altered their behavior in light of globalization. Only US policymakers continue to behave as if US prices, output, and income are entirely determined domestically.
How did we wind up in this mess?
There are numerous reasons. Macro-economic policy, especially monetary policy, has been sold as a cure-all. If you look at all the partisan and ideological positions taken by economic policymakers, economists, pundits, etc., they start out with very different policy prescriptions, but end with the same conclusion: follow my advice and everyone will live happily ever after. Given the degree of confidence with which they are expressed, they are all fairy tales. There are limits to what policy can achieve. Once again, policymakers tried to fine tune the economy, only to create problems.
It is not simply a lack of tools, regulatory or otherwise. There has been an almost total absence of leadership. Policy has been short-sighted and myopic. There has been no willingness to endure any short-term pain regardless of potential future benefits.