I am on the cover of a magazine I cannot read.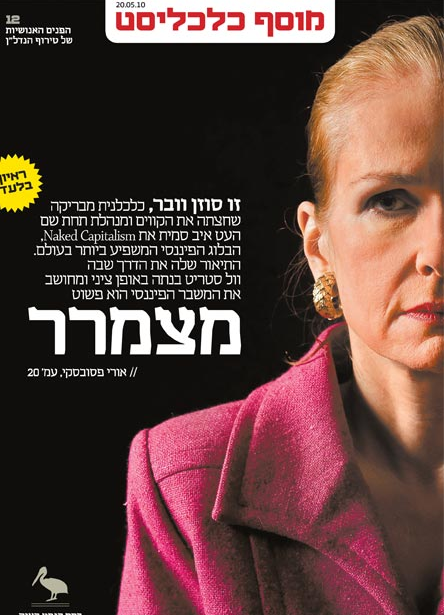 Calcalist is the leading Israeli business daily. The author of the article (4500 words), Uri Pasovsky, said:
The cover says something like: "This is Susan Webber, a brilliant economist who crossed the lines and, under the pen name Yves Smith, runs Naked Capitalism, the world's most influential financial blog. Her account of how Wall Street has brought about the financial crisis in a cynical and calculated way is just chilling".

The article headline, at least in the web edition, reads something like: "Yves Smith uncovers: how the world crashed because of a calculated manipulation by an evil hedge fund".

As you can gather, they have a flair for understatement down at the newsroom.
So I guess that makes me an honorary economist.
The full article is here. It has more photos of me looking fierce and one of Roubini looking serious. Hopefully everything I said is at least somewhat sensible.