BP has clearly decided that it needs to do what it takes to get the Administration to de-escalate its campaign against the oil producer, and is signaling that it is willing to cut its dividend, something it has fiercely resisted, as a peace offering. BP's chairman, Carl-Henric Svanberg has been summoned to meet with Obama next week, and the oil company is clearly keen to be able to say afterwards that the meeting that the two sides had at least reduced their hostilities, and better yet had made some progress.
There has been quite a bit of consternation on the other side of the pond over the now-likely dividend cut. 40% of BP investors are in the US; they'll presumably won't fight the reduction too hard. But BP has no doubt had to sell the idea to shareowners outside the US, particularly in the UK, where the oil company pays 13% of FTSE dividends. But it's hard to argue that investors did not see it coming; on Wednesday, Financial Crookery (hat tip Richard Smith) pointed out that the market was already expecting a reduction of 45%.
Presumably, BP is simultaneously negotiating with the Administration while trying to manage expectations. It would be foolish to do otherwise; it is almost never a good idea to have top executives negotiate with each other, especially in a situation which is already charged. Another approach which would be viable would be for the two sides merely to agree on the shape of the table, as in what issues need to be resolved in what timeframe, and who will be tasked from each side.
As far as the substance is concerned, BP appears to want the Administration to quit criticizing it in public (or at least to tone it down a lot) and to set some limits on what BP will be held responsible for. According to the Financial Times:
They will promise to retain sufficient cash to meet all legitimate claims, which analysts say could range from $5bn to $40bn. However, BP will reject the administration's calls for the company to pay the wages of all rig workers laid off as a result of the government's deep-water drilling ban.
Yves here. The key issue, which is going to be central in both the negotiations with the government and in court, is what constitutes a "legitimate claim."
BP does not appear ready yet to say how much it will reduce dividends, and it does not need to make that decision until July 27. The oil producer is having a discussion with its board on Monday, it may make some preliminary decisions then. From Bloomberg:
The London-based company's options include paying the dividend in a form of equity and placing the payment into an escrow account until the spill cleanup is complete, analysts said.

"They're going to see what the political pressure looks like before they make the decision on the dividend," Jason Gammel, an analyst at Macquarie Securities USA Inc., said in a Bloomberg Television interview. "The most likely thing is that they would suspend the dividend for one to three quarters."
If press has an accurate reading of the state of play, BP has put some initial stakes in the ground, and appears to be looking for signals from the US before it decides what to offer in the way of dividend reductions.
The President and Congress are under pressure to take action against BP, and the letter below from the Administration throws down a gauntlet (hat tip reader Swedish Lex):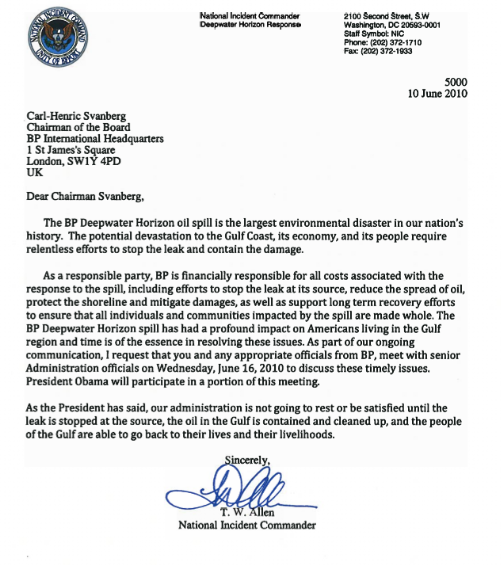 Now if Team Obama sticks to its guns, it should demand that no dividend be paid until the amount of damages in known with a high degree of certainty. That may well prove to be more than the one to three quarters. As Bill Black argued in the New York Times:
The fundamental truth of litigation is that it does little good to eventually win a legal claim for damages or restitution if you cannot collect on the claim. If the corporation puts assets out of the reach of the U.S., the citizens will lose.

Dividends not only put money out of the reach of the U.S., but also reward the people most responsible for causing the damage. BP's officers and employees, in their capacity as shareholders, are the most obvious example of this, but shareholders are also responsible as owners of the corporation. The deal shareholders make when they invest is that if the corporation cannot pay its debts to creditors the shareholders get nothing.

BP could be insolvent if it is held responsible for the tremendous damages it has caused. The U.S. should not have to tell BP not to pay dividends (or senior executive bonuses). Of course, if BP acted prudently it would not have a horrific record of regulatory violations, several of which led to multiple deaths. It is no surprise that BP intends to pay dividends and bonuses. But any smart huge, unsecured creditor of BP should act to protect its ability to recover damages by suing to block the dividend payment. This is not "socialism" or government putting its boot on BP's neck — this is a question of competence as creditor.
Yves here. The consensus now is that the damage resulting from the leak will not threaten the solvency of BP. But the leak has not been capped, and the new estimate of 25,000 to 30,000 barrels a day could prove to be low. In addition, the oil from this leak is a heavier grade of crude than in the last monster Gulf leak, the Ixtoc spill in 1979, and thus is likely to do more harm per barrel of output. And Ixtoc leak, which was easier to contend with (it took place at only 160 feet) still took ten months to halt. Remember, those damage estimates of $5 billion to $40 billion assume that the relief wells due to come on in August are successful. If not, the extent of the disaster and the resulting losses could mushroom considerably beyond anything the financial community has penciled out.
Another reason for Team Obama to be tough with BP is that there is good reason to believe that the company has acted in bad faith. BP's insistence on keeping scientists and monitoring equipment away until the initial efforts to plug the leak failed makes no sense except as a deliberate effort to lower damages. Say BP had contained the leak in the first month. It has first claimed 1,000 barrels a day, but then acquiesced to the government guesstimate of 5,000 barrels a day, which would have been the official tally, not the 20,000 to 40,000 a day that has been subsequently determined to be the likely output. Anyone who suffered damage would have to argue that it was indeed due to BP, which in many cases would be credible only if the volume of oil was considerably larger than the BP claims. That in turn would involve costly discovery and expert testimony (which would be contested by BP experts).
While this sort of misrepresentation may have seemed useful to BP, the Administration relied on BP's 5,000 a day estimate. And had the leak been a mere 5,000 a day, the supposed worst case scenario, that it might persist for three months, would result in a significant but not horrific level of damage. But BP's obfuscation led to a less aggressive disaster response and made what was bound to be a bad situation for the Administration worse. Before you buy BP's claim that it was really really hard for them to figure out how bad the leak was, the oil driller claimed in 2008 to have developed a new technology for measuring oil flow from leaks.
What do you think? How will you evaluate what comes out of next Wednesday's meeting between BP and Obama? What do you see as appropriate measures? What would you see as a sign that the President has conceded too much ground?