In case you've been paying attention to market action rather than economic news, some key data releases for July have been less than cheery. For instance, consumer confidence has taken a nosedive, the US trade deficit unexpectedly worsened (meaning one of the few key sources of good news, the export sector, has hit an air pocket), retail sales continue to decline. The elephant in the room is the continued scary high level unemployment, While the markets liked last week's report of an improvement in initial jobless claims, we are so far from a real recovery here that it isn't funny.
Another big source of pressure is the poor outlook for housing. Even though prices showed some improvement in May, there is good reason to think this is a blip in the current trend towards continued declines. Bank analyst Meredith Whitney and economist Robert Shiller, both of whom did a good job of projecting the trajectory of housing prices pre-crisis, call for further declines, Whitney a scary additional 10% by year end. This chart of bank inventory suggests why (hat tip Michael David White):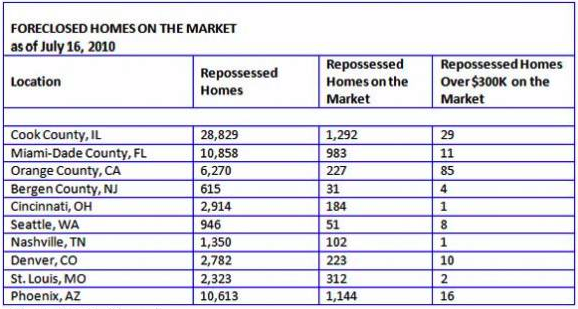 And as Alan Greenspan points out, falling home prices probably means bye bye recovery.
The Administration has already thrown a lot of ammo at the housing market, via having the Federal government provide over 96% of housing finance this year (either directly or via guarantees) and through its subsidies to home buyers, first an $8000 first-time home buyer tax credit, then by providing a $6500 tax credit to all home purchasers.
Mortgage investors are now concerned that the Treasury will pull a new rabbit out of the hat in its efforts to validate home prices and save banks via widespread refis. Bear in mind this view amounts to an investor rumor, and no indication from the officialdom that a program like this is in the works. However, given the importance of housing to consumer balance sheets plus the upcoming elections, I would not underestimate what the powers that be might do to shore up home values. And the pressure to take more aggressive moves could become more acute if more and more banks face trouble foreclosing due to lawyers increasingly finding and contesting mortgage trust failures to take the steps needed to establish that they own the note (the IOU), which is necessary in 45 states for them to have standing to foreclose.
From the Financial Times:
There has been speculation among investors that the government might decide to offer homeowners a way to refinance mortgages and replace them with cheaper loans…

There have been no comments or specific suggestions from Washington about such a programme, but it has been discussed in the past as one potential policy response to the economic downturn…..

even though mortgage rates are at a record low, refinancing has not recovered, in spite of a small pick up last year.

This reflects the stricter standards many mortgage lenders are applying when considering new applications, as well as the fact that the drop in house prices across the US has left some homeowners with mortgages which are worth more than their houses.

A government programme aimed at making it easier to replace mortgages with cheaper ones could reduce monthly home loan bills and boost consumer spending, an important driver of US economic activity.

The US Treasury is planning a conference this month to discuss the mortgage market, including reform of state-backed mortgage financiers Fannie Mae and Freddie Mac, which are now financing nearly all new mortgages.

"The mortgage summit planned later this month has begun to attract a lot of attention among mortgage investors and has led to growing speculation of a massive [refinancing] wave," said Steven Ricchiuto at Mizuho….

A rise in mortgage refinancing activity would particularly hurt the value of the $700bn-worth of so-called "high-coupon" mortgage bonds. Many are trading above 100 cents in the dollar, meaning they cost above par value.