The drumbeat of press in favor of visibly failed austerity programs is simply astonishing. We have compelling evidence that they backfire in countries with heavy debt load, with Ireland and Latvia the poster children. By contrast, Iceland, with the mind-numbing debt to GDP ratio of 900% (some have put it at even higher levels at its peak), stiffed many of its foreign creditors (who should have taken notice that things were a wee bit out of balance, although glowing reports from the likes of Fredrick Mishkin may have blinded them to that fact). It also depreciated its currency and its voters turned down an IMF rescue which would have required Iceland to repay the foreign creditors of bust Icelandic private banks, to the tune of €12,000 per citizen.
Loans are also risk capital, but modern bondholders have rewritten the rules: "Heads I take a risk premium, tails I get taxpayers to eat my losses."
As John Mauldin points out, forcing creditors to take their lumps is the right course of action. Iceland is already showing GDP growth, while Ireland, which is following the austerity playbook to perfection, is imploding.
But as Joseph Stlglitz points out, the advocates of austerity have a lot in common with medieval bloodletters. When it's pointed out that their programs made matters worse, their response is that they simply weren't implemented aggressively enough.
That is not to say we don't have a lot of spending that could and should be redirected in the US. America spends more on its military, broadly defined, than the rest of the world combined. We have a heavily subsidized agricultural sector. We also subsidize banking heavily, when by any rational calculus we should either tax it aggressively or regulate the hell out of it. But in the austerity debate, these favored sectors (well, ex the sacred cow of banks) are being included on the theoretical whackage list, along with a whole bunch of other stuff, most notably Social Security, which the phony branding of the necessity of shared sacrifice.
To illustrate how badly discourse has been commandeered by misguided moralizing, consider the piece by Matt Bai in today's New York Times. A representative section:
After all, generations of Americans have sacrificed plenty for the nation's cause, and there's no reason to think we've lost the capacity. What makes this case for sacrifice so much harder to embrace, perhaps, is that it goes to our national psyche, threatening our self-image as a land with limitless potential. While past generations have readily sacrificed for national greatness, debt reduction — at least in the gloomy way its advocates argue for it — feels like a call to sacrifice in the name of our national decline.
This is unadulterated bunk. Let's start with the fact that it accepted budget trimming now as a necessity, and therefore took the goals of the deficit commission as a given. But that's barmy. When households are deleveraging and businesses are saving, having the government also try to reduce deficits is a prescription for contraction (the only way to square this circle would be for the US to move into a significant trade surplus, something no one expects any time soon)
And let's also get the targets right. Why have deficits in the US gone up? The big culprits are easy to spot: the Bush tax cuts to the rich, the Iraq war, and biggest of all, the financial crisis. The beneficiaries of those policies are a small sector of the population. In particular, the executives of the TBTF banks have engaged in a brazen and continued program of looting on an unheard-of scale. But no, the deficit commission and its pious mouthpieces like Bai would argue we all have to pay for the extortion of a few, and to add insult to injury, the application of leeches now is certain to leave all of us much weaker.
Moreover, the idea that government spending is inevitably unproductive is also a canard. Continuing extended unemployment insurance would increase 2011 GDP by 0.6%. The Internet and the US pharmaceutical industry are both build on the back of substantial government research and investment. The return on government spending on technology investments is 30-40%, the very level venture capitalists target.
An instructive paper by Tom Ferguson and Rob Johnson puts paid to other deficit myths. I suggest you read it in full. From its abstract:
This paper analyzes the arguments and evidence in current debates about the government budget deficit.

We critically examine claims put forward by Rinehart and Rogoð, the International Monetary Fund, and others about the dangers of rising debt to GDP ratios. We also scrutinize assertions by Alesina and Ardagno that cutting deficits is likely to be stimulatory. Our analysis of the U.S. budget outlook leads to surprising conclusions. We highlight the unheralded acknowledgement by the Congressional Budget Oðce in August, 2010, that financial assets held by the government should be netted out of U.S. debt calculations. This step takes the US further away from any hypothetical danger zone and should be a yellow flag to shrill warnings of danger from U.S. deficits.

Our analysis of threats to the budget finds that not entitlement spending or Social Security, but the excessive costs of oligopoly in health care and defense spending play a large role in current concerns. So does the contingent liability of another financial crisis. In an era of unbridled money politics, concentrated interests in the military, financial, and medical industries pose much more significant dangers to U.S. public finances than concerns about overreach from broad based popular programs like Social Security, which is itself in good shape for as many years as one can make credible forecasts.

The paper also examines two hypothetical scenarios: One involving a growth inducing public investment program and another, more pessimistic scenario in which underemployment equilibrium is allowed to persist for several years. From those scenarios we conclude that the risk to U.S. public finances, as measured by the debt/GDP ratio in 2020, is much greater on a trajectory of austerity than from any risk incurred by the very low public cost of borrowing to spur investment in infrastructure, education, and science that would generate large social and private gains in productivity.
In particular, the Reinhart/Rogoff claim that government deficits over 90% of GDP lead to lower growth is suspect. First, many of their examples come from gold standard or dollar pegged regimes, which make their relevance countries with currency sovereignity questionable. Second, as Ferguson and Johnson stress, correlation is not causation:
Many things happen, not because anyone in the country wants them to, but because outside forces – foreign multinationals, larger neighbors, eccentric billionaires, kleptomaniac rulers, or even hierarchal structures in the international system – e.g., military alliances leading to wars, etc. – compel them. When economic policies reflect such forces, spurious causal inferences readily follow. Some U.S.- supported Latin American dictatorships, for example, surely protected the position of economic elites in those countries at the expense of economic growth that would have benefited the whole population. To help keep social peace, or simply please insistent militaries, some of these countries piled up debts. The true lesson of such cases is nothing so simple as high debt to GDP ratios hold back growth rates.

This problem is first cousin to the broader problem of "reverse causality" highlighted by Paul Krugman. He observes that the causal relationship might well run "largely" from "growth to debt rather than the other way round." Krugman explains that "That is, it's not so much that bad things happen to growth when debt is high, it's that bad things happen to debt when growth is low." He cites the U.S. as an obvious example of this pattern:

This is definitely the case for the United States: the only period when debt was over 90 percent of GDP was in the early postwar years, when real GDP was falling, not because of debt problems, but because wartime mobilization was winding down and Rosie the Riveter was becoming a suburban housewife. It's also clearly true for Japan, where debt rose after growth slowed sharply in the 1990s. And European debt levels didn't get high until a␣er Eurosclerosis set in
Consider this chart: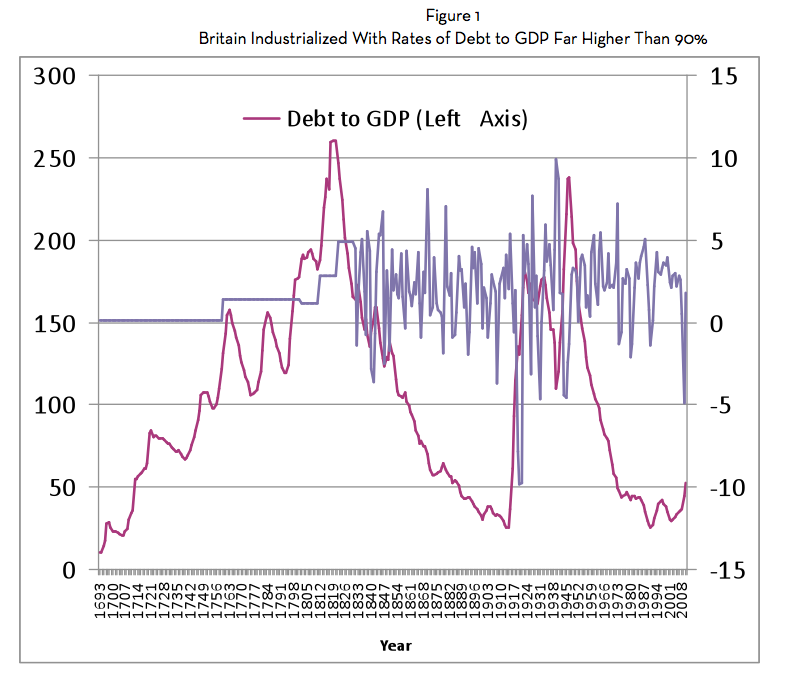 The article notes:
The point can be put even more forcefully: the UK made its epochal breakthrough to industrialization – leaving the rest of the world far behind – while carrying a debt load that should have crushed it, not only in the eighteenth century, but many decades into the nineteenth. And it was precisely as the debt to GDP ratio soared that the rate of growth finally picked up.34 Of course, British debt levels through most of the twentieth century remained almost as high because of expenditures run up for World Wars I and II.
Many of the confident assertions of the evils of high debt levels are presented as sweeping generalizations, when the specifics matter. But even as we see these austerity experiments play out disastrously in Europe, not merely failing to deliver the promised benefits, but clearly making matters worse, relatively small interest groups are creating deficit hysteria as a Trojan horse to enable them to gut social programs and preserve low taxes for the rich.
.