Federal shutdown averted at last minute Christian Science Monitor.
2011 is not 1995 Washington Post. Obama's public relations M.O. catches Ezra Klein's eye.
House votes to repeal "net neutrality" rules Salon, (hat tip: Ed Harrison).
How Secrecy Undermines Audit Reform NYT, Floyd Norris. H/t @EconOfContempt
Elizabeth Warren maintains CFPB is not without oversight Housing Wire. Warren struggles on.
Dimon Says Risk of $3 Billion in European Losses Worth Taking for JPMorgan Bloomberg. JPM's periphery exposure around $20 Billion; Dimon very confident about his loss figure.
Alert status at the Philippines' Taal raised Eruptions Blog. One of the world's nastier volcanoes beginning to look lively.
Homeowner sues mortgage servicer over HAMP denial CNBC. Let's see if it really does turn into a class action.
Banking Commission wants firewall around retail banking Robert Peston/BBC. Speculation about the IBC report, which is due out on Monday; it looks set to stop short of calling for a breakup of the banks.
Vickers Banking Commission report to back 'firewalls' BBC. A slightly different slant on the same info, from a different part of the BBC.
Will Regulation W create a UK "Dodd-Frank-Lite"? Paul Mason. Yet another BBC take, pointing to the possibility that the IBC report will be a damp squib.
Osborne welcomes bank reforms FT. A spot of positioning from George Osborne that might suggest the reforms won't amount to much.
Bank reforms 'are high noon' for coalition The Guardian on the political fallout if the reforms don't go far enough.
Getting one's Vickers in a twist FT Alphaville blag a Goldman Sachs report on the possible IBC report outcomes, that assesses their likelihood and their effect on the big banks.
Antidote du jour: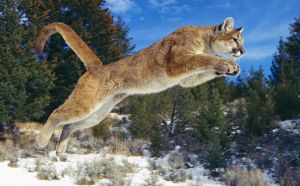 More mountain lion links: Lance Norskog writes:
In the Silicon Valley hills there are maybe 25-100 cougars. UCSC started tracking them a couple of years ago. They were afraid that the cats were cut off into little ranges between towns and housing developments. In fact the damn things trot through the sparsest areas at 3am among open territories. And we never see them. Every few years one gets lost or there's no water, and it shows up in a creek in the suburbs. Apparently one showed up near a shopping mall.

And, tracks in the snow at the bottom of the page. And apparent fossil tracks.