Contingent Convertible bonds ("CoCos") are supposed to address this nonsensical phenomenon:
During the financial crisis a number of distressed banks were rescued by the public sector injecting funds in the form of common equity and other forms of Tier 1 capital. While this had the effect of supporting depositors it also meant that Tier 2 capital instruments (mainly subordinated debt), and in some cases Tier 1 instruments, did not absorb losses incurred by certain large internationally-active banks that would have failed had the public sector not provided support.
So it wasn't just senior bondholders who were bailed out: in some cases, junior debtholders, pref holders and even equity holders got a degree of taxpayer support, which is pretty wild. This is the sort of thing that happen in a crisis, when you don't have a proper resolution regime (but you do have banks that own each other's debt or near debt).
In the Glass-Steagall/FDIC world, bank resolution is done briskly and proactively: the bank is nationalized (yes, Virginia) and dismantled; operationally, it never misses a beat, and depositors are protected. Without an FDIC and its supporting legislation, it all gets messier, though. If your bank has to go bust before bondholders and depositors are tackled about the losses they are to take, then you will get bank runs. See Northern Rock, RBS, and it now seems, Dexia; see also the plight the Irish landed in, once their government decided it had to ward off a run by guaranteeing both depositors and bondholders.
Another way of handling bank busts is just to have fewer, by putting lots of loss-absorbing capital into the banks. That was the import of the first Basel III proposals. But somewhere along the way since the end of 2009 (read: lobbying), something changed:
First of all there were reports that the Basel Committee will require the countercyclical buffer (0-2.5%) to be comprised solely of common equity, having previously indicated that the buffer over the 4.5% minimum capital requirement could be made up of common equity or loss absorbing capital depending on national circumstances.
…and now we are to have CoCos:
Then the Basel Committee issued a press release detailing the criteria required for debt securities to be considered fully loss absorbing capital, the document upon which the future of the contingent capital (CoCo) asset class is to be based. To satisfy the necessary criteria after the 1st January 2013 (beginning of the phase out period) all instruments are required to have "a provision that requires such instruments, at the option of the relevant authority, to either be written off or converted into common equity upon the occurrence of the trigger event". The trigger event which is defined as the "earlier of (i) a decision that a write-off, without which the firm would become non-viable, is necessary, as determined by the relevant authority; and (2) the decision to make a public sector injection of capital, or equivalent support, without which the firm would have become non-viable, as determined by the relevant authority."
So, CoCos are interest bearing instruments that convert, mandatorily, into common equity, when some capital-related trigger is breached; the idea is that banks are automatically and mechanically recapitalised as their capital is eroded by the latest daft lending fad, runs are averted, and all is well with the world.
You wouldn't want to hold your breath waiting for the massive unwind of universal banking implied by a global introduction of a Glass-Steagall-like separation of retail and investment banking, and to the introduction of FDIC-style institutions, and supporting legislation, globally. This simple financial innovation will help provide an alternative to that improbable development.
Or perhaps it won't.
First, there is something very familiar about the type of risk involved: a CoCo holder receives a pretty big coupon, whose regular arrival depends on the healthy financial state of a highly complex and opaque institution; and takes the chance that the coupon flow suddenly turns into a dividend that the bank may decide not to pay, and the principal turns into an equity holding in a distressed bank, which typically isn't worth very much. In other words, the P&L, at plausible extremes, is not totally unlike selling CDS on the senior tranches of CDOs, or a variety of other notoriously unprofitable transactions in which the tail risk isn't immediately apparent.
Thus, second, one might reasonably ask who are now the natural buyers of such instruments, especially since most of the usual suspects went bust in the last fracas. The Bond Vigilantes, a sober-sided bunch of British institutional fund managers, didn't fancy the Lloyds CoCos much:
From bond investors' points of view, though, these look like bonds until distress, in which case you are automatically converted to common stock (unlike convertible bonds, where it is generally your right, not obligation, to convert). So they don't naturally fit into the fixed income universe. At the point of conversion, given distress, the shares will be worth very very little. And the risk of Lloyds-HBOS' core capital falling to or below 5% is non-negligible, in our view, especially in the next 3 years. Finally, given how high the coupons are going to be, isn't a management team or regulator at some point going to be incentivised to manipulate their capital levels to force conversion of this expensive debt into cheap equity?

We don't think that these bonds naturally fit into the fixed income space, although the yields do look attractive. Thus, if other, stronger banks bring similar deals, where there is a premium paid for potential equity conversion over existing tier 1 yields, and where we feel the risk of exchange to equity is sufficiently remote, we will consider them carefully. However, there are still several potentially large issues for these notes, nicely exemplified by a certain index provider's excluding them from the index on Tuesday, then re-including them, and then yesterday re-excluding them. This shows how difficult is it to know whether they should be classified as fixed income or equity. And that would suggest that the powers that be are worried about who exactly will buy these new CoCo The Clown notes. Are these clowns happy, or are they sad? Are they bonds or are they shares?
Neither, boys: they are yet another way to write put options, perhaps without realising that's what you're doing.
Other commentators hypothesize that hedge fund managers might like them. Norton Rose thinks insurers might be attracted:
Banks could structure an instrument that is attractive to insurers who are looking for a steady return on their investments, allowing the bank to increase its cash reserves. Insurers would also benefit from the diversification of their investment portfolios. Although the recent Omnibus II proposal indicates that the new capital rules for insurers might be deferred for up to 10 years from their due date of 1 January 2013, Solvency II generally imposes no restrictions on insurers' ability to invest in any particular asset class, provided that the risks can be properly understood, measured and monitored. The advent of sophisticated internal models for insurers means that they may be better placed than ever to invest in CoCos.
Excuse me if I jib at the idea that sophisticated internal models are going to help insurers, now, any more than banks, last time. This all sounds like a great way to contaminate the insurance sector with banking risk: a rerun of the monoline/AIG effect.
But Norton Rose do have one smart idea: pay the bankers in CoCos, and they will get a taste of their own cooking. That does have a sort of appeal, as long as the lockup period is long enough, and there are no smart dodges to cash them in early (CoCo repo, anyone?). Haldane has this to say:
Imagine that 50% of bonuses had been paid in CoCos rather than cash from 2000 to 2006. By 2007 at the start of the crisis, UK banks' capital ratios would have been around 1 percentage point higher (Chart 11). Had 50% of dividends in addition been CoCoed, and assuming CoCos counted as Tier 1 capital, capital ratios would have been 3 percentage points higher. That is roughly £70 billion, or around the amount of external capital UK banks raised during the crisis.
…incidentally (but not accidentally) showing exactly who ended up covering those bonuses and dividends.
And at least, banks aren't going to be holders. Banks' holdings in each others' preference shares were one of the reason why states had to step in to ward off a chain of capital hits. I know, stupid, stupid structure. Incidentally, one would like to know how much senior bank debt was held by other banks…
Still, somebody loves CoCos: not just the Lloyds investors who suddenly had their rocky-looking sub debt replaced by spanking new coupon paying CoCos, but also the mob who oversubscribed Credit Suisse's CoCo issue 11:1.
CoCos also have a surprising, if muted, fan club in, of all places, the Bank Of England. For the Deputy Chairman, Tucker, these instruments are second best:
First best would be equity. Indeed, Adair has argued this evening that ideally Basel 3 would have set a higher equity requirement. But that did not happen. In practice, we are going to have to be open-minded, but also principled, about quasi-equity instruments…
And he points out a risk: if the triggers are in the wrong place, you would still get runs:
…such instruments would need to convert when a firm was still fundamentally sound, which is to say that they should have high capital triggers. For a large and complex firm, a low capital trigger would be dangerous, as funders and counterparties would be likely to flee before reaching the point at which the firm would be recapitalised through the CoCos' conversion.
Still:
Moreover, high-trigger CoCos would presumably get converted not infrequently which, in terms of reducing myopia in capital markets, would have the merit of reminding holders and issuers about risks in banking.
Well, that might work, though those holders and issuers do seem remarkably obtuse and forgetful; perhaps regular Tasering would be more effective, if alertness is required.
Of course, if you set the triggers high enough, you might as well have equity in the first place.
And now there's something else to complain about: death spiral risk:
As a brief example of the potential scale of this risk, Lloyds now has around £7.5 billion of enhanced capital notes (ECN) outstanding – its own form of CoCos … Lloyds has delivered impressive improvements in balance sheet strength since its ECN issues in late 2009, with a core tier 1 ratio up to 10.2% and more than £60 billion in term funding raised since the beginning of 2010.

With the ECN conversion trigger set at 5% and Lloyds strongly capital generative, we believe few owners of the ECNs are hedged as their conversion into equity is so unlikely. However, should conversion become considered significantly more likely, due to a significant change in the company's or the UK's outlook, we believe the holders of these £7.5 billion of securities would likely choose to hedge the risk of being delivered stock by selling the shares short. Their net position is equivalent to 79 days' volume in the shares. Any attempt to sell this amount of stock short would likely cause a significant decline in the share price of any company … for a bank, such a move has been typically linked with financial weakness by customers and counterparties.
Groovy: CoCo hedging sets off a shorting binge, which sets off a run. File that under 'unintended consequences'.
The other BoE CoCo-fan, Haldane, is initially attracted to CoCos by something else: the opportunity to trigger conversion based on something other than regulatory capital. Haldane thinks a market-based conversion scheme is better, and looking at his comparison graphs, you can only be struck by the miserable advance warning given by the regulatory reports. That little blip after May'08 is the first official sign of trouble.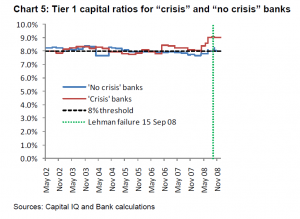 Meanwhile, the equity market, oblivious though it may have seemed at the time to those of us looking on, is giving an ever louder warning signal from May '07 onwards (by which time, in reality, the ensuing cataclysm was well and truly baked in).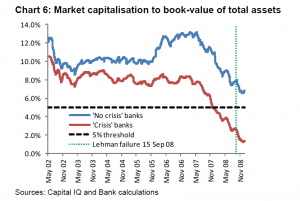 That's a much more visible and credible signal than spreads in thinly traded and manipulable CDS, I should think; and it makes the Basel reporting rules look laughable.
So Haldane is keen to see CoCos hooked up to this crowdsourced monitoring mechanism. He thinks the risk of short selling can be mitigated by suitable conversion terms, or by market intervention:
There are several practical ways in which the contract design of CoCos could lean against these speculative incentives. Perhaps the simplest would be to base the conversion trigger on a weighted average of equity prices over some prior interval – say, 30 days. That would require short-sellers to fund their short positions for a longer period, at a commensurately greater cost. It would also create uncertainty about whether conversion would indeed occur, given the risk of prices bouncing back and the short-seller suffering a loss. Both would act as a speculative disincentive.

A second potential firewall against speculative attack could come from imposing restrictions on the ability of short-sellers to cover their positions with the proceeds of conversion. Restrictions on naked short-selling are applied around the time of seasoned equity offerings in some jurisdictions. A rule to prevent the covering of short positions with the proceeds of a CoCo conversion could provide a further disincentive to destabilising short-selling of banks' equity.
But this is all something of a kludge. All that nice automatic recapitalisation we thought we were getting is now qualified by making the instrument more complex, or by invoking market restrictions, or by placing exacting requirements on where the conversion triggers are wired in.
Perhaps the BoE boys are just making the best of a bad job. For this is where we are: if Basel III had stuck with the initial Dec '09 proposal, all this loss absorption would be performed by nice old straightforward bank equity; but that's not how it went, so we get another tail-risk-ridden fad instead.