By Philip Pilkington, a journalist and anti-economist writing from amidst the devastated ruins of Dublin, Ireland
All successful revolutions are the kicking in of a rotten door – JK Galbraith
What's the easiest way to embarrass an economist? Okay, that's a bit of a trick question. After all, economics is a pretty embarrassing profession and there are a million questions you could put to an economist that would likely turn his or her cheeks red. You could, for example, approach your typical 'academic of ill-repute' and ask them if they saw the bursting of the US housing bubble coming or the unsustainable debt-overload that accompanied it – yep, that would probably do the trick.
One topic that does cause your average economist a lot of brain-bother, though, is the environment. After all, everyone and their cat cares about the environment these days, but such concern seems irreconcilable with the 'infinite growth' assumptions of most economists. It has long been pointed out by environmentalists, concerned citizens and the sane how, if we are to prevent global warming from melting the planet, we have to put some sort of a ceiling on economic growth and industrial development. This is a truly pressing concern – yet it appears that economists and policymakers simply cannot integrate it into their worldview.
But here's an uplifting thought: what if History is doing our work for us? What if we are already entering a sort of 'post-growth' world?
A few days ago Professor Bill Mitchell – a man who I predict will turn out to be one of the most important economists of his generation – ran a piece on his blog entitled 'When a nation stops growing'. The piece deals with the sluggish growth of the Japanese economy over the past two decades.
While most economists have been cooking up madcap schemes to reignite growth without end, Professor Mitchell took a far more interesting tack. Instead of concocting fantasies of what the world should be like, he took a glance at reality and asked a very important question: what if the Japanese economy has entered a stage of 'post-growth'?
In his post Professor Mitchell points out that although the Japanese economy has been growing at a very sluggish rate, employment has been plentiful, incomes have been kept secure and prices have been reasonably stable. I'd also point to the fact that the manufacturing sector continues to be as dynamic as ever – Japan still produces extremely high-quality, up-to-date cars and electronics.
The key to this, Mitchell claims, is simple: public spending. Public spending has maintained Japanese living standards – and without smothering the economy in a web of bureaucratic stasis.
Before diving into the particulars, it should be noted that Japan went into its crisis with a significant and important demographic disadvantage. The Japanese population has been getting older for years – as this chart graphing birth and death rates make clear: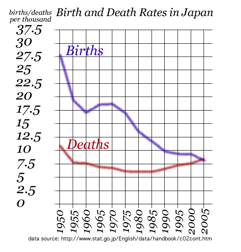 And with Japan's draconian immigration laws, this fall-off in population has not been supplemented by a significant influx of immigrants. What can you say? Japan is an island – and there's limited space. Just one more case for a sustainable 'post-growth' model.
So, keeping this in mind, let's run through the key indicators and compare them to some of the Western economies we'll be considering later.
First up, unemployment. A picture says a thousand words, so here's an interesting graph pulled from Professor Mitchell's blog: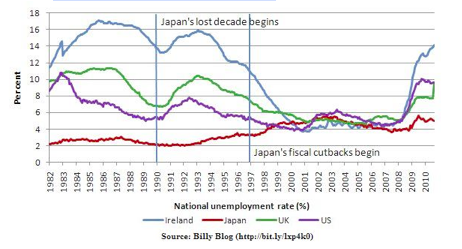 The first blue bar indicates the point at which the Japanese economy started experiencing serious difficulties. As can clearly be seen, the Japanese managed to keep unemployment in check rather well – even in comparison to their contemporaries who were not experiencing a bust.
The second blue bar indicates when neo-liberal fiscal cutbacks began. As we can see, this is correlated with a significant rise in unemployment. But even then, the previous spending policies managed to keep unemployment surprisingly stable.
On that graph Ireland tells the story of the so-called PIIGS rather well – a story of fierce attempts at austerity that led to massive unemployment within only a few months. The US and the UK, on the other hand, show what happens when austerity measures were less severe – as we can see the rise in unemployment is still sharp, but not quite as severe as in the case of Ireland.
Of course, all this is very rough-and-ready and there are plenty of points that would complicate this simple narrative – however, for our purposes it serves to highlight our key point rather well: namely, that the Japanese economy, while somewhat stagnant, actually held up rather well for the average person living in Japan after a major financial crisis.
We've mentioned that this was due in large part to public spending measures – which are an extremely important part of the Japanese economic model. And sure enough, as the crisis worked its way through the Japanese economy and government deficits yawned open, the public debt-to-GDP ratio skyrocketed: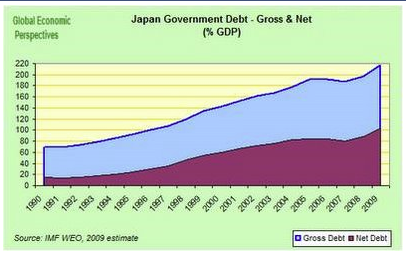 But, despite perpetual claims by the ratings agencies to the contrary, this has had few negative effects. The Yen has not become a worthless piece of paper – not by a long-shot. And hyperinflation has most certainly not taken off – indeed deflation has been Japan's main cause for concern: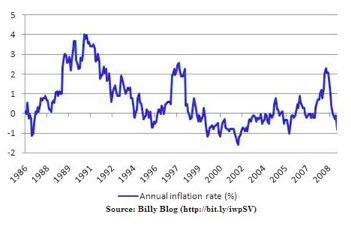 So much for internal macroeconomic meltdown. But what about social indicators? A short but precise OECD paper on social indicators published in 2009 has a few things to say on this account.
On life expectancy?
Japanese men and women have the longest life expectancy in the OECD.
On crime?
Crime levels in Japan are low. Japan has the second lowest rate (after Spain) of crime in internationally comparable data on vehicle, theft and contact crimes.
On child mortality?
Japan… [has]the… lowest rate of infant mortality [in the OECD].
The report also indicates that the Japanese work harder, sleep less and are in better shape. These, in my opinion, are more so culturally determined than anything else. But, in saying that, it would be a lot more difficult to work hard and stay in shape if you were forced to sit around all day on the dole munching breakfast cereal in your underpants
.
Overall, Japan may have had sluggish growth over the past two decades – but I, for one, wouldn't mind living there. It's a hell of a lot better than Ireland, I'll tell you that. It's probably a better place to live than the contemporary US too – unless, of course, you're a rich financier who hates taxes and regulation.
Economists and ideologues counter these points by cribbing and moaning about inefficiency in the Japanese service sector. But, as Mitchell points out, is there really inefficiency? The service in Japanese shops and restaurants is famously pleasant and the sector as a whole seems to be keeping people employed. So, where's the inefficiency? Another ghost summoned up by the deranged mind of the academic economist? Probably.
The economists and ideologues then claim that service sector workers need to have their pay cut – which would probably kill their smiles (economists hate smiles). And those that don't accept these cuts should be laid off – which would create unemployment (economists hate employment). Austerity all over again.
From a common sense point-of-view – hell, even from an economic point-of-view – this appears crazy, sadistic and stupid. But of course, these hacks – who have been wrong about every important economic event over the past ten, fifteen perhaps twenty years – will then back their kooky assertions with their abstract ideas and models. In short: more ghosts. I propose that we treat these poor senile codgers as we'd treat a weird uncle at Christmas dinner; just ignore them – and if they start flicking food in your direction, ask them to leave.
Japan then should be seen as entering – slowly, gradually and with great difficulty – a new type of economic maturity, where growth as an end in itself has been buried and living standards are becoming the main concern of public policymakers.
This has very wide implications for all of us. After all, what country are all the commentators comparing the US and Western Europe to at the moment? No, I'm not talking about the crazies who point to Zimbabwe, Weimar Germany, hyperinflation and apocalypse. That's just a rude distraction from oddball hysterics and cranks with 'end-of-the-world' fantasies and an inflated sense of self-importance (note that apocalyptic nihilism is almost always accompanied by grandiose messianism). All the serious commentators are pointing to the similarities between the West today and Japan after their housing market collapsed in 1991.
Professor Mitchell, for example, puts it as such:
Everyone is lining up to be the next Japan – the lost decade or two version that is.
If this is true – and I think it is – then the West too might be beginning this new phase of economic maturity. As the infinite growth model collapses in upon itself like a house of cards, Japan provides the example of what might happen next. What's more we now have their example so that we don't have to grasp at straws if we are truly entering into this brave new world.
For one, we now know exactly what doesn't work: austerity. We also know that public debt – which is over 200% in Japan – is a non-issue. Ditto for demand-pull inflation.
What we need in the West is something similar to what the Japanese have implemented: policies focusing on high employment, stable prices (no, the two are not mutually exclusive) and maintaining high-living standards.
As Japan has shown, this public spending won't cause Soviet-style economic stasis. Nor is it an act of class-war waged upon the rich (although finance needs to be better regulated – and this will require a war waged upon the non-productive and parasitic segments of the upper-class). Public debt might rise, but as we see clearly in the case of Japan, this should not be a concern – and it will probably fall again once the proper spending and taxation policies are implemented.
In saying all this, there are many obstacles. Europe, on the one hand, either needs to sort out an expansionary fiscal policy for its periphery or scrap the monetary union altogether and allow member-states to reissue their national currencies. Americans, on the other, need to overcome the strange, quasi-religious modes of 'economic' thought that the media and politicians spew out daily.
Then there is that scourge commonly known as the economics profession. The decrepit priests who, from their pulpits high up in academia, preach mass-suffering, resource destruction and general societal devastation as the sacrifices necessary to please their dark gods. These folks are a sort of societal brain disease – one that necessitates nothing short of a collective lobotomy. Hell, most of these folks are already drooling idiots, lopping off a slice or two of their frontal lobes will simply ensure they don't scare anyone with their incoherent ramblings.
The challenges are considerable – although, unlike Japan circa 1991, we have an historical model to work off. But still, right now the clowns are running the circus and the tent looks set to collapse. But with History on your side anything is possible.