The House Oversight and Government Reform Committee session today with the Republican's favorite punching bag, Elizabeth Warren, managed to notch abuse up to a level that is politely described as unseemly or more accurately called Republican Derangement Syndrome.
The fact that Republicans' last effort to use screechy and mean against Warren failed to deter her has not led them to improve their game. Two months ago, a nasty two hour Congressional hearing with Warren was the culmination of weeks of right wing media attacks, with the Wall Street Journal leading the pack. We noted:
The last time I can recall the Journal becoming quite so unhinged about an individual was over Eliot Spitzer. And since Warren seems pretty unlikely to be found to have similar personal failings, the specter of the right throwing what look to be ineffective punches at her makes for a peculiar spectacle. What is the real aim behind this drama?

The reactions to Warren, both on the right and left, are becoming divorced from reality. She has assumed iconic status as a lone mediagenic figure in the officialdom who reliably speaks out for the average person, a Joan of Arc for the little guy. And she drives the right crazy because she is rock solid competent and plays their game better than they do. She sticks to simple, compelling soundbites and images without the benefit of Roger Ailes and Madison Avenue packaging, and she speaks to an even broader constituency, Americans done wrong by the banks, than they target. No wonder they want to burn her at the stake.
Today's spectacle had the Republicans looking like idiots who resorted bullying when their initial salvos failed to hit their target. Chairman Patrick McHenry came off like a an angry amateur, trying ineptly to play prosecutor by demanding yes and no answers to questions that were clearly setups or couldn't be answered that simply. The problem is that this tactic works only if you have legitimate questions and keep your cool.
Another Republican, Trey Gowdy, tried this trick and when Warren patiently explained why a yes or no answer couldn't be accurate, he simply got more and more pissy. Earth to base: you won't find "pissy" on any map of moral high ground.
And do these Republicans have the foggiest understanding of Dodd Frank or banking regulators? It appears not, which means they also must have incompetent staffers, since any good subordinate's job is to keep his boss from looking stupid. For instance, Representative Ann Marie Buerkle had a long windup question (meaning she was largely speechifying) criticizing Warren for having job postings where the pay levels were considerably higher than those for similar-skill-level Federal jobs. Warren explained that the compensation levels were set not by her but by Dodd Frank, using the salary grades in place for other Federal banking regulators. Buerkle simply refused to listen to Warren's response and simply rephrased her question as a more pointed accusation that Warren was being irresponsible and wasting government money. One of her constituents wrote me:
I really want to punch my rep. She was second in line, pretty damn good for a freshman who forgets to pay her property taxes. All loaded questions/statements.
The Republicans also demonstrated ignorance of the process by which legislation is interpreted and implemented (they seem to see Warren as some sort of "decider") and accused the CFPB of having unprecedented power when in fact it is the only banking regulator that is hobbled by the need to get approval from the FSOC and a budget ceiling. The most peculiar bit was her being hectored for things that were not her doing, such as the five year term for the CFPB director and the fact that it is self funded (both part of Dodd Frank and the norm for banking regulators), the afore-mentioned pay scales, or for CFPB directives drafted by Congress. Adam Levitin provided a useful summary which the Oversight Subcommittee members might familiarize themselves with (click to enlarge):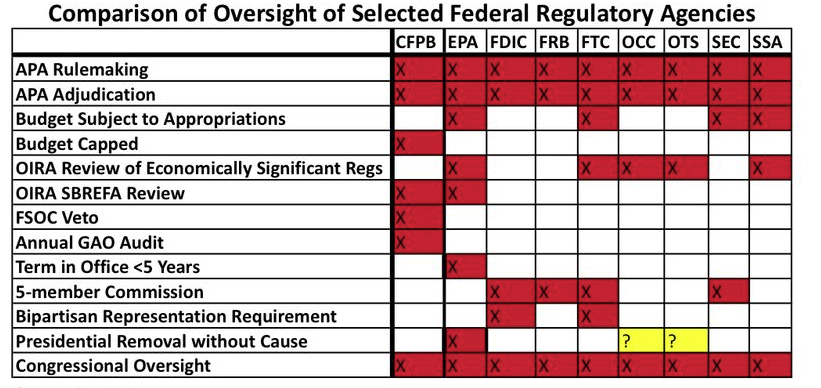 Warren appears to have riled them further with her deliberately-paced, detailed answers. At points it did look like an effort to run the clock out a bit (not unreasonable given the puerile questions and open hostility), but it was at least as much Warren's native communications style, which is to speak in a way that mainstream Americans new to this topic could understand. Warren simply outclassed her opponents, which was further fuel for the fire.
The Democrats were trying hard, perhaps a bit too hard, to back her up in the face of gratuitous nastiness. They for the most part got good substantive points in but sometimes came off as fawning.
So even though the exchange that garnered media attention occurred when McHenry accused Warren of being dishonest, the entire Republican performance was only a hair's breadth above this level:
It's instructive to see the context (they spar a bit a starting at 56;00 and really gear up at 1:02 till 1:09). Gawker has made the Warren reaction an official "How to Respond When a Congressman Calls You a Liar" And it was McHenry that was way off base; I found out shortly after Warren was pilloried that the schedule had been changed four times by the Committee, including one move made via a staffer late last night.
I'm not sure what the Republicans are trying to accomplish. This move backfired on them. It's given Warren more media time. But the New York Times is so loath to look like it was supporting Warren that its story comes awfully close to damning her with faint praise (doubters should contrast it with the more evenhanded account in the Wall Street Journal). It starts with two paragraphs of McHenry's charges and does not give the Warren rebuttal its due (they say she "denied…saying that she clearly stated in March" when she read from a letter she had sent in March). It also, in too many cases, quotes McHenry directly (which makes him sound more forceful) and summarizes Warren's replies. It also dignifies this rant by reproducing it:
Mr. McHenry did not back down. After the meeting broke, he said in a statement: "I was shocked by Ms. Warren's blatant sense of entitlement. She was apparently under the assumption that she could dictate a one-hour time limit for her testimony to Congress, and that we were there at her behest instead of the other way around. This is just further example of her disregard for Congressional oversight."
A full nine paragraphs later, at the very end of the article, we finally see a defense:
Those exchanges led a Democrat on the subcommittee to apologize "for the rude and disrespectful behavior of the chair." Representative John Yarmuth, a Kentucky Democrat, said to Ms. Warren that Mr. McHenry's accusation "indicates to me that this hearing is all about you, because people are afraid of you and your ability to communicate in very clear terms the threats to our consumers."
So why is the Times so generous to this Republican nonsense? The article makes it clear that it is simply echoing orthodox Democratic thinking, which to move Warren into another role. By implication, she is obtusely refusing to play ball:
Faced with strong opposition to Ms. Warren, a Harvard professor, President Obama has not nominated her to lead the new bureau. In fact, officials in the Democratic Party are trying to pressure her to return to Massachusetts to run for the United States Senate in 2012/
The "not nominated her" remark is true but disingenuous. Team Obama hasn't found anyone credible who will take the job, particular now that the Republicans have made it clear they will torture anyone who dares take the post seriously. And given that the agency head is required to be in place by July 21, an impossible timetable for a normal confirmation process, any chief will have to be a recess appointment. (And the continued descent of Congress into bipartisan rancor makes the idea of becoming a Senator far less appetizing than it would otherwise be).
The whole point of turning Warren into an advisor to the Administration was to get her inside the tent pissing out. That was important because she is so well liked by journalists and so effective on TV that the Administration wanted her out of the limelight. But these Congress-administered beatings are the polar opposite of that strategy, and serve to increase her profile and credibility.
I don't see how Warren wins this game near term. Obama has cast his lot in so firmly with the banks that he seems very unlikely to appoint her, particularly with him all too willing to use Republican brinksmanship and threats of further hamstringing the CFPB as an excuse to do what he wants to do anyhow, which is move to the right. But that strategy is looking less sound, particularly in light of an upset Democratic House victory in a normally secure Republican district, the hot button issue apparently being proposed Medicare cuts. Nevertheless, Warren at a minimum will make Obama's and Geithner's refusal to have her lead the CFPB visible proof of their cravenness.
To have her success be leaving the Administration with a Pyrrhic victory may seem a foolish and unworthy goal. But she has already put important processes in place even in the start-up phase, which will influence how the agency operates in its early days and could prove to be durable. Even more important, consider what our reader Richard Kline has said about the nature of political change:
The nut of the matter is this: you lose, you lose, you lose, you lose, they give up. As someone who has protested, and studied the process, it's plain that one spends most of one's time begin defeated. That's painful, humiliating, and intimidating. One can't expect typically, as in a battle, to get a clean shot at a clear win. What you do with protest is…you change the context, and that change moves the goalposts on your opponent, grounds out the current in their machine.
Warren's opponents both inside and outside the Administration see power only in institutional terms: that if she ultimately does not head the CFPB, she cannot have much impact. But they miss the fact that the more they fight with her, the more they enhance her status as spokesman for ordinary Americans. No matter what she does next, her most potent weapon is her ability to continue reframing the debate.