The New York Times yesterday made the an observation that seems to be lost on Team Obama, that high unemployment levels and second Presidential terms do not go together. We've predicted that the Osama bin Laden bounce won't last long. Bush I, after all, had 91% approval ratings right after the invasion of Iraq and he still lost the reelection thanks to the state of the economy.
Another factor weighing on the collective psyche, and thus voter attitudes, is the inability of most people to get ahead in real economic terms. Reader Francois T pointed out an article in Investors Business Daily that highlighted that real wage gains in the last ten years are even worse than during the Great Depression: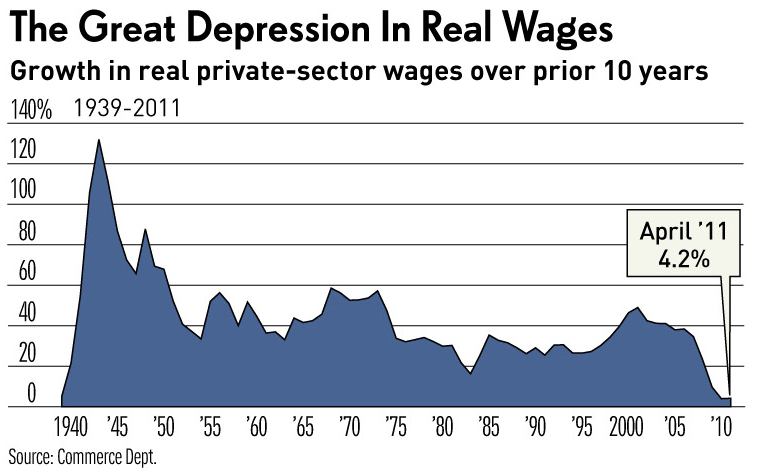 The past decade of wage growth has been one for the record books — but not one to celebrate.

The increase in total private-sector wages, adjusted for inflation, from the start of 2001 has fallen far short of any 10-year period since World War II, according to Commerce Department data. In fact, if the data are to be believed, economywide wage gains have even lagged those in the decade of the Great Depression (adjusted for deflation).

Two years into the recovery, and 10 years after the nation fell into a post-dot-com bubble recession, this legacy of near-stagnant wages has helped ground the economy despite unprecedented fiscal and monetary stimulus — and even an impressive bull market.

Over the past decade, real private-sector wage growth has scraped bottom at 4%, just below the 5% increase from 1929 to 1939, government data show.

To put that in perspective, since the Great Depression, 10-year gains in real private wages had always exceeded 25% with one exception: the period ended in 1982-83, when the jobless rate spiked above 10% and wage gains briefly decelerated to 16%.

There are several culprits, of which by far the biggest has been the net loss of 2.7 million private nonfarm jobs since March 2001. (Government payrolls rose by 1.2 million over that span.)

That excess supply of labor has given employers the upper hand in holding back wage gains.
There is a curious failure to mention why wage gains were higher in the Depression despite even higher unemployment. Funny how it does not occur them to mentions unions as helping give workers some bargaining power.
Admittedly, the big factor differentiating the Depression from now was that many families were deprived of their only safety net when banks collapsed. My maternal grandparents had their savings in three different banks and still lost 97% of their money, and as a result, their home as well. The loss of jobs and savings had millions in soup lines and living in their cars or in shanty-towns. By contrast, in this crisis, consumers have lost savings in the form of home equity and investments, and they have delevered and may continue to do so, which also has an impact on the standard of living.
Nevertheless, the sad fact remains that the financial meltdown is continuing to impose costs on those who are not at the top of the food chain and the prospects for than changing any time soon are not high.