One of the striking things, as the mortgage crisis has ground on, is how persistent and to some degree effective the industry incumbents have been in influencing news stories. One can argue they've been more successful than the TBTF banks, perhaps because if you can tank the global economy, keep your job, and still continue to pay yourself egregious bonuses, you don't need to stoop to throttling every bit of negative coverage. The fact that near-urban legends like strategic defaults are trumpeted in the media as if they are a meaningful phenomenon, or that defenses of securitization practices by firms like K&L Gates, which have liability on their legal opinions, dominated the coverage on that issue for quite some time until more and more court decisions showed their analysis to be sorely wanting, illustrates how much spin there is in what purports to be news.
For instance, the website Housing Wire, which appears to aspire to cover the mortgage/housing space comprehensively, nevertheless has had some pretty telling omissions. You saw nary a peep of the bombshell of a story by lawyer Abigail Field in Fortune, which found that all of the mortgages securitized by Countrywide and a large proportion of those that it serviced had not been transferred to the trusts as stipulated in the pooling and servicing agreements that govern then. As we have discussed in this blog at some length, this has devastating consequences. If the borrowers challenge a foreclosure, unless the judge is bank friendly, they will probably prevail. No one wants the party that would be in a position to foreclose (someone earlier in the securitization chain) to do so; that's an admission the securities are not mortgage backed at least in part if not in full and the investors were defrauded. And there are no retroactive fixes (why do you think document fabrications have become so common?)
Similarly, we have commented on how remarkable it is that foreclosure mills all over the US participated in widespread, systematic frauds on courts (robosigining, forgeries, affidavits being filed without the requisite personal knowledge of the affiant, document fabrication) and yet there has been a failure of state bar associations to sanction the attorneys involved.
But there is a long and proud tradition of small firm attorneys being harassed in various ways when the go up against the big dogs, and attorneys taking on the mortgage-industrial complex are getting their share of it. We know lawyers who do foreclosure defense work who have gotten death threats and had break-ins with the apparent intent to either plant bugs or copy documents (police arrived before a team of six men had gotten very far). Another is to misrepresent the conduct of an attorney in the press, as the Wall Street Journal did in a widely-derided piece on anti-foreclosure attorneys in October of last year (right on the heels of the robosigning scandal becoming national news)
Another common ruse is filing spurious motions for sanction; even if the lawyer being targeted is confident he will prevail, it still takes time and money to beat back these attacks, which diverts his attention from his pending cases. From an April post, "Housing Wire Again Runs PR Masquerading as News on Behalf of Its Big Client, Lender Processing Services":
We decided to return to an example we highlighted earlier this year because as more facts have come to light, it turns out to have been even more egregious than we thought. From an April post, "Housing Wire Again Runs PR Masquerading as News on Behalf of Its Big Client, Lender Processing Services":
The very fact that this item "LPS fires back with motion seeking sanctions against Alabama attorney," was treated as a news story by Housing Wire is further proof that Housing Wire is above all committed to promoting client and mortgage industry interests and only incidentally engages in random acts of journalism.

LPS is desperate to create a shred of positive-looking noise in the face of pending fines under a Federal consent decree, mounting private litigation, and loss of client business under the continued barrage of bad press. Housing Wire, who has LPS as one of its top advertisers, is clearly more than willing to treat a virtual non-event as newsworthy to help an important meal ticket.
The Housing Wire article, which was unusually long and one sided ran two accusations against Alabama attorney Nick Wooten:
LPS' motion alleges that Wooten took confidential information that he received in the Wood case and then systematically used that confidential information to file multiple "cookie cutter" lawsuits against LPS in Alabama, Mississippi, Florida and Kentucky. LPS also claims he violated a "nondisparagement" addendum multiple times with scandalous allegations, even referring to LPS and its division LPS Default Solutions as the proverbial "devil himself" in court pleadings.
Wooten won the sanctions case. We were surprised that LPS had asked to have the hearing transcript sealed, which the judge tartly nixed in its ruling. We decided to get a copy and it does not reflect well on LPS and Housing Wire:
Wood v. Option One May 9, 2011 Hearing Transcript (Wooten Sanctions Hearing)
Get this:
1. Wooten was being accused in the sanctions motion of having violated a confidentiality agreement. As we discussed in our post, this was a ridiculous claim; the exhibit LPS was arguing over was public information and had been widely disseminated. You can't stuff the genie back in the bottle and try to say that public information is a state secret.

2. Yet confidential information from the sanctions hearing itself was sent to Housing Wire immediately after the hearing took place and was the basis of the attack piece on Wooten

3. One of the two major attacks made on Wooten was completely false. He had never signed a non-disparagement agreement and hence could not be guilty of violating it
In the hearing, the attorney for LPS said that they had been in talks with Housing Wire and said that the would "destroy any electronic submission sent to them on behalf of LPS and any physical tangible documents that they have related to either the motion or the exhibits." Wooten pointed out that that horse has already left the barn and was now in the next county: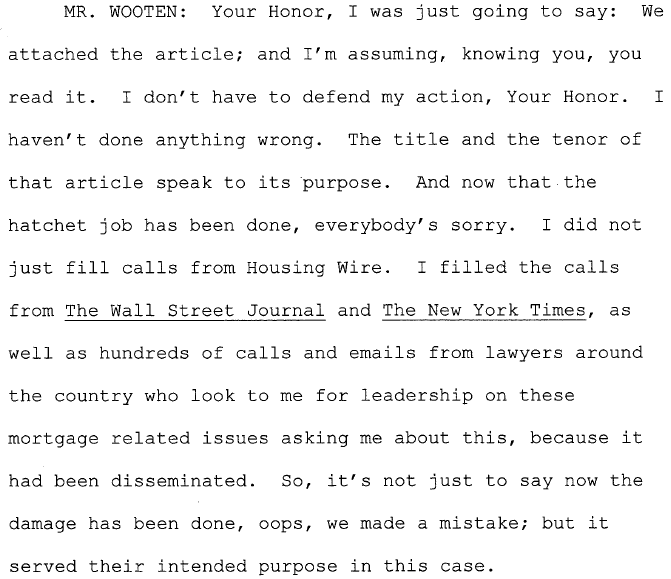 Moreover, the original article has neither been removed or corrected. So much for Housing Wire's dedication to accuracy.