A rising tide did not lift all boats even when the economy looked a lot better than it does now. As Francois T, an MD and medical researcher, wrote:
If you need ONE Indicator of how a nation is doing, it ought to be female life expectancy at birth. It is a tell tale sign that a lot of good things, (or bad things) are happening in the nation under study. Hence, forget about CDOs, CDS, RMBS, Pure BS, Official BS and what have you. Female LEAB will tell you something much more fundamental. It will also be a proof that everything you wrote about the deleterious societal impacts of financial high crimes is correct. As a matter of fact, people severely underestimate the real repercussions and total costs of a decrease in female life expectancy at birth.
He pointed to a just-released study, Falling behind: life expectancy in US counties from 2000 to 2007 in an international context. Some of its major findings:
Large swaths of the United States are showing decreasing or stagnating life expectancy even as the nation's overall longevity trend has continued upwards, according to a county-by-county study of life expectancy over two decades.

In one-quarter of the country, girls born today may live shorter lives than their mothers, and the country as a whole is falling behind other industrialized nations in the march toward longer life…

Some US counties have a life expectancy today that nations with the best health outcomes had in 1957 … Five counties in Mississippi have the lowest life expectancies for women, all below 74.5 years, putting them behind nations such as Honduras, El Salvador, and Peru. Four of those counties, along with Humphreys County, MS, have the lowest life expectancies for men, all below 67 years, meaning they are behind Brazil, Latvia, and the Philippines.
And get a load of this:
Despite the fact that the US spends more per capita than any other nation on health, eight out of every 10 counties are not keeping pace in terms of health outcomes. That's a staggering statistic.
Note that we've written that income disparity is highly correlated with a deterioration in social well-being indicators, including life expectancy. Russia saw a plutocratic land grab after the USSR collapsed, and already-high rates of drinking increased, with the result that male life expectancy fell an eye-popping four years, from 62 in 1980 to 58 in 1999.
The study found that some states had very high disparities within their borders. The main culprits are obesity and smoking:
The researchers suggest that the relatively low life expectancies in the US cannot be explained by the size of the nation, racial diversity, or economics. Instead, the authors point to high rates of obesity, tobacco use, and other preventable risk factors for an early death as the leading drivers of the gap between the US and other nations.
Yet looking at this map (click to enlarge), I'm a bit puzzled at the singling out of those factors, since from my visits to the South, I see obesity rates just as high in the Upper Midwest, which scores well on life expectancy. Are there really more heavy smokers or fat people in the South? The article tiptoes around the fact that blacks and Hispanics (as well as Chinese) are more prone to get Type 2 diabetes than Caucasians.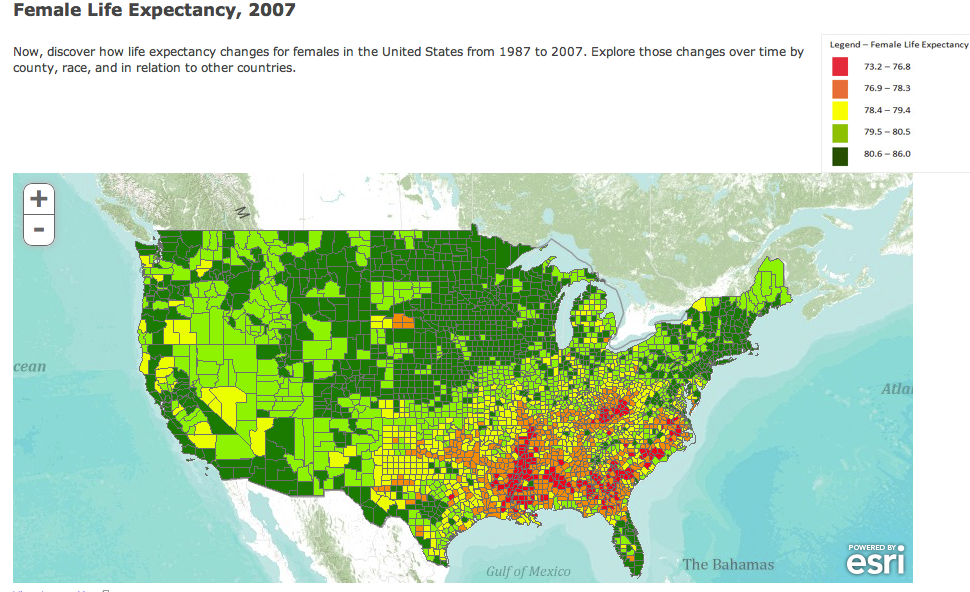 And remember, the data in this study goes through 2007. It will take a few years to find out what impact the crisis has had on the health of America's citizens.