The SEC announced that JP Morgan has agreed to pay $153.6 million to settle charges related to a $1.1 billion heavily synthetic CDO called Squared which JP Morgan placed in early 2007 and was managed by GSC Partners, a now defunct CDO manager. The SEC has a cute but not all that helpful visual on the site, save it reflects the role of Magnetar as the moving force behind the deal.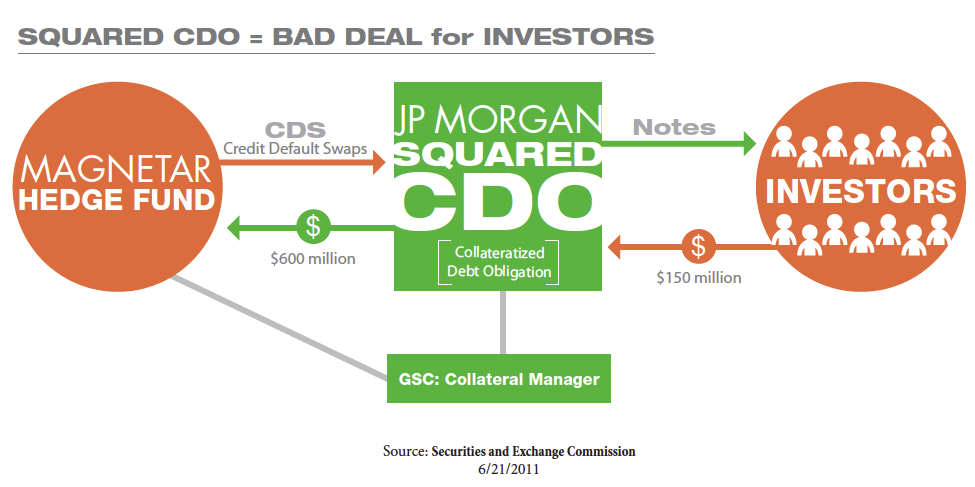 Per the SEC's complaint against JP Morgan, Magnetar provided $8.9 million in equity and shorted $600 million notional, or more than half the face amount of the CDO (this is consistent with our analysis, which had suggested that Magnetar, unlike Paulson, did not take down the full short side of its deals, since it like staying cash flow positive on its investments. The size of its short position was limited by the cash to be thrown off by the equity tranche). And needless to say, this was a CDO squared, meaning a CDO made heavily of junior tranches of other CDOs, so it was a colossally bad deal.
The complaints (one against JP Morgan and the other against GSC employee Edward Steffelin) make clear that the SEC had gotten its hands on some pretty damning e-mails. The core of the allegation against JPM was that all the marketing materials represented that the assets in the CDO were selected by GSC when they were in fact to a significant degree chosen by Magnetar.
Magnetar made clear that it regarded its equity position as "basically nothing" and really wanted to "buy some protection", meaning get short and that Magnetar was actively involved in choosing the exposures for the deal. And JP Morgan clearly understood Magnetar's aims and the precariousness of the subprime market: "We all know [Magnetar] wants to print as many deals as possible before everything completely falls apart. " Per the complaint, Magnetar was involved in the selection process both by affirmatively recommending assets to be including in the portfolio and nixing others suggested by JP Morgan (one amusing e-mail from Magnetar called some securities selected by JPM as "just stupid", by implication because they were not "decent shorts". Needless to say, those particular instruments were not part of the final deal).
This is also the first time the SEC has sued a someone from the collateral manager, and that case is still open. The SEC complaint against Steffelin who was in charge of the team at GSC that selected the assets for Squared, alleges that he was looking to get a job with Magnetar and was thus particularly eager to do its bidding:
On January 5, 2007, the employee at Magnetar primarily responsible for the firm's
participation in the Squared transaction ("Magnetar Employee"), sent his supervisor an electronic
mail message stating, "Steffelin wants to leave GSC and start a manager for us . . ." His
supervisor replied, "Perfect," to which the Magnetar Employee responded, "I knew u'd like
that!!"….

On February 22, 2007, the Magnetar Employee sent his supervisor an electronic
mail message with the subject line "Gsc blowing up" and the text "Ed [Steffelin] eager to get
something going. We could get whole team and all deals." The Magnetar Employee's
supervisor sent a reply electronic mail message asking, "Why are they blowing up?" and the
Magnetar Employee explained "They've been having [a] big fight over comp[ensation]. Think [the head of GSC's structured credit department] is going to split, rest of team not that happy at
how they'll be treat[ed] if they stay. As u know, Ed [Steffelin] was already planning to leave."

On February 26, 2007, the Magnetar Employee sent his supervisor by electronic
mail message another update, stating, "Just got off the phone w Ed [Steffelin] . . . Ed thinks
whole team can be lifted, will be able to take along 5 deals currently in warehouse, makes it cash
flow positive day 1."
While Steffelin was in the end never hired by Magnetar (who needs a CDO manager when the CDO market is dead?) these conversations took place while the deal was being put together.
The settlement amount is proportionately lower than the $550 million Goldman paid to settle its notorious Abacus transaction, but that SEC settlement, although drawn narrowly, appeared to signal that the SEC was not going to pursue any other Abacus trades, when Abacus was a 25 transaction program. By contrast, although the Squared CDO transaction was pretty dreadful (the investors lost everything), it was the only Magnetar CDO sold by JP Morgan.
The settlement amount is roughly equal to the value of the mezzanine tranche ($150 million) which was sold to actual "cash" investors (parties who put up real money). And as we've suggested, they were real stuffees:
The Mezzanine Investors included a faith-based not-for-profit membership organization headquartered in Minneapolis, Minnesota (Thrivent Financial for Lutherans), a company that provides insurance and retirement products based in Topeka, Kansas (Security Benefit Corporation) and financial institutions located in East Asia (Tokyo Star Bank, Far Glory Life Insurance Company Ltd., Taiwan Life Insurance Company Ltd., and East Asia Asset Management Ltd.).
The super senior, worth $935 million, went to three JP Morgan asset backed securities conduits that issued commercial paper. It looks like one unit of JP Morgan effectively treated another as a stuffee. And recall that Len Blavatnik, the sixth richest man in the world, may have been one of the ultimate stuffees; he sued JP Morgan after losing $100 million on a $1 billion, a number that should be impossible in a money market fund that per his agreement with JPM was to be kept liquid and invested conservatively. His funds were over-invested in risky mortgage related instruments.
We've written repeatedly about the dubious role of CDO managers in ECONNED and on this blog. Our analysis of Magnetar deals shows that GSC managed five Magnetar deals. We hope the SEC is looking into the balance of them.
Our Tom Adams spoke about the settlement on BNN. You can view the segment here.