Philip Pilkington is a journalist currently sinking, together with the rest of his fellow countrymen, down into the hole in the Irish banking system
Will all your money
Keep you from madness
Keep you from sadness
When you're down in the hole
Cause you'll be down in the gutter
You'll be bumming for cigarettes
Bumming for nylons
In the American Zone
–'Down in the Hole', The Rolling Stones
Everyone who is anyone is saying it: the US looks set to become the next Japan. Yet the particulars of the argument are never really trashed out. Certainly both countries suffer from the same malady – namely, a bursting asset bubble punching gigantic holes in private sector balance sheets. This leads to similar policy approaches – not to mention similar policy failures. But beyond this overarching comparison people tend not to tread.
Let's start from the beginning; the asset bubbles that set off the crises.
Toil and Trouble
The housing bubble that inflated in the US prior to the economic collapse is too well-known for me to dwell on it at any length. Anyone who is not keenly and constantly aware of this phenomenon and its relation to our present difficulties should either get their head checked out or apply to The Washington Post for a job – needless to say that both options will likely land you in a madhouse.
The Japanese asset bubbles are less well-known. Note that I say asset 'bubbles', as there were two major bubbles inflating at the same time. There was not only a major bubble inflating in the real estate market, there was also a one being blown in the NIKKEI stock market.
The overall economic situation of Japan when the bubble was inflating in the late-80s – known as the Heisei era which, rather ironically, means something like the 'peace everywhere' era – was very similar in many respects to the US when it experienced its bubble-era. As this Bank of Japan report makes clear, economic growth was strong and inflation remained low.
The bursting of the Japanese bubbles was devastating. In his book 'The Holy Grail of Macroeconomics: Lessons from Japan's Great Recession' the economist Richard Koo estimates that some ¥1,500tn was wiped out. That, according to Koo, is about equal to the entire nation's stock of personal financial assets at the time. It was also roughly equivalent to about three years of Japanese GDP. Ouch!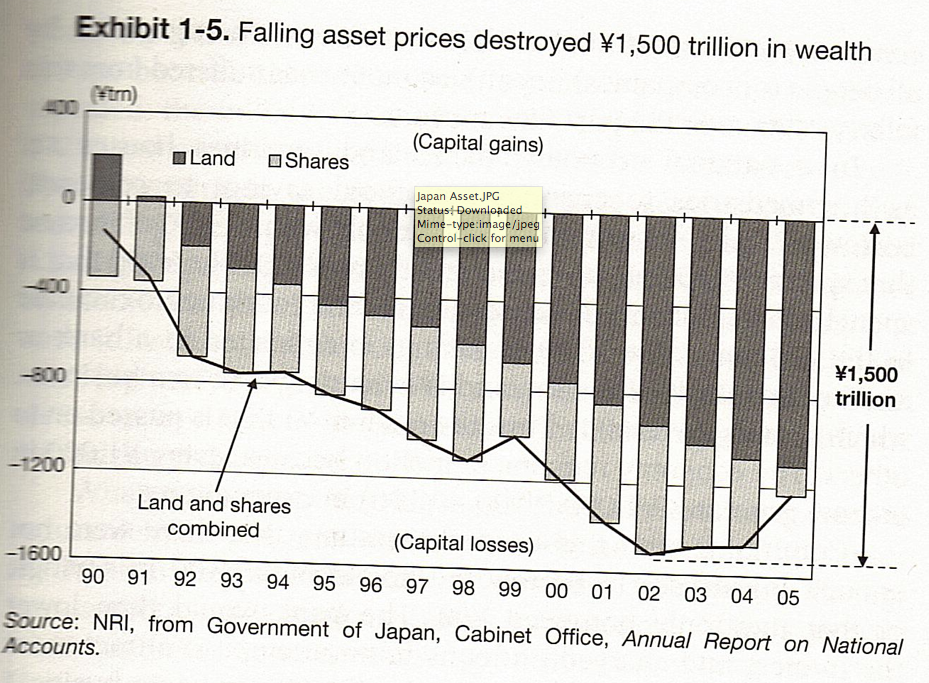 Economist Dean Baker, in his book 'False Profits: Recovering from the Bubble Economy', notes that the total losses from the bursting of the housing bubble will probably be around $8tn when the whole thing has finally wound down. Considering that this is just over half of one year's GDP for the US, this seems like a far less substantial bubble than the one that inflated in Japan. This, I think, is where we see the first divergence between the US meltdown and the Japanese.
Who is saving and why?
The Japanese were long known – together with the Germans – as the cautious and reliable saver-types. But after the bubble popped at the beginning of the 90s the household savings rate took a dive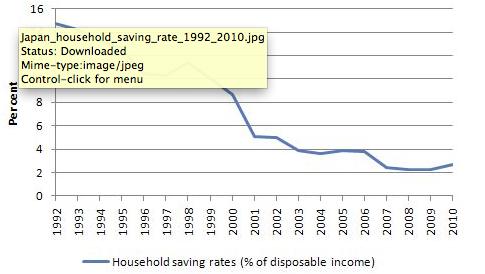 .
The fall in the Japanese household savings-rate clearly did not lead to an aggregate rise in consumer expenditure – indeed, the country has been experiencing price deflation intermittently throughout the last two decades. Bill Mitchell – from whom I stole the above graph – indicates that the fall in saving has a lot to do with demographic issues. As the Japanese population get older, more people have begun to tap their savings.
In keeping with demographic shifts, others have pointed out that the younger Japanese generation have thrown off their parents' 'Protestant ethic' and become rabid consumers. Well, that would certainly explain the shift that has taken place from a strongly ethical culture that glorifies Samurai-like principles of honour and dignity as depicted in films such as 'Seven Samurai' by Akira Kurosawa to… well… erm… this.
Despite this, erm, heroic drive by the young Japanese to embrace, erm, penguins and toilet-seats, aggregate demand remains sluggish and unable to pull the economy out of stagnation. There's also the issue of stagnating real wages which is always going to put a dent in household savings rates.
Yet despite this fall in household saving, there is no doubt that the Japanese economy is experiencing a far too high rate of overall private sector saving. Mitchell points this out using the much loved sectoral balances model.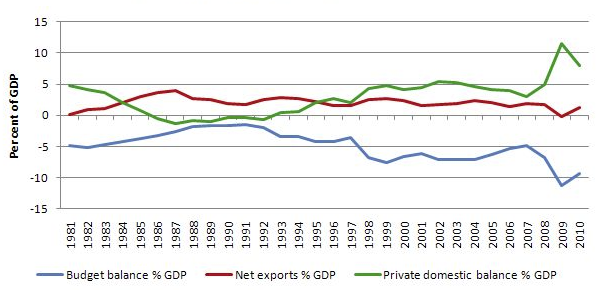 So, what on earth is going on? Well, as Mitchell points out, while the household sector is tightening its belts, the corporate sector is retaining more of its earnings.
This is perfectly in keeping with Richard Koo's idea that the Japanese have experienced what he calls a 'balance sheet recession' – that is, a recession that is caused by companies retaining their earnings in order to pay down debt. This leads to a drain on reinvestment.
The expansion of government debt (see: sectoral balances graph above), then, was the only thing keeping the Japanese economy from falling into a protracted depression.
Okay, so that's what happened in Japan – but what happened in the US?
Well, after the housing bubble burst in the US the household savings rate climbed up from the quagmire it had been in for years beforehand. (Apologies for the cluttered graph – I'm completely inept when it comes to making my own; a typical symptom of Blogitis).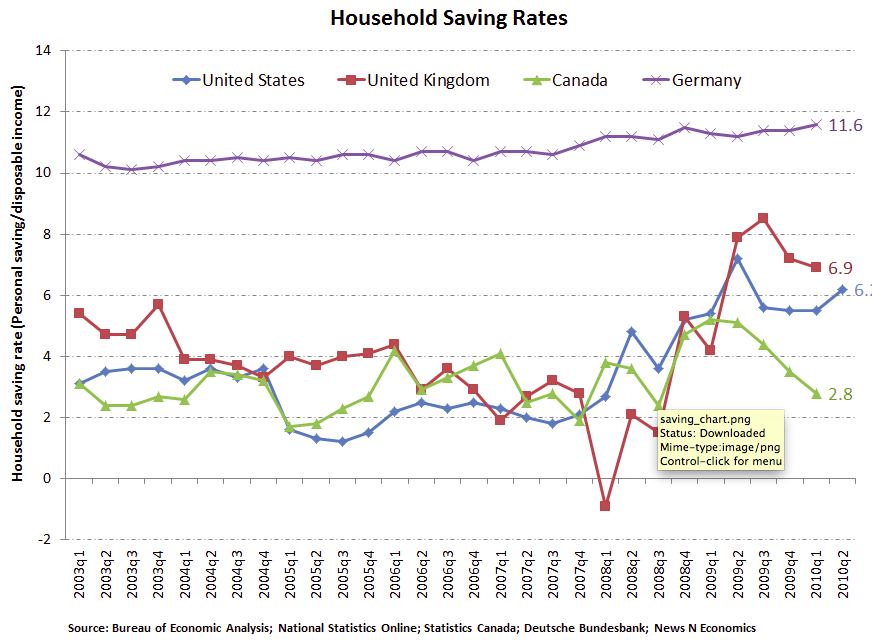 This is the exact opposite of what happened in Japan. Prior to the crisis Japan had an extremely high-rate of household savings. The US, on the other hand, went from a desperately low level of household savings to a higher one.
Unemployment also rose significantly in the US – which did not occur in Japan.
However, similar to Japan the government deficit opened up in the US to offset the higher level of net private sector saving.
So, we do have many similarities between the US and Japan – both experienced crisis after a significant asset bubble crashed out and both have high-levels of net private sector saving which require government deficits to offset. But there are also differences.
If I were to sum up this difference – giving myself room for the sort of crass generalisations that 'summing up' always entails – I would say that the US's current slump is more so driven by demand-side factors, while Japan's is more so driven by a 'balance sheet recession' on the part of companies. The US has seen a pretty straightforward collapse in private sector demand – with unemployment rising and the household sector net saving. Japan, on the other hand, was not hit with a wave of unemployment and household saving actually fell significantly; indeed, their problem was tied to the companies desperately paying down the debt they had incurred after the asset bubbles collapsed.
What is to be done?
Richard Koo claims that the Japanese 'got it right' when they allowed the government deficits to open up. This allowed indebted companies time to get their balance sheets in order. Bill Mitchell largely agrees. While Martin Wolf, in an article written in the Financial Times last year, agrees for the most part but claims that Japan has other underlying problems related to opportunities for investment (I'm not going into this here – although, and I'm rather surprised to say it, I think you can derive broadly similar conclusions from Wolf's argument as yours truly did from Mitchell's regarding Japan's future trajectory).
So, there's quite a bit of consensus among serious, non-hysterical types about the approach needed to fix the Japanese problem: high-levels of government spending to facilitate the private sectors net saving desires (in this case: private-sector deleveraging).
That means that when Mr. Jagger asks "will all your money/keep you from madness/keep you from sadness/ when you're down in the hole"? We can answer pretty definitively: yes, yes it will. The government certainly does need to create new money to keep the US from falling any further down the hole.
There is one other argument that is worth considering. One able representative is occasional NC writer Ed Harrison. I like to refer to this as the 'smash the technostructure' argument. The idea is that there is too much overcapacity in Japan and bankrupt or 'zombie' companies need to be allowed to fail.
I think this argument – which I think is more so moral than economic – is both naïve and destructive. Modern industrial economies like Japan and the US are not made up of small businesses with minor capital outlays that can easily be replaced by others that spring up when the ostensibly rotten ones fail. Instead these economies are, to a significant extent, dominated by huge corporations that are structured entirely differently to the small business of neoclassical and Austrian lore.
These are the entities that have incurred huge debt-loads and find it difficult to function while Japanese consumers have inadequate resources to purchase their wares. If the Japanese were to 'smash the technostructure' – which would be politically impossible anyway – the result would probably be mass unemployment and a serious economic depression.
To drive this point home because, conflicting as it does with market-mythology, I fear it will be lost on many: Corporations with mass capital outlays aren't formed by heroic entrepreneur-types overnight. They are highly evolved social institutions that take much time and collective effort to build. If these are destroyed you would likely end up with a sort of 'cowboy capitalism' filling the void; a system geared toward short-term profit – perhaps even criminality – rather than long-term growth and stability. (Something broadly similar happened in Russia after the fall of Communism but for different reasons – which 'shock therapy' then exacerbated).
But as we have highlighted, the crisis in the US, while similar to that in Japan in many respects, is not quite the same. In the US the problem is more so to do with unemployment and stagnant aggregate demand. So, even if the 'smash the technostructure' argument wasn't completely poisonous, it would still be inapplicable (unless of course, you substitute 'zombie' companies with 'zombie' banks – but that's another argument and another story).
This probably means that the fiscal solution is even more applicable to the US than it was to Japan. While the Japanese economy needed to be kept on life-support for a few years while they got their collective house in order, the US citizenry just need more bucks.
As Martin Wolf points out in another piece back in 2009:
"The big US debt accumulations were not by non-financial corporations but by households and the financial sector."
Wolf goes on to highlight the skyrocketing debt incurred by the financial sector throughout the period. What he should be highlighting is that, more often than not, fastened to the end of the financial sector's debt-chain is a low to medium-income human being. And that is where most of these debts ultimately land. That, in turn, is why this is, when we strip away the complexities, a fairly straightforward crisis of aggregate demand.
Households have been pushed into debt because their wages haven't been allowed to keep pace with productivity growth for decades. Add to this the maniacal desire that possessed certain Democratic administrations to run budget surpluses in relatively good economic times and you've got a pretty explosive mixture.
So, it's clear that the US citizenry need more bucks; but where should they get them? Why, from the government of course. After all, they're the only realistic source right now. They can do this either through tax-breaks – for the working man, NOT for the rich – or some sort of employment program (I favour the latter, but I recognise that the former is probably more politically realistic).
"Yippee!" cries the Yankee Doodle Naked Capitalism reader. "We're not nearly as badly off as the Japanese were a few years ago; this'll be easy." Not so fast. The US is probably in a much worse position than the Japanese were back at the beginning of the 90s. Why? Eh… because crazy people run the country… duh.
Pete Peterson and his cronies stalk the halls of government spreading lies and nonsense. Fox News runs a 'debt clock' (even though half their presenters probably don't understand what the word 'economy' means). US populism consists of standing on a soapbox calling half the population baby-murderers and then expecting people to take your gold-under-the-mattress economic 'analysis' seriously (which they then do, because who on earth would trust a 'baby-murderer'?).
The US government isn't going to undertake active fiscal stimulus without a major shift in the terms of debate. But that is perhaps one of the most difficult things to accomplish. I'd suggest you start by closing down loony-bins like The Washington Post while retaining their facilities to ensure that your current policymakers receive adequate care and treatment. That should also make for a couple of new public sector jobs in the process.