Much ink has been spilled about the increase of wealth at the top. This graphic comes from the Guardian (hat tip Merrill K, click to enlarge):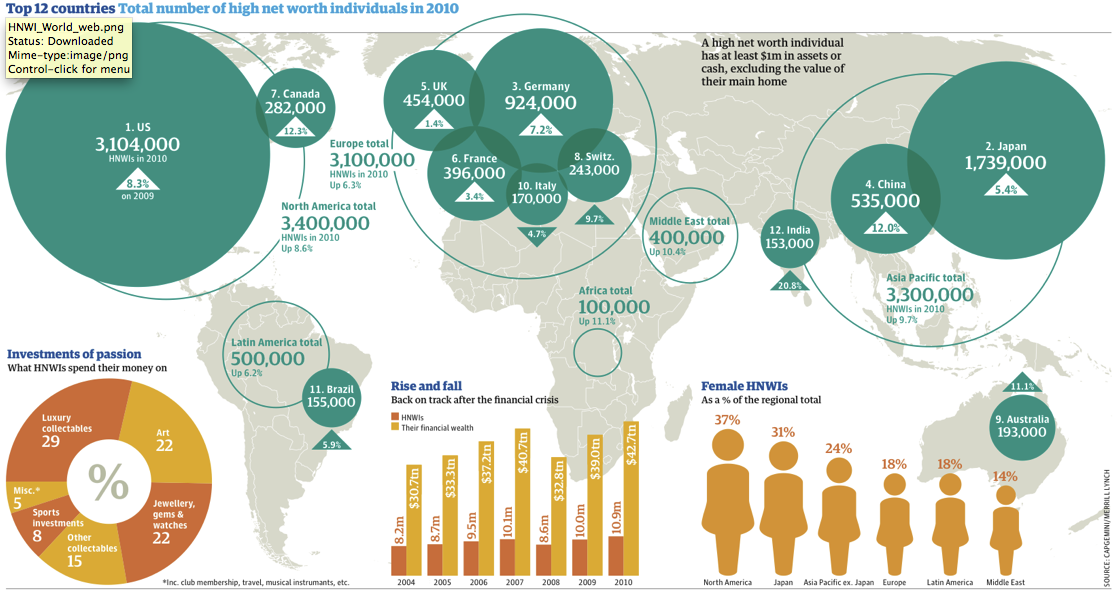 From the related article:
In the world of the well-heeled, the rich are referred to as "high net worth individuals" (HNWIs) and defined as people who have more than $1m (£620,000) of free cash.

According to the annual world wealth report by Merrill Lynch and Capgemini, the wealth of HNWIs around the world reached $42.7tn (£26.5tn) in 2010, rising nearly 10% in a year and surpassing the peak of $40.7tn reached in 2007, even as austerity budgets were implemented by many governments in the developed world.

The report also measures a category of "ultra-high net worth individuals" – those with at least $30m rattling around, looking for a home. The number of individuals in this super-rich bracket climbed 10% to a total of 103,000, and the total value of their investments jumped by 11.5% to $15tn, demonstrating that even among the rich, the richest get richer quicker. Altogether they represent less than 1% of the world's HNWIs – but they speak for 36% of HNWI's total wealth.
But not to fear, marketers are still plenty interested in the rest of us (hat tip reader Scott):