By Richard Smith
Here is Dr Wayne Mapp, New Zealand Science Minister (hah), wallowing contentedly at New Image's web site, on 5th October (bottom right).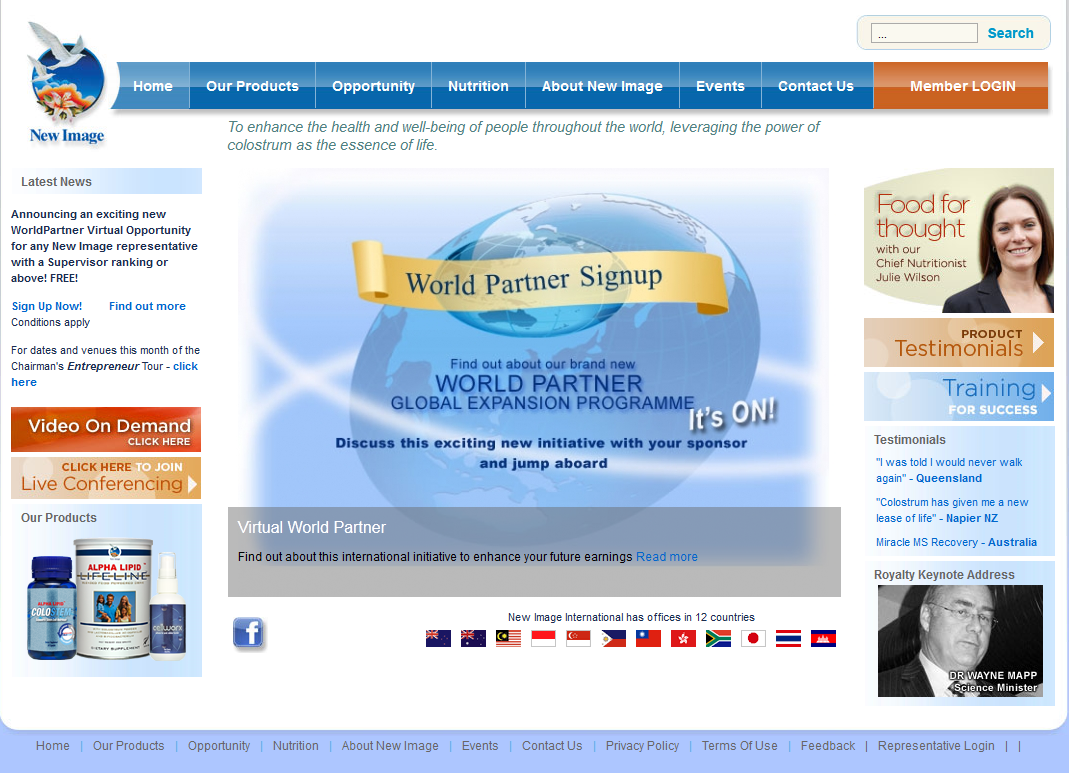 But Mapp's idyll is rudely interrupted; in part, perhaps, by the application of Naked Capitalism's cattle prod to his temptingly exposed hindquarters, and in part, for sure, by this more demure followup by Radio New Zealand:
University of Otago researcher Michelle McConnell specialises in colostrum and says there have only been a handful of limited trials showing it has any benefit to human health.

Dr McConnell says it is not acceptable for New Image to give sufferers of multiple sclerosis false hope.

She was also surprised to hear that the company and its products were promoted by Dr Mapp in a link on its website.

The minister says he did not intend to endorse the products in his speech and has asked for the video to be removed.
and so, by the 11th, with a bound and a snort, Mapp is up and gone: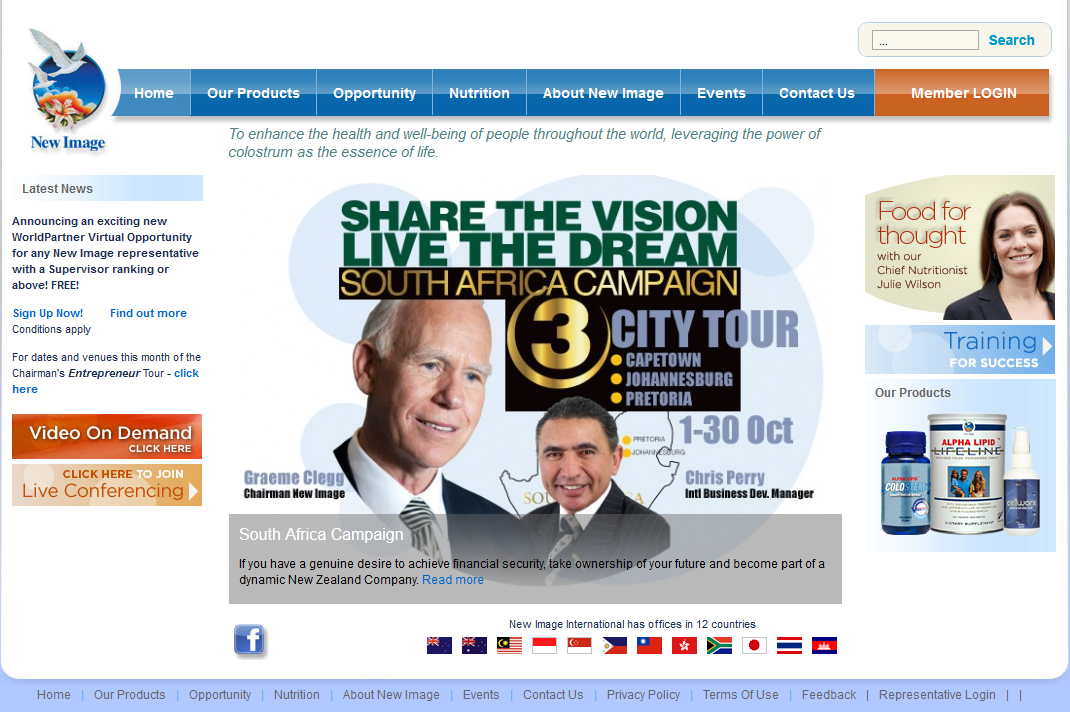 "The minister says he did not intend to endorse the products in his speech": what was he endorsing, then, I wonder? I'm afraid that Dr Mapp's speech, now, thankfully, lost to view, was of such agonizing tediousness that I only retain a faint impression of it. From what I caught of it, via drooping eyelids, it seemed to be an encomium to New Image's direct sales methods and export prospects. So what we are now to understand Dr Mapp to have meant is that he may not be all that definite about the value of the products, but the sales technique is just fine, and appearing just below the miracle cure claim was just fine, until it wasn't.
Let's see how tenable a fallback position that turns out to be.
If you feel you have missed out on Dr Mapp's oratory, dear reader, take heart. It turns out that praising New Image's business model is a stock in trade of successive New Zealand governments. You can read a transcript of something equally dull from 2008, from the then Labour government minister, Phil Goff. If memory serves, this covers pretty much the same ground as Mapp's speech. Ooh, I wonder who writes these speeches. From Goff's speech we also discover that New Image got some government aid, back then. Hmmm.
Meanwhile, New Image have some damage to limit, too. Their first move is to bodyswerve the whole thing. They try out the intriguing "a big testimonial writer did it and then ran away" defence on Radio New Zealand:
New Image is standing by the testimonials, saying a woman involved states she does not know if the product will have the same effect on others who have multiple sclerosis.
Read that whole sentence again and see if the second half of it squares with your understanding of "standing by the testimonials". It looks more like a headlong retreat to me. And if New Image are "standing by the testimonials", why have the testimonials vanished from the web site? Compare the screen shots, above. Funny sort of "standing by", that. Perhaps Radio New Zealand will have a followup question for New Image's harassed spokesperson, about what the phrase "standing by" means, when uttered by a New Image spokesperson.
Elsewhere in New Image's large but not very thoroughly image-managed empire, they are certainly still standing by some testimonials. For instance testimonials for the utterly worthless Powerpill FE-3 are still up there in lights at New Image Malaysia as of this writing. Oh, here's a current screenshot, in case New Image's web team get some new orders. I suppose they are also harassed, but maybe on overtime; hi boys, thinking of ya.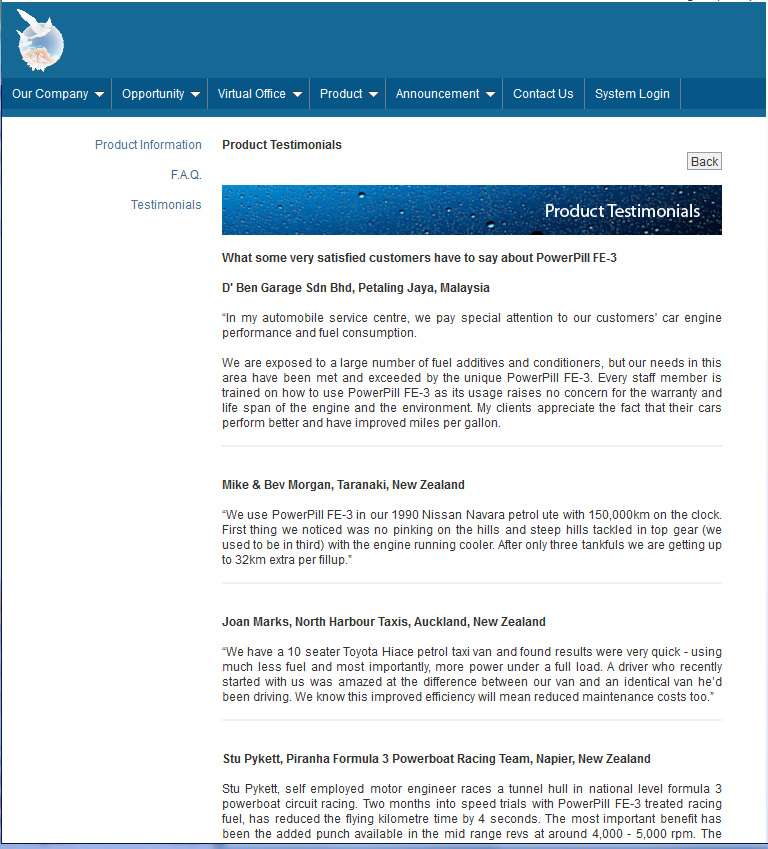 Let's see if and when the site and the screen shot diverge.
Incidentally I wonder if New Image's sales pitch really works at all, without testimonials.