By lambert strether, Corrente
In focus groups, "people have been breaking down and crying" when they talk about the economy FT.
The Top 0.1% Of The Nation Earn Half Of All Capital Gains Forbes (Acquifer).
Simon Johnson: Deutsche Bank Could Transfer Contagion Bloomberg (Deontos).
Eurozone debt web: Who owes what to whom? BBC (MartinW).
"For all the talk of a technocratic pro-European government in Greece, the truth has a nasty underbelly in which the serpent's egg [of racism/fascism] has already hatched. The world better beware" (SusanW).
"Karl Marx would have made a fantastic hedge fund manager" Guardian. No higher calling!
Plutocracy makes for short, fragile recoveries Business Week (May S).
Olympus funneled 70 billion yen into six investment funds based in the Cayman Islands and elsewhere Asahi Shimbun.
In the City of London, corporations actually do vote FT. Read all the way to the end.
Formal obstacles increase our conceptual scope Wired. Now I understand why twitter's 140 character limit is good.
UC Davis, Greenwald: "Acts of defiance, courage and conscience are contagious" Salon.
UC Davis: Somebody give Nathan Brown tenure Salon.
UC Davis: Silence is golden. But my eyes still see.
UC Davis policeman John Pike is not a demon, but human The Atlantic.
OWS as restoration Jonathan Turley (SusanW) .
How OWS helped labor's ground game in OH SB5 win Tom Dispatch (Thomas R). Note deafening silence from our famously free press on SB5.
Police beat up right wing Daily Call reporters, but and so Occupiers immediately offer medical assistance Think Progress.
Curling up into a ball is "active resistance" justifying baton strikes (George Washington).
Obama Calls On Authorities To Refrain From Violence Against Peaceful Protestors The New Civil Rights Movement. Be sure to click through!
Barry Ritholtz skewers the Big Lie that the financial crisis happened because innocent banksters were forced to make bad loans (part 2) WaPo.
David Cay Johnston: Why not treat derivatives as unenforceable gambling debts? Reuters.
"The central claim of austerity is that our current problems are the result of governments living beyond their means. The claim is absurd on the face of things" John Quiggin.
Joint Select Committee on Human Sacrifice to board the #FAILboat? Calculated Risk.
Bernie Sanders and Pete Peterson: End the bromance! Our Future.
The first long-term expansion of America's military presence in the Pacific since the Vietnam war FT. What could go wrong?
When you've lost Shepard Fairey…
The Hillary Moment WSJ (Joe C). Democrat pollsters Caddell and Schoen think Obama should "seize the moral high ground" by stepping aside in favor of Hillary Clinton.
Gentlemen prefer bonds (MacroBusiness). Covered bonds.
Obama-Wen talks overshadowed by disputes FT (SusanW).
Thai government abandons draft pardon that would have ended former Prime Minister Thaksin's exile, after Thakin releases hand-written letter saying he would not accept it Bangkok Post. The letter includes the phrase "Forgive and forget" — in English, not Thai. Why?
Monsanto is more trouble than it's worth Nepal Times (furzy mouse). Also, too, debt peonage and suicide (ditto).
If China bails out the Eurobanksters, the peasants are going to want their own bailout FT.
#OccupyAlbany continued arrests under Cuomo curfew. #OccupyBangor Why R U Here? With drummer! #OccupyBoston Interviews with Occupiers. #OccupyChicago twitter stream infested with trolls. Rahm? Dave? #OccupyDC occupies closed homeless shelter DC hopes to develop, makes Pravda. #OccupyIowa Iowa caucus wild card. #OccupyNashville mike checks Rummy at fundraiser. #OccupyNashville link to fake "Nashville Electric Service" van doing surveillance. #OccupyOakland situation fluid as of this writing. West Coast port shutdown December 12 (George Washington). #OccupyPortland: Confluence with single payer advocates. #OccupySeattle Interview with Dorey Rainey. #OccupyWallStreet: "NYPD Don't Be Wall Street Mercenaries" (May S).
Occupy Tweets: "Excuse me officer, I'd like to report some illegally parked cars" / Pepper Spray soon to be declared a vegetable / I am not protesting because I need something to do. I am protesting because something needs to be done / Planning Crafts Fair for Kids, just bring them down [to] the disease infested encampment! / One more clarification: NYC's homelessness, poverty not *solely* #OWS' responsibility. It's all of ours as New Yorkers. Especially Mike's / Shopper has been camped out in a tent for two weeks waiting for Black Friday… Arrest him!
Antidote du jour: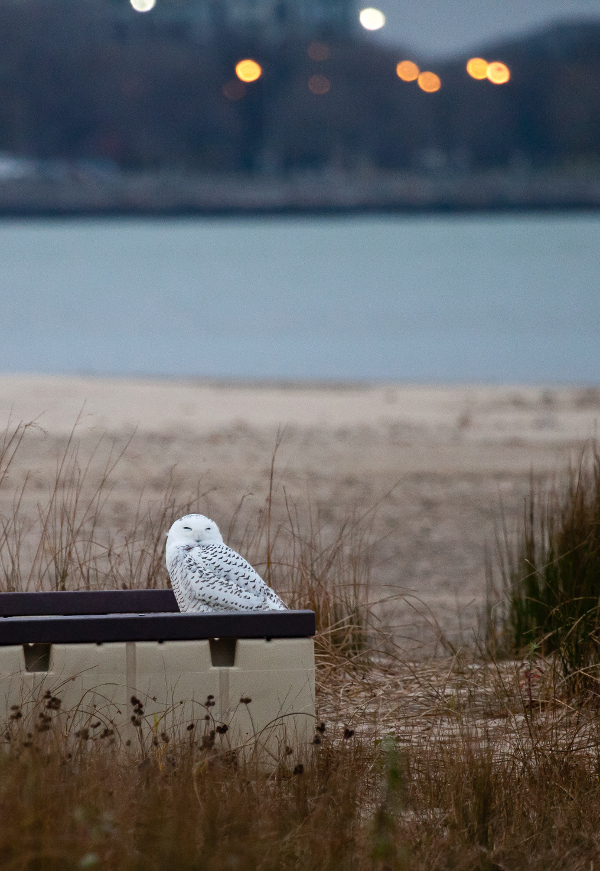 Reader LWO writes: "This Snowy Owl was photographed by my husband at Montrose Beach, Chicago, on Saturday, Nov. 20th."