One of the reasons I'm not a big fan of Twitter is that I don't see it as being useful save for communicating short updates (Raid on Zuccotti Park! Come help fast!) or a terse assessment with a tiny URL. Even more can be misconstrued (or can pretend to be misconstrued by a nay-sayer) than in longer forms of communication.
Nevertheless, I think we can safely make some conclusions re the following tweet from Economics of Contempt on the over $4 trillion notional of US bank exposure to Eurozone risks. A Reuters story recounts how the Financial Stability Oversight Council is trying to get a grip on the positions. Even the bank lobbying group the International Institute of Finance is cautious:
"As such, the potential for contagion to the U.S. financial system is not small," the Institute of International Finance, the lobby group for major international banks, said last week.
Nevertheless, there is not much room for misinterpretation of this exchange: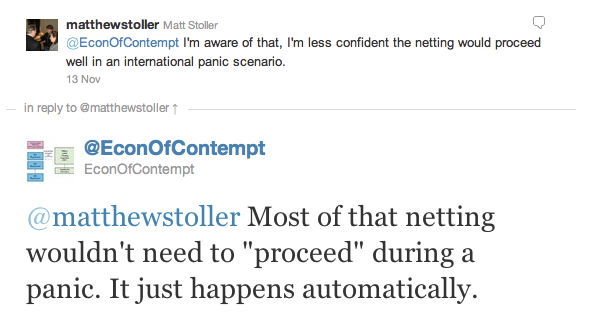 In the Economics of Contempt remark, it isn't hard to detect a patronizing, "Ah, you non-insiders just don't get how this works, do you?" tone. The problem with EoC's airy assurance is the intense regulatory focus says the authorities don't buy the industry's reassurances, and for good reason. Any time a big dealer implodes (and per Bear Stearns and MF Global, they can fail suddenly and catastrophically), it can set off a domino effect of counterparty shortfalls as one side of supposedly netted positions is suddenly not there. An excellent primer on FT Alphaville that we highlighted earlier explains how this can happen. And remember, MF Global (not unlike LTCM in 1998) failed in an manner that the authorities did not anticipate and would not have been monitoring at other dealers.
And the poster child of this is Lehman. Unlike Bear and MF Global, its distress was widely recognized, if not universally believed. And contra EoC, the position marks, and therefore any related netting, were not as clean and tidy as he implies. One tax lawyer at a major dealer bank (and being a tax lawyer means you really need to understand how the trades work) told me that two years before the death of Lehman, he heard from a colleague that Lehman was so desperate to lower its funding costs that every day the "repo gremlins" would go through the firm to hock anything and everything they could. He even said if there was any way to take the firm's staplers and put them into a structured vehicle so they could repo them, they would.
Towards the end, Lehman was engaged in mighty aggressive strategies to fund itself, and JP Morgan woke up and realized it might be more than a tad exposed, and seized $8.6 billion in cash and collateral, which was the proximate cause of the BK filing. This example relates directly to EoC's netting assertion: valuation of complex exposures and instruments is not at all straightforward (JP was clearly hosed by Lehman; even after grabbing the collateral, a lawsuit alleges "JP Morgan was stuck with loans to LBI of more than $25 billion secured by many of LBI's worst securities.")
Satyajit Das, in his first of two posts on the Lehman bankruptcy, explains in some detail about how the valuation of positions under ISDA contracts is not at all straightforward and some methods have never been tested in court. In particularly, Lehman's 1.2 million in derivatives positions have given rise to over 6,000 lawsuits with over $60 billion at issue. You might not deem that to be too bad (6,000 versus 1.2 million) until you read in Das's post that one lawsuit between the Lehman estate and Normura involves over 4,000 derivatives positions. And in that suit, Normura posted nearly $500 million with Lehman, but now alleges Lehman owes it over $200 million. That is a $700 million valuation dispute that will be settled in court.
Similarly, as Das noted:
According to its own valuations, Lehman's claim that the day before the bankruptcy filing the firm was actually owed money from counterparties on its open derivative positions. However, following the bankruptcy filling, the banks filed claims for a total of $51 billion.
So if two sides of a trade can have disputes this big in roiled markets, how much faith we can have in netting?
Tom Adams raised other issues via e-mail:
I think EoC is referring to how smoothly the ISDA auctions have generally worked when institutions like Lehman, Ambac, etc. have gone bankrupt. The gross CDS is reported, with much hand-wringing before the auction, and then it is all netted out and everyone is happy after the auction. Because much of the CDS exposure is collateralized in increasing amounts as an institution moves towards bankruptcy, the final amount of uncollateralized exposure at the time of bankruptcy is usually quite small.

This ignores two issues:

1. Can the institution with CDS exposure afford to collateralize all of their exposures? This was a big factor in why MF Global moved so quickly to bankruptcy – as MF and their exposures got downgraded, MF ran out of available assets to post against their CDS. This is probably why they violated their segregated accounts. This is also what drove AIG to needing a bailout – they lacked sufficient funds to post against their very large exposures. Thus, the problem is not the mechanics of CDS and collateralization, but the fact there is no real limit on how much exposure an institution can take on in CDS relative to assets available for collateral posting.
2. What is the credit worthiness of the various counterparties? Gross exposure may be netted down via CDS hedges, but what if the counterparties run into an MF Global or AIG situation? If a counterparty is unable to honor its hedge (either through collateral posting or outright), then the value of the hedge is greatly diminished and more likely to yield something like ten cents on the dollar (a typical ISDA auction level for unsecured CDS debt). This is the issue that ZeroHedge has been harping on with Morgan Stanley and Jeffries – i.e. "gross is the new net". Since the various gross exposures to various European sovereigns is quite large, a legitimate question can be asked about how secure these hedges (and the resulting netting) will be in the event of significant country or institution downgrades.

This also raises a corollary issue – despite widespread criticism of the rating agencies, especially among European governments, the fact is that financial institutions are tremendously reliant on the ratings in their CDS exposure. Credit rating downgrades are generally written into CDS agreements as triggers for more collateral posting.

There is no meaningful effort to find a replacement for credit ratings nor is there any meaningful method to replace credit ratings as triggers in CDS – the parties need an independent arbiter of the risk.

As a result, I think much of the recent criticism of the rating agencies is largely fake, on almost every count. Regulators, institutions, traders etc. may hate the raters, but they are also very reliant on them. This makes me think very little will really be done to fix or replace them.
The fact that European authorities are doing everything they can to avoid having an involuntary restructuring of Greece which would trigger its comparatively modest CDS exposures says the authorities are very concerned that an undercapitalized CDS protection writer could kick off major disruptions, potentially a systemic event. The fact that senior regulators who are in contact with each other (a big contrast to before the crisis, when communication and coordination was limited) suggest that the risk is real.
And that is what makes EoC's position so troubling. He presents himself as an expert in these matters, even if his expertise on Lehman is limited to having read the Valukas report, rather than actually involved in valuations and litigation for the bankruptcy, as Das is (and has been for all the major financial firm bankruptcies of the last 20 years). So if he really does know this terrain, he should also know better than to keep peddling his "nothing to see here, move along" line as often as he does.