I just got the alert via e-mail. They are doing open mike now and calling for people in NYC to come to Zuccotti Park in large numbers.
I'm not clear on the immediate conflict. The current open mike discussion has a black disabled person objecting to police stop and frisk, which is apparently being done in the park. Will go to Twitter and update.
Update 1:25 AM: A fresh Tweet from the Mayor's office (after midnight!). The reason is an alleged park cleaning. Right. In the middle of the night. Charming: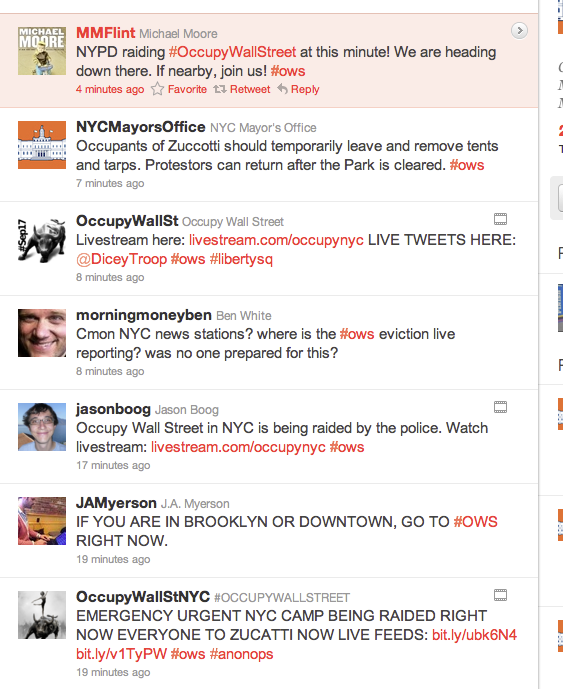 Update 1:30 AM: Per reader Debra C:
Storage of personal materials is fire hazard is what the police are saying.

They need to get some kind of injunction stopping the police and the fire dept from this random, but constant concoctions of faux reasons to roust them out.

They need a permanent injunction. The reason this is being done at night is to keep press coverage at a minimum and to not have access to the court
I hear discussion on the live stream of how people have been separated from their goods. They are now being told they are only allowed to have a "handful" of goods each. Some people are upset, one is complaining that she has medications for someone who needs medication for seizures in her tent. She can't get to them and this is putting her companion at risk.
Update 1:45 AM: The live stream has been cut off. The police were apparently herding people in the park and also blocking access to the park from media and outsiders. One livestream camera was shut off and the view switched to a second before it was turned off. Before that, a woman was complaining about being touched by the police and someone yelled that the police had destroyed his computer. I would not be surprised if they arrest people and confiscate cell phones. I hope enough have the presence of mind to pull out their video cards before that happens.
Update 1:54 AM: Livestream back for the moment. A truck nearby has a sound weapon on it.
Update 2:05 AM: Media now apparently getting access, WBAI is broadcasting live. People in the park reporting that their property is being destroyed.
Update 2:20 AM: Continuous footage of police throwing stuff in a trash heap. The protestors are not wrong. The destruction is deliberate, a point is clearly being made.
Update 2:35 AM (hat tip Lisa Epstein): More evidence of efforts to create a press blackout. Per Scott Kidder, CBS News chopper forced down by NYPD (!). He also reports NYPD is being very strict re media needing official press passes, which seem to be as rare as unicorns. NY Times reporter arrested: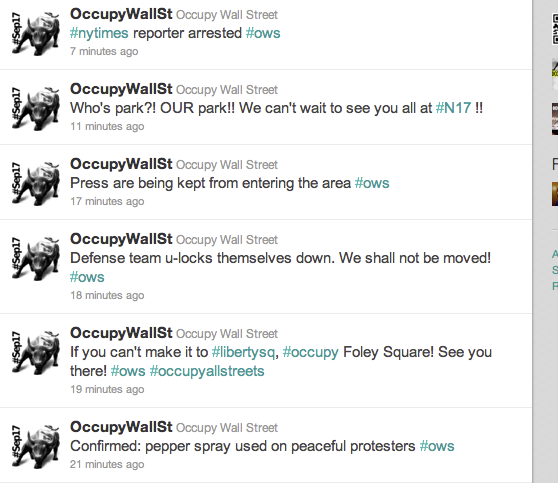 Update 3:00 AM: Official media reports coming in. I had forgotten OWS planned a demonstration on Wall Street on Thursday. The timing is probably related. The Financial Times recounts the official line that the park is was being cleaned (really? at 1:00 AM with NO notice?) for health and safety reasons? And "cleaned" clearly means "cleared". The word on Twitter is that (as was threatened the last time the park was to be cleaned by the city) that tents and sleeping bags will not be allowed in. I'm assuming legal nastygrams will be issued tomorrow AM in opposition to that. However, occupation is 9/10ths of the law, and with the protestors routed out, the best case scenario is probably several days before they could reestablish themselves.
Update 3:15 AM: More police state action: local residents not allowed out of their buildings, the trains are apparently all closed (I heard all of the trains to my 'hood on the feed plus others), beatings, MSM being kept out, and book burnings! At least 2 copies of ECONNED in the OWS library, so ECONNED is probably now part of the ash heap.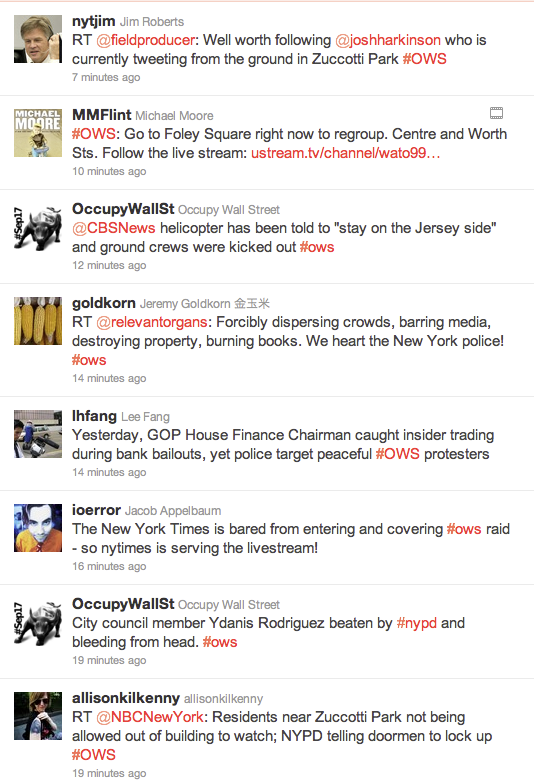 Update 3:20 AM: Oh, the NY Times gives the full bore official line: the park is being cleaned "and restored." The Times confirms the connection to the planned Wall Street demonstration on Thursday:
The police move came as organizers put out word on their Web site that they planned to "shut down Wall Street" with a demonstration on Thursday to commemorate the completion of two months of the beginning of the encampment, which has spurred similar demonstrations across the country….

About 2 a.m., police officers began using a vehicle equipped with a powerful speaker to issue their orders. City sanitation workers tossed protesters' belongings into metal bins, while some protesters dug in at the center of the park by using heavy bicycle chains to bind themselves to park trees and to each other. Some donned gas masks and goggles.

About 200 supporters of the protesters arrived early Tuesday after hearing that the park was being cleared. They were prevented from getting within a block of the park by a police barricade. There were a number of arrests after some scuffles between the two sides, but no details were immediately available. After being forced up Broadway by the police, some of the supporters decided to march several blocks to Foley Square.

The action came as other cities' police forces have begun evacuating similar protest camps.
Readers in comments and via e-mail noted that there seems to be national coordination on the crackdowns. This message came from reader Deontos:
Twitter chatter in #occupy is that local police are now on FEDERAL payroll in a number of municipalities and god knows WHO they are taking orders from. It sure has the appearance of coordinated action nationwide.
I do NOT have confirmation of the Twitter chat, so any reader intelligence is welcome.
Update 3:40 AM: Mike check: people in the kitchen were teargassed, wrestled to the ground and are being arrested individually. The others are being kept far enough away behind barricades to prevent images being captured. The live feed reports that people are being dragged out by their arms and legs. The police have learned to prevent video capture of their actions so as to forestall backlash. Bye bye free press.
Live stream:
If you are in NYC and cannot come down, call 311 to object, or from anywhere in the US, the first police precinct at 212 334 0611.