If you are going to lie, it appears the Obama Administration believes there is nothing to be lost by telling a Big Lie.
Late Tuesday afternoon, HUD Secretary held a conference call with member of the Association of Mortgage Investors. His remarks were consistent with previous rumors we have heard about how the settlement deal is supposed to work.
Several items stood out. The first is that Donovan claimed that the settlement respected the creditor hierarchy, when that is a patent falsehood. He has, in other calls, described the treatment of second liens as "at least pari passu". As we have discussed, second liens are to be written off when they are more than 180 days delinquent, but banks can pretty much arrange that that does not happen (they can put the loan into negative amortization or increase the credit line on HELOCs, so the borrower is paying with newly-lent money). The treatment of second loans is set forth starting on p. 3 of this "General Framework" document from late January. You don't need to understand the formulas. All you need to know is anything other than "second liens are extinguished before undertaking any modification of a first lien" is contrary to the payment priority of second liens. And that is most decidedly not what is happening.
Second is that Donovan claimed that the servicers would not violate their existing agreements with investors. There is verbiage to that effect in the General Framework document: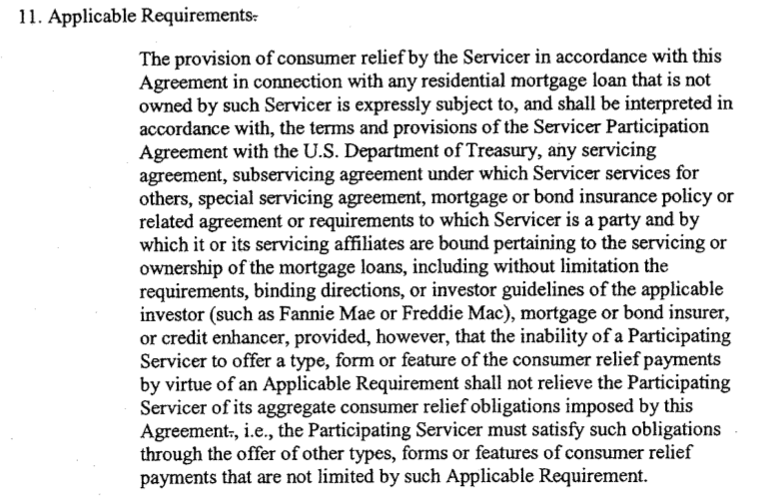 This is taken in some circles to mean that mods are not likely to take place, per Structured Finance News:

So why does Donovan say otherwise? First, he said most of the mods were expected to come from Countrywide deals. Tom Adams looked at two randomly-selected 2006 Countrywide PSAs, and found that both place a 5% ceiling on loan modification and also required that the modified loan be repurchased from the trust. That would mean Bank of America would be taking modified loans (oh, which are subject to redefault) back on its balance sheet, which would seem to be the opposite of what an undercapitalized bank would be keen to do. Here is the language from one of them:
Section 3.12 Realization Upon Defaulted Mortgage Loans; Determination of Excess Proceeds and Realized Losses; Repurchase of Certain Mortgage Loans.

(a) The Master Servicer may agree to a modification of any Mortgage Loan (the "Modified Mortgage Loan") if (i) CHL purchases the Modified Mortgage Loan from the Trust Fund immediately following the modification as described below and (ii) the Stated Principal Balance of such Mortgage Loan, when taken together with the aggregate of the Stated Principal Balances of all other Mortgage Loans in the same Loan Group that have been so modified since the Closing Date at the time of those modifications, does not exceed an amount equal to 5% of the aggregate Certificate Principal Balance of the related Certificates. Effective immediately after the modification, and, in any event, on the same Business Day on which the modification occurs, all interest of the Trustee in the Modified Mortgage Loan shall automatically be deemed transferred and assigned to CHL and all benefits and burdens of ownership thereof, including the right to accrued interest thereon from the date of modification and the risk of default thereon, shall pass to CHL. The Master Servicer shall promptly deliver to the Trustee a certification of a Servicing Officer to the effect that all requirements of this paragraph have been satisfied with respect to the Modified Mortgage Loan. For federal income tax purposes, the Trustee shall account for such purchase as a prepayment in full of the Modified Mortgage Loan. CHL shall remit the Purchase Price to the Master Servicer for deposit into the Certificate Account pursuant to Section 3.05 within one Business Day after the purchase of the Modified Mortgage Loan
The third claim by Donovan is that investors have given consent to mods. Huh? The Association of Mortgage Investors formally expressed its reservations about the deal in writing. There has been quite a lot of communication among the bigger and more active players, and the general view is only Pimco and Blackrock have been in communication with the Administration and have given a nod. The Fed can also be assumed to approve mods, but the Fed owns fewer mortgage bonds than it did in the past.
How much it takes to get investor approval varied by deal, but 50% is the minimum (some deals require 50% of each tranche, some set hurdles higher). MBS are widely held and Pimco, Blackrock and the Fed don't account for 50% of most or even many Countrywide deals (and you can probably assume no greater concentration among other issuers).
Remember Pimco, Blackrock, and the Fed teamed up to put back loans to Countrywide . The threshold for putbacks is that investor need to represent at least 25%, not 50%, of bonds outstanding. Recall further that the Fed holdings are smaller than they were by virtue of having sold from its Maiden Lane II portfolio, which included RMBS. That suit was reported as representing $16.5 billion of $47 billion of bonds (presumably face value). So notice they look to have just made the 25% level. The eventual "$8.5 billion Bank of America settlement" which is now very much in play thanks to numerous motions objecting to the deal, increased to include nearly all of Countrywide's legacy bonds because more investors joined the deal. The face amount was $424 billion. So if the Fed, Blackrock and Pimco now account for even less than $16.5 billion, and are almost certain not to account for 50% of the face value of even the $47 billion of bonds that were in the original Countrywide putback suit, which is only 11% of the total, how can he assert he has gotten investors to consent? It appears that:
1. He underestimates how much investors talk to each other and/or

2. Since investors have no easy way to prove that consent has NOT been obtained, a Big Lie will carry the day.
It is nevertheless yet another sign of Obama Administration brazenness: to have officials tell lies to an audience that will KNOW it is being lied to, with no concern about backlash. They clearly assume that they have sufficient control over the media that they need not worry about disgruntled participants spreading word of the offensive conference call. Even if negative stories leak out, the officialdom is apparently confident that it has enough paid or brainwashed cheerleaders to drown them out.