The true fathers of computing Guardian.
The case for open computer programs Nature.
Wikileaks regains relevance with Stratfor doc-drop The Register (SW). Insider trading, one.
Massive leak reveals criminality, paranoia among corporate titans (SW). The Yes Men rule!
Judge Rules Refusing to Decrypt Hard Drive is Covered by Fifth Amendment.
Chinese "netizens" inundate Obama's Google+ page BBC.
Greeks buy potatoes direct from farmers over the internet Reuters.
Greeks "fell trees for warmth" amid economic chill Yahoo News.
Calls to Greek suicide hotline doubled in 2011 Telegraph.
OECD: the average Greek works more hours than any other European country BBC.
Brazil would trade aiding the EU for more power in the IMF BBC.
The lesson for the Europeans is that the US fiscal stimulus worked Bill Mitchell.
Thousands from 10-mile human chain in anti-Putin protest AP.
What is really happening in Iran? Al Jazeera (MS). Pepe Escobar on Ayatollah Khamenei.
Bombing Iran Economist. If you must run an empire, ask the Brits how.
The best of the best are sought as Thailand readies for any rise in terrorist threats Bangkok Post.
Britain leads dash to explore for oil in war-torn Somalia Guardian.
Death in Syria Craig Murray (MS).
Anti-War Critics Forgotten on Oscar Night Truthout (SW).
Is Israel a failed state? American Conservative (MS). Interesting.
Pressure builds for civilian drone flights at home Yahoo News.
Grand jury probes Mr. X's bent lust for Bachmann McClatchy (Buzz Potamkin).
Clarence Thomas trial balloon Daily Beast (SF).
Wisconsin locals pan Obama mortgage "settlement" The Northwestern. "What's $2,000 going to do in many of these cases?"
The scientific argument for being emotional Salon.
Money can't buy happiness Economist. No, really.
ETAP Yachts Rebranded as Armageddon Life Rafts (Buzz Potamkin).
LSU identifies community conditions related to malnutrition deaths among older adults (MS).
Little Free Libraries are taking root on lawns USA Today. Awesome. Anyone can do this.
Infiltration to Disrupt, Divide and Misdirect Is Widespread in Occupy TruthDig. From all across the spectrum. (One of the authors, Occupier Dr. Margaret Flowers, got herself arrested in Max Baucus's hearing room for single payer.) UPDATE: Alternative link.
Antidote du jour: Mary Brunton's Moe.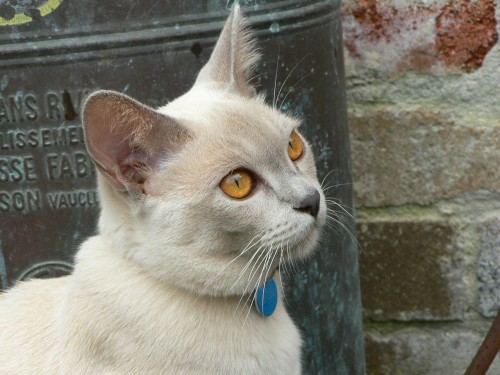 Thanks to all readers who sent in pictures of their cats. (And one of them was really sad. You know who you are.) I'll collage them together next time I'm on. And, as always, if your cat is not the Antidote, that is my failure to recognize true cuteness, rather than any deficiency of cuteness on the part of your cat.