One of our big beefs about the pending mortgage settlement has been the failure of prosecutors and regulators to do anything remotely resembling serious investigations. You don't settle on known, easy to prove abuses (particularly when you choose not to know their extent) and leave yourself with a grab bag of mainly more difficult to ferret out ones to consider going after later.
We've seen repeatedly that small scale investigations in the servicing and foreclosure arena have found widespread problems. For instance, one by Abigail Field of foreclosures in two counties in New York found a complete fail by Countrywide of transferring notes to trusts in its own securitizations. Registers of deeds Jeff Thigpen in Guiford County, North Carolina found widespread evidence of robosigning. John O'Brien of Southern Essex County, Massachusetts, conducted an audit and found, per Dave Dayen:
'• Only 16% of assignments of mortgage are valid
• 75% of assignments of mortgage are invalid.
• 9% of assignments of mortgage are questionable
• 27% of the invalid assignments are fraudulent, 35% are "robo-signed" and 10% violate the Massachusetts Mortgage Fraud Statute.
• The identity of financial institutions that are current owners of the mortgages could only be determined for 287 out of 473 (60%)
• There are 683 missing assignments for the 287 traced mortgages, representing approximately $180,000 in lost recording fees per 1,000 mortgages whose current ownership can be traced.
So the latest report from San Francisco county should come as no surprise. From Gretchen Morgenson of the New York Times, emphasis ours:
An audit by San Francisco county officials of about 400 recent foreclosures there determined that almost all involved either legal violations or suspicious documentation, according to a report released Wednesday….

The improprieties range from the basic — a failure to warn borrowers that they were in default on their loans as required by law — to the arcane. For example, transfers of many loans in the foreclosure files were made by entities that had no right to assign them and institutions took back properties in auctions even though they had not proved ownership.
Yves here. I wish Morgenson had not deemed the latter abuses as "arcane". They are actually pretty basic to lawyers – you can't assign rights you don't possess or sell what you don't own. And these are concepts that laypeople can grasp readily. Back to the article, which makes clear the state attorney general Kamala Harris, who was doing a victory lap over the mortgage settlement, had nothing to do with this probe:
Commissioned by Phil Ting, the San Francisco assessor-recorder, the report examined files of properties subject to foreclosure sales in the county from January 2009 to November 2011. About 84 percent of the files contained what appear to be clear violations of law, it said, and fully two-thirds had at least four violations or irregularities…

As the San Francisco analysis points out, "the settlement does not resolve most of the issues this report identifies nor immunizes lenders and servicers from a host of potential liabilities." For example, it is a felony to knowingly file false documents with any public office in California.

In an interview late Tuesday, Mr. Ting said he would forward his findings and foreclosure files to the attorney general's office and to local law enforcement officials. Kamala D. Harris, the California attorney general, announced a joint investigation into foreclosure abuses last December with the Nevada attorney general, Catherine Cortez Masto. The joint investigation spans both civil and criminal matters.

The depth of the problem raises questions about whether at least some foreclosures should be considered void, Mr. Ting said. "We're not saying that every consumer should not have been foreclosed on or every lender is a bad actor, but there are significant and troubling issues," he said…

In a significant number of cases — 85 percent — documents recording the transfer of a defaulted property to a new trustee were not filed properly or on time, the report found. And in 45 percent of the foreclosures, properties were sold at auction to entities improperly claiming to be the beneficiary of the deeds of trust. In other words, the report said, "a 'stranger' to the deed of trust," gained ownership of the property; as a result, the sale may be invalid, it said.

In 6 percent of cases, the same deed of trust to a property was assigned to two or more different entities, raising questions about which of them actually had the right to foreclose. Many of the foreclosures that were scrutinized showed gaps in the chain of title, the report said, indicating that written transfers from the original owner to the entity currently claiming to own the deed of trust have disappeared.
While Phil Ting is optimistic that there will be follow through and action, one can easily reach the opposite conclusion. First, the intent of the settlement is to collect money, impose new servicing standards, which like past servicing standards will not be met, and also go after some additional cases with great fanfare to create the impression that the officialdom is Doing Something. The goal is to preserve the system, based on the deeply flawed premise that all that is needed is yet another consent decree and more serious looking fines and servicers will toe the line.
But look at the report findings. Almost no foreclosures were conducted properly. One cause is the issue we have been writing about for nearly two years: the failure of the parties to the original securitization to convey notes properly to the securitization trusts. That failure can't be remedied at this late date, so the only way to create the appearance that the trust has the right to foreclose is either by filing improper documents and hoping no one notices, or document fabrication and forgeries.
The second is that servicers can't afford to meet the servicing standards set forth in the consent decrees. They'd go bankrupt. Various regulators have been promulgating the same standards since the FTC consent decree with Fairbanks in 2003, and the industry has NEVER been able to meet them. Enforcement is lax, and violations are simply rolled into new consent decrees. See this, for example, this announcement from the Office of the Comptroller of the Currency last week:
In the agreements in principle struck by the OCC with these mortgage servicers, the servicers do not contest the OCC's ability to impose penalties aggregating $394 million, and the OCC agrees to hold in abeyance imposition of such penalties provided the servicers make payments and take other actions under the federal-state settlement with a value equal to at least the penalty amounts that each servicer acknowledges that the OCC could impose.
I also have to note that Paul Jackson of Housing Wire has attacked the Morgenson piece on Twitter, attempting to smear the authors of the underlying report and accusing Morgenson of sloppy fact checking. Jackson (pjackson) has put up a manic 17 tweets. That's a cowardly way to take issue with a piece, but this approach allows him to make various ad hominem salvos when a putting them in a more conventional format would expose that he has no substantive argument. His efforts to attack the report's authors don't really land a blow. This section gives you an idea of how desperate Jackson's efforts are:

I'm sure most of Jackson's readers are savvy enough to know that loan screening has nothing to do with failure to comply with the transfer procedures set forth in pooling and servicing agreements, or fraudulent servicing and foreclosure practices, which is what the San Francisco investigation looked at. But Jackson is presumably hoping to sway journalists who don't know the terrain.
Yet amusingly, Jackson's own reporter, Jon Prior, who is full time on the housing beat and is generally even-handed, obviously thought the San Francisco report had merit. He wrote an article that was posted on Housing Wire apparently before Jackson got wind of it and yanked it. From my RSS reader and Twitter: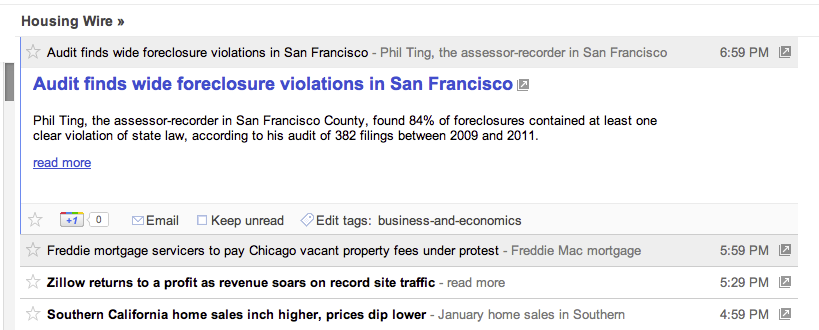 If you click on either link, this is what you get: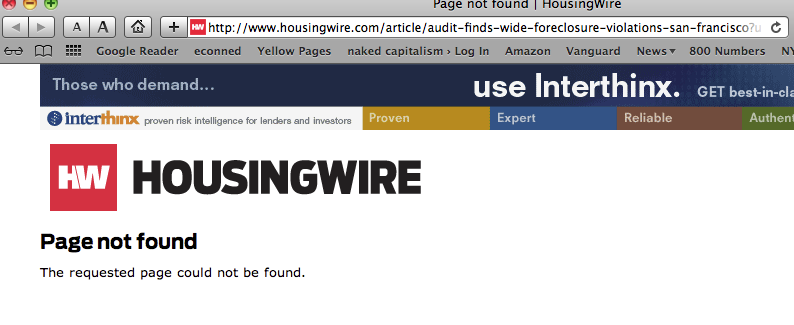 It's remarkable that Jackson has the temerity to talk about conflicts of interest. The biggest advertiser on his site has been Lender Processing Services, which along with MERS was singled out for particularly harsh treatment in the OCC consent decrees last year. LPS is also the target of numerous lawsuits, including a case by Nevada's attorney general that is outside the mortgage settlement. Moreover, as Dave Dayen pointed out, one of the major backers of Housing Wire is Richard Bitner, who has depicted himself as the analogue to a drug dealer for the subprime industry.
So Jackson appears to be defending his meal tickets, and in a classic example of projection, accuses others who appear to be blameless (his Twitter argument, despite all the links, does not hang together) of the type of conduct he regularly engages in.
This isn't the first time Jackson has engaged in mudslinging. He's made scurrilous attacks on pioneering foreclosure defense attorney Nick Wooten, misrepresented decisions that have been unfavorable to his backers (not just our view, but also that of law professor and securitization expert Adam Levitin), and relied heavily on anonymous and dubious-sounding sources. He has even tried insinuating that critics of the now-shuttered foreclosure document fabrication subsidiary of LPS, DocX, such as Congresswoman Maxine Waters, consumer groups, and yours truly, were engaged in "lying and fraud." From the close of Richard Smith's evisceration of Jackson's shameless defense of DocX:
In the end, Jackson's piss-poor journalism, and his imperilled credibility as a pundit, do turn out to have a great big ethical implication. The people he is speaking up for, and the stand he is taking, are profoundly antisocial. Denying, and thus, tolerating, this fraud involves even more collateral damage than a blogger's standing, more even than abused mortgage holders, clouded title and a stalled housing market. The ultimate destination would be capitalist society without contract law: impossible. Says Tom Adams:

To date, courts have consistently sided with servicers and trustees because of the power dynamics (big banks vs. borrowers in default). With all of the recent news, I suspect many judges are reconsidering this, especially in light of the significant case law history which would be unsympathetic to the position of the servicers/trustees. To consistently hold for the servicer/trustee with poorly documented or protected collateral rights would create a very problematic set of precedents for other types of notes and contracts. This is why attorney generals and judges should be very considered about the current state of mortgage industry. It is a disaster for the rest of the legal world and no judge wants a collection of precedents set in their state where they have to ignore the UCC, prior precedents and common sense, in order to find for the servicer/trustee. It is truly a terrifying issue.
And as we've seen again and again, it is also an issue that Jackson and the industry would rather obfuscate because they are utterly unable to address it openly and honestly. Transparency would expose many key players to be in need of such deep seated changes as to put them out of business.
Update: Adam Levitin makes the critical point that this review make a mockery of the soi-disant investigations to date and proposed exams. Read his post in full. Key extracts:
The San Francisco City Assessor's audit also serves as a benchmark for evaluating the Federal-State servicing settlement. The San Francisco City Assessor managed to accomplish in a few months what the Federal government and state Attorneys General weren't able to do in nearly a year and a half with far greater resources at their disposal: perform a credible investigation of foreclosure documentation with serious implications about the securitization process in general. That's a lot of egg on the face of Shaun Donovan, Eric Holder, Tom Miller, et al. The SF City Assessor report shows that it really wasn't so hard for a motivated party to undertake a serious investigation. And that raises the question of why the largest consumer fraud settlement in history proceeded with virtually no investigation.

The lack of investigation was the compelling criticism that led the NY and DE AGs to stay out of the settlement for quite a while. I've never heard an answer as to why no serious investigation. As the SF City Assessor's audit shows, the documentation is all a matter of public record. It's not that hard to do, especially if you have the resources of the federal government. So the resources were there. The capability was there. So why no investigation? The answer has to lie with lack of motivation. Were the Feds and AGs scared of what they would find if they delved too deeply into the issue?