By Philip Pilkington, a writer and journalist based in Dublin, Ireland. You can follow him on Twitter at @pilkingtonphil
Last Friday the BBC's economics editor Stephanie Flanders ran one of the most terrible economics articles I've ever read: 'The Truth About UK Debt.' The problem is that it contains very little truth.
The reason it contains so little truth is because, not to put too fine a point on it, Flanders comes off as having quite literally no idea what she's talking about. In fact, the piece comes across as less an article and more a smattering of graphs and uncontextualised facts. To say that it reads like something on the Zerohedge website would be unfair. But in terms of sheer incomprehensibility and vagueness it is certainly poised in that direction.
The article sets out to convince the reader that the UK does not have a problem with private sector debt. Sounds pretty fishy, right? Well, it is fishy. Very fishy. Especially given that the author starts out with the following graph: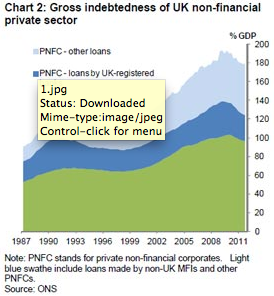 That chart, to me, looks pretty damning – and it doesn't even take into account the financial sector (more on that in a moment). Clearly the private sector has been leveraging itself up to the eyeballs. You can also see that after 2008 they started slowing their accumulation of debt.
None of this is particularly hard to interpret. As private sector debt increases more money is spent into the economy. As it decreases we must assume that, all else being equal, less money is entering the economy. When less money enters the economy we must assume that less people are spending and investing. This should lead to a fall in economic activity.
Of course, that's exactly what we're seeing in Britain right now. Unemployment is up. GDP growth is down. And everyone's feeling a bit miserable.
The Australian economist Steve Keen wrote a piece for the London School of Economics website the other day entitled 'Ignoring the Role of Private Debt in an Economy is Like Driving Without Accounting for your Blindspot'.
The first thing to note about the article is that Keen estimates that British private sector debt is much higher than some 210% of GDP which seems to be the figure that Flanders is working off. Keen discussed estimations in another piece entitled 'Everyone is Starting to Realise the Size of Britain's Debt Crisis'. There he noted that when the financial sector is taken into account the UK government estimates that the total private sector debt is around 450%. Meanwhile, independent observers like Morgan Stanley put the total figure at about 950%. Sheesh!
Applying the official measure Keen provides a chart of his own that juxtaposes the rate of the change in private sector debt and the rate of unemployment. Unsurprisingly there is a pretty strong correlation.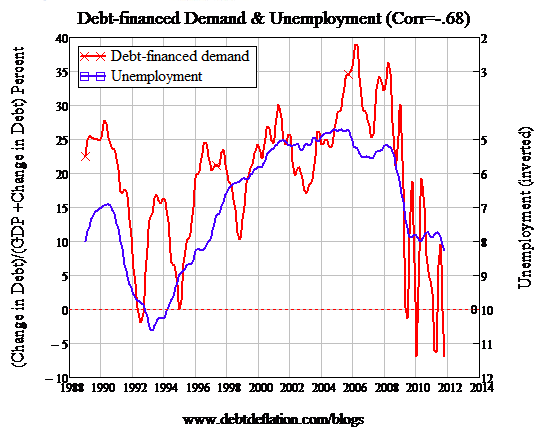 Again this makes perfect sense if you think about it. When a household or a firm, financial or non-financial, takes on debt this is then used to either spend, invest or speculate on asset prices. Assuming that not all of it is going into speculation (a good deal might be, of course) then any debt taken out by the private sector becomes an income for another person or firm.
It seems perfectly obvious that, like much of the rest of the world, Britain's fairly decent economic growth in the 1990s and 2000s was driven primarily by an unsustainable private sector debt binge. Now that the binge is over it appears equally obvious that Britain can no longer rely on huge injections of private sector debt to ensure economic growth.
Flanders ignores all this. Instead of providing analysis and contextualisation she goes on to talk about how much debt is owed to other countries. This is an interesting topic primarily from the point-of-view of the exchange rate, but it is not a central issue.
She also talks about causation: do house price rises lead to debt booms or vice versa? What does this have to do with anything? Not much. But such is the rambling nature of Flanders' article. Indeed, it doesn't mean much to say that the question of causation has little to do with the central point of her article when her article, in fact, has no central point.
Finally she makes vague allusions to the government debt being 'unsustainable' and slowing growth. Of course, as any economist that isn't completely dim will tell you government deficit spending actually leads to increased growth. That's not a theory. That's an accounting statement. When the government spends money it becomes an income for the private sector. This is then entered into the GDP accounts at the end of the year. If the private sector agent then spends within the country another entry is made in the GDP accounts at year end (this is known as the 'multiplier effect'). This is all pretty basic stuff, but Flanders doesn't seem to have a clue.
The worst part of all this though is that she didn't come up with this contrarian nonsense herself. She took it on from Ben Broadbent, an economist and member of the Monetary Policy Committee.
Broadbent's argument is more logically consistent than Flanders' scattergun-style article, but in saying that it is more logically consistent is not to say that it makes much sense.
Broadbent recognises that there was a property bubble but claims that this didn't have any real effects on the economy because it was primarily a transfer of wealth between those trading up in the market and those trading down. This is pretty weird stuff altogether.
How much economic activity was undertaken during the property boom due to rising house prices? How many new houses were built or refurbished in those years that otherwise wouldn't have been? The Cautious Bull provides us with this handy chart which should give us some idea of how much economic activity was being generated from home building alone: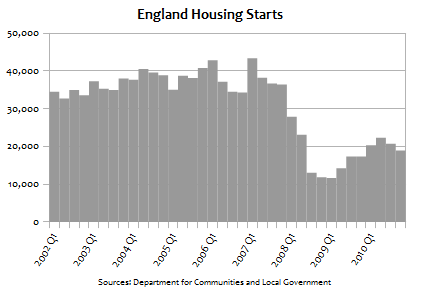 And that doesn't even take into account the various other sectors being driven by home construction OR the wealth effect generated by the uptick in property prices OR the multiplier effect such economic activity had. Any economist worth his salt should know the importance of the housing sector as a driver of the economy.
Broadbent ignores the simple fact that the housing and credit boom was clearly generating high levels of unsustainable economic activity. Instead he goes on to argue that the British credit crunch was mainly caused by the blowing up of various investments made abroad. How this dampened British economic activity so severely, he's not exactly clear on. But the reader gets the strong impression that Broadbent isn't really concerned with real economic activity – or reality, for that matter. He's more interested in his strangely disconnected theories about balance sheets and their interrelations.
Broadbent's her article is sloppy and manifestly confused. And we can't blame Flanders for that. She has tried to grasp Broadbent's argument and failed – but that's mainly because Broadbent's argument is weird, counterintuitive and most likely wrong. As a journalist Flanders should know that if she cannot summarize an argument succinctly then she has either not understood it properly and needs to try again, or it is no argument at all and the person making it is either having her on or too confused to be trusted.