By Richard Smith, spelunker of the Web.
We started Robert Cowley's web bio here and this is the second installment. We will be in Mayfair, London, or on the Gold Coast of Australia, and the story involves a dead Daily Mail journalist, a great racing driver, and a bad racing driver: a very bad one, in fact positively wicked. We introduce Cowley's two pseudobanks, Eaglebanque and Investment Suisse, and trace what we can of two of his scams.
The dead journalist is Nigel Dempster. Here is his obituary and a sample of the man:
Nigel Dempster, who died yesterday aged 65, was the hot-breathed newspaper gossip ace of his day, a punctilious, and latterly careworn, chronicler of marital discord in the moneyed set.

The doyen of his metier for some quarter of a century, Dempster was cocky and plausible, to the extent that Princess Margaret became an acquaintance and informant. Straying peers and medallioned playboys came to fear a call from the dauntless, dapper Dempster.

In county drawing rooms up and down the land his column was indignantly excoriated – yet discreetly devoured. Secretaries and suburban housewives were equally addicted to his daily dispatch from the world of "luxury" yachts, "penthouse" flats and six-figure divorce settlements.
…
At his peak in the 1970s and early 1980s Dempster commanded the largest salary on Fleet Street. His subjects, drawn chiefly from the ritzier enclosures at Ascot and Cowes, were often men and women of the slimmest achievement but Dempster made them stars of faux scandal.

Such was his success that he earned more than some of the plutocrats and noblemen whose love lives he monitored. Yet proximity to the great gamblers and bed-hoppers of the age eventually corroded his spirit, if not his liver. He lost much of his money to bookmakers and by the end of his days his capacity for enjoyment was sadly diminished.
…
His English education gave him enough self-confidence to call strangers "old boy" and to keep (and wear) a large selection of public school ties. If his shoes, like his anecdotes, sometimes seemed too polished, it was because he remained deep-down an Aussie outsider.
…
Dempster contributed for several years to Private Eye, helping to write the venomous Grovel column. Here he gave vent to a far more critical appraisal of the social elite.
For a sample of his work in his declining years, we travel back to the very dawn of time, which, as far as the modern Internet is concerned, is about 2000 A.D.
Sadly, Dempster's journalism doesn't appear to form part of the Daily Mail online archive, but, courtesy of a couple of flukes, we can get some idea of a piece or pieces that Dempster wrote for the Mail around the 15th August 2000. The first fluke is another, unfortunately uncommunicative, blogger  who, like me, seems to have a bit of a thing going for Robert Cowley. I can patch up one of his slightly corrupted posts on Cowley's past to restore something close to Dempster's original text, which I don't have:
This morning Annie Hill and her crooner husband Vince, attended by a Bailiff of the High Court, will regain possession of their Mayfair flat on which rent of £56,000 is outstanding.

Annie let the property three years ago to Eaglebanque, which paid her with a series of dud cheques on their branch in Baton Rouge, Louisiana.

'I don't expect to find anyone there. The telephone was cut off last week and Eaglebanque allowed a charity called the Foundation for the Arts, Sciences and Humanities to move in. I have been corresponding with a Mr George Russell of FASH but he has moved to Glasgow. Annie says she originally dealt with an Australian calling himself Sir Robert A. Cowley of Eaglebanque Securities Limited and has been to court 'many times' to get an eviction order.

When I get an order I negotiate with them and that means I can't prosecute the order. But tomorrow is the day. I hope I don't find too much of a mess.'
Via the Sydney Morning Herald's interest in Australians overseas, and then via the Australian "Insolvency Lawyer" web site's interest in dodgy dealings, a closely-related piece of Dempster's reporting turns up, rewritten:
Making a bad name for the rest of us are the Australian pair in London from the Zurich-based Eaglebanque who have moved into the Mayfair mews residence of the late superagent Dennis Selinger the bloke who handled Peter Sellers, David Niven and Michael Caine.

Selinger's wife Debra had been having some problems getting access to the £20,000 deposit Sir Andrew Haverford and Sir Robert Cowley were said to have put down on the residence, The Daily Mail's columnist Nigel Dempster reports.

Sir Robert, whose card also claims he is Robert, Baron Ardwallen and a Knight of the Sovereign Order of Malta, may drive a Rolls Royce, but all efforts by Dempster to verify the knighthood have drawn blanks.

Perhaps he should ask gold bug and futures spruiker, Harry S Schultz, who had a Maltese knighthood. You don't win them for valour.

The 50-something-year-old pair also, apparently, spend some time doing whatever it is they do in Hong Kong, while Eaglebanque has offices in the USA's deep south Baton Rouge, Louisiana and Fort Lauderdale, Florida.
Evidently it takes one Aussie outsider (Dempster) to spot the dubiousness of two more Aussie outsiders, Robert Cowley and "Sir Andrew Haverford". So we're off to Queensland next, where we find out exactly why these two are hanging out in Mayfair, and why they really should have been good for all that rent money, and the deposit too. From the Queensland State Parliament's official record of proceedings (Hansard) for 11th December 2001, page 101 in the PDF:
Mr LAWLOR (Southport—ALP) (9.42 p.m.): The matters of which I am about to speak are the result of a two-year investigation by Gold Coast journalist Murray Hubbard and will be printed in detail in tomorrow's edition of the Gold Coast Sun newspaper. Andrew John Haberfield, who lives in a palatial waterfront mansion at Benowa on the Gold Coast, is behind a major international scam masquerading as a charity called the Hope Foundation.

The Hope Foundation was started on the promise of providing humanitarian aid to poor countries, particularly after a disaster. The foundation intended buying a Boeing 747 and having it fitted out with an on-board hospital to fly into trouble spots as a first-response unit. Although a commendable idea, the reality was quite different.

The foundation acquired a Lockheed Jetstar—a smaller jet similar to a Lear jet—which was fitted out with luxury leather seats and used to take foundation executives on trips and to impress potential victims. Investing on the basis of earning a dividend while practising philanthropy of sorts, some 30 Australian and New Zealand victims lost $6.3 million by investing in the Hope Foundation. That money has disappeared from accounts held in Switzerland and Liechtenstein.

Agents for the foundation promote returns of 10 per cent and 40 per cent per month through their scheme. They unfortunately do not show how, with whom and in what country contributors' money will be applied. There are no financial statements, no prospectus, no investment statement and, in a short time, no money. Haberfield is said to have personally gained more than $1 million from the scheme. Documents in my possession show authorisations from his business associate Robert A. Cowley, chairman of the board of the Hope Foundation, for money transfers made to Haberfield totalling more than $800,000.

The Hope Foundation has left a trail of debts in the United States, Australia, New Zealand and the United Kingdom. On foundation letterhead he has identified himself as Dr Andrew J. Haberfield and currently purports to be Sir Andrew Haberfield, a Knight of Malta's Sovereign Teutonic Order. Robert Cowley also represents himself as 'Sir Robert'.

Another scam is the Millionaires of the World Club, an offshoot of the Hope Foundation. For $20,000, or $15,000 cash, investors are offered a lifetime membership of the club and a promised annual rate of return of 240 per cent. Again, no-one ever sees his or her original investment again, let alone a return.

I am aware of two previous scams by Haberfield, including one in February 1999 when he attempted to set up a V8 racing team with driver Alan Jones and aspiring young driver Darren Pate. The team and racing cars never materialised and a number of suppliers and investors lost money, including Pate, who to this day is still owed $50,000.

In late 1999, Haberfield left Australia with his family for the United Kingdom with the trip paid for by the Hope Foundation. He lived the high life, drove a Rolls Royce and lived in Mayfair. I believe the Major Fraud Squad in London is very keen to speak with both Sir Andrew and Sir Robert.

Today Andrew Haberfield is back on the Gold Coast seeking sponsors and investors for a V8 supercar racing team for the 2002 season. He is working out of premises at the rear of 6 Supply Court, Arundel, and I have it on very good authority that he is failing to pay award wages, superannuation or other entitlements to those working for him.
So we have a little copy edit for the dead Dempster, ten years too late: the name is Haberfield, not Haverford. But there are our two racing drivers: the great Alan Jones, 1980 Formula One World Champion, whose due diligence is not so great, and the crappy fraudster Andrew John Haberfield, who, unperturbed by the Parliamentary allegations, did indeed end up competing in the 2002 Super Touring Cars season, in the Alan Jones team, for that season only, and won no races at all.
If only someone had pointed Jones to the report in the Gold Coast Sun before he ever got involved with Haberfield. If only he had terminated his association with Haberfield at the end of the 2002 season.
By August 2003 at the latest, as we see from the Wayback Machine, Jones has some sort of deal going with Robert Cowley too, via Cowley's scam vehicle Investment Suisse. The Wayback Machine is slow, but if you give it time, it will retrieve the Investment Suisse page snipped here:



and the Alan Jones Consortium page snipped here (click on it to make it bigger)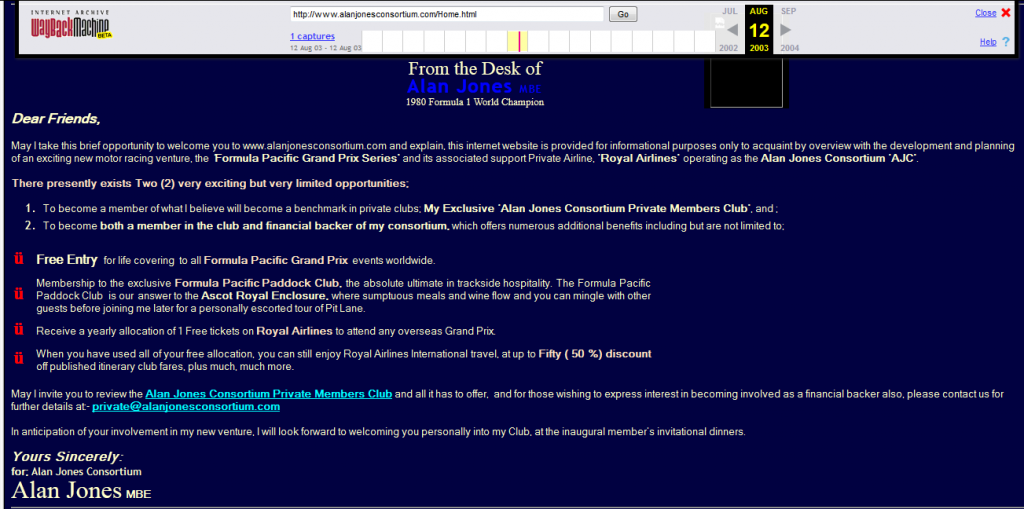 Yup: as if Haberfield is not enough, Jones has a connection with Robert Cowley too. This does not bode well for Alan Jones's finances, at all.
In fact, it looks as if Haberfield worked very quickly: he seems to have cleaned Jones out via AJR Wheels (mentioned above in the Queensland Hansard report) before Cowley followed through on his scam, a variant of the Lockheed Jetstar wheeze also mentioned in the Queensland Hansard. Perhaps Jones was in a very tight spot even before he hooked up with Cowley, because in The Sunday Telegraph (of Australia) text archive, dated June 22, 2003 we find this:
FORMER world champion race driver Alan Jones is fighting off bankruptcy after facing debts of more than $4 million.

The 56-year-old motor sports commentator, who retired from Formula One grand prix racing in 1987, has lived in luxury on the Gold Coast, owning a waterfront home, several luxury cars and four boats, including a $3 million yacht.

It is understood Jones — who won the F1 drivers' championship in 1980 and is rated as one of the 10 best drivers of all time — sought a Part 10 Deed of Arrangement under the Bankruptcy Act late last year.

Under the agreement, which prevents him from being declared bankrupt, Jones is paying instalments totalling $20,000 a month.

…

Jones had incurred $4.1 million in liabilities, according to a report prepared by Controlling Trustee Jeffrey Crowther, from McCowans Solicitors.

The report shows Jones had assets valued at $2.2 million…

…

In his report, Mr Crowther said: "Mr Jones attributes his present insolvency to some bad business advice and the failure of a business known as AJR Wheels, which he established with a partner.

"The nature of the business was to export aluminium to the Philippines, where it would be turned into wheels and sent back to Australia for sale. He alleges his partner did not uphold his financial responsibility and Mr Jones ended up being responsible for the debts incurred."

The report said Jones was contracted to a car manufacturer and television network, but with Channel 9 losing the grand prix television rights, his personal income would be about $50,000 for the next 12 months.

"Based on Mr Jones's personal income, he would not be able to make compulsory contributions, should he become bankrupt", said Mr Crowther, who recommended creditors accept the deed of arrangement.

Jones declined to comment.
Obviously one doesn't know, from this account, how much of the AUD4million stuck to Haberfield or Cowley. Some of it, no doubt, and enough to finally cripple Jones financially, evidently. To me "his partner did not uphold his financial responsibility" does sound like an advance payment scam of some kind.
At AUD20,000 per month, the unfortunate Mr Jones might have made some sort of a dent in the ~AUD2Million net debt ten years later, and perhaps there's been some genius lawyering, or a big upturn in his income. But I suppose he is still out there, slogging away. It is another very sad story, I'm afraid.
Andrew Haberfield, who drops off my radar completely, must still be out there as well. Did he get prosecuted for the Hope Foundation scam? Is he the same guy as the CEO of Super Series Rodeo, a Gold Coast company incorporated only last year? I don't know. Perhaps some locals are knowledgeable enough, or curious enough, to dig down and enlighten us all.
Robert Cowley is still out there, too. More on him in our next.