By Matt Stoller, a fellow at the Roosevelt Institute.  You can follow him on twitter at http://www.twitter.com/matthewstoller
Over the past three years, the big four servicers have been keeping hundreds of billions of dollars of second mortgages on their books (mostly in the form of Home Equity Lines of Credit, or HELOCs).  Many of these mortgages would seem effectively worthless, because a home equity line of credit or second mortgage on top of an already deeply underwater first mortgage has no value.  You can't use it to foreclose, because you'd get nothing out of the foreclosure – all of that would go to the first mortgage holder (usually some investor in a pension fund somewhere).  It has only "hostage value", or the ability to stop a modification or write-down from happening.  The best way to clean up this situation is to have the regulators (FDIC, OCC, Federal Reserve) simply tell the banks that they must write down their second mortgages on collateral that has been impaired.  That way, the incentive problem goes away.  By forcing the bank to recognize the loss now, the bank will no longer stop a modification on a first mortgage.  And in fact, the regulators pretty much agreed that this is what their examiners should do, when they issued new rules earlier this year on accounting for second liens.
Only, the regulators haven't done it, because the banks claim their seconds are performing.  Bank of America says that these loans are worth 93 cents on the dollar.  Several of the other banks don't break out their loss reserves for seconds, so it's hard to tell, but I think it's clear they aren't reserving enough.  We can tell that because the Federal Reserve itself is dramatically overvaluing these seconds.  In a stress test, the Fed said in its worst case scenario that the banks would lose only "$56 billion".  These are low numbers.  According to their most recent investor report, Wells Fargo alone has $35 billion of second liens behind first mortgages that are underwater.
I did an analysis of some of these numbers, downloading FDIC data on the bank holding company level.  I'm not a bank accountant, so I ran these numbers by a few people who know what they are doing, and they were not surprised by what I found.  Here' the percentage of loans at various stages of impairment, by loan type.  You can see that junior liens and HELOCs do far better than first mortgages, which is puzzling considering that delinquency rates are still at crisis-era levels.  Something interesting happens at 90+ days, where essentially no seconds get put into that category.  In fact, Citi has zero seconds in the 90+ days past due category, which a Citi rep told me was because they place their 90+ day plus loans in the non-accrual category.  And the Citi rep. wouldn't tell me how much the bank is reserving for these seconds, nor would he tell me how many of these loans are amortizing, or being paid off (more on that later).  Citi's actually in the best shape of any of the banks regarding these seconds, with a book about a third the size of Bank of America, Wells, and JPM Chase.
These second liens are doing really, really well.  Oddly well.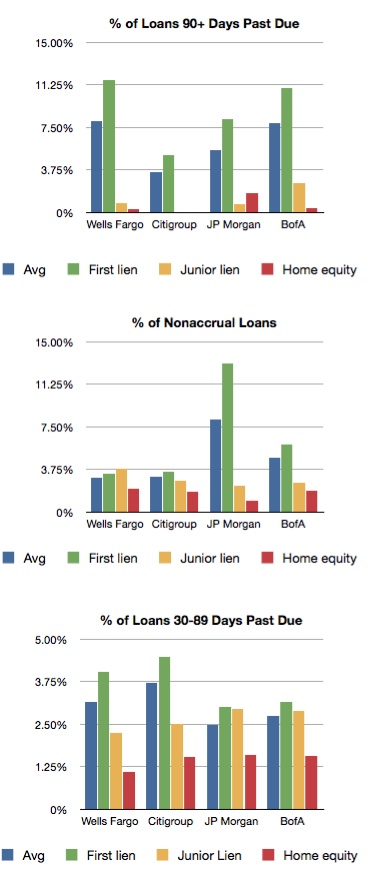 So how valuable are these seconds?  I took a look at the expansion of the second lien book for the top four servicers (you can see my spreadsheet here).  Basically there was a massive expansion of these second liens from 2007-2008, and then a very slow reduction of the books from 2009 onward.  The banks extended a lot of credit in 2008, and have been withdrawing it ever since.  But it's not as if their loan books are entirely going down because the loans are being paid back.  They are going down because some of it is being paid back, and some is being charged off.  There's a mix of healthy payoffs and unhealthy charge-offs.  That means we can sort of assess how healthy these loans are overall by looking at the mix.  And indeed, for the top four banks, the trend is positive.  From 2009 to 2010, for instance, Wells reduced its second lien exposure by $4B.  But it wrote off $5B of second liens!  That means it was actually extending more loans than it was paid back, even as its loan book shrank.  Very bad.  JP Morgan, Bank of America, and Citi weren't quite as bad, but their experience with second liens from 2009-2010 wasn't good.  This improved the next year.  The latest data we have is that from the end of 2010 to the end of 2011, Wells reduced its HELOC book by $7B, with $3B or 45% of that being charge-offs.  Citi's percentage was roughly 40% ($2B reduction, $900M in charge-offs), JPM's percentage was roughly 20% ($7B in reductions, $1.9B in charge-offs), and Bank of America was roughly 40% ($9B in reduction, $3.6B in charge-offs).
There are other reasons to think these liens aren't worth 93 cents on the dollar and should be written down.  For instance, Ed DeMarco recently discussed second liens behind Fannie/Freddie loans.  Here's what he said.
However, for Enterprise loans that are underwater and seriously delinquent, the population from which HAMP primarily draws, about half of the loans have subordinate liens. Therefore we believe that well over a quarter of this population, perhaps nearly half, have an associated subordinate lien.
That's a lot to write off.  And I've seen a securitization of quality Countrywide second mortgages that were actually securitized, and so do not face the same accounting fraud and conflict of interest problems.  On that trust, losses were upwards of 30%, so far.
The real question here is data.  We don't know a lot about this market, and the banks like it that way.  They don't have to write down their seconds, they don't have to take a big capital hit, and the OCC gets to continue its love affair with the banks.  But I suspect, based on what I've seen here, that examiners should begin to demand more information from their banks on whether these second liens are really worth what they say they are worth.  Otherwise, the foreclosure crisis will continue, investors and homeowners will continue to bear losses, and blight will spread as vacant homes continue to have their copper wiring stripped out.
I welcome your thoughts and comments, as this is somewhat new territory for me and I would like corrections on where I've gone wrong.