Computing experts unveil superefficient 'inexact' chip PhysOrg (Chuck L)
Justice Dept. defends public's constitutional 'right to record' cops ars technica (Lambert)
Apple Said To Plan Overhaul Of IPhone With Bigger Screen Bloomberg
Opinion: Misleading Drug Trials The Scientist (Francois T)
New law makes Vermont the first state to ban fracking VTDigger (Aquifer)
Australia Hottest in 1,000 Years Daily Beast (Aquifer)
Why China's RMB exodus IS the story FT Alphaville. This is a really big deal, particularly after Victor Shih has warned repeatedly of the danger to China if its wealthy started moving their money overseas.
China's new housing starts turn negative MacroBusiness
Paul Krugman on Eurozone: "The Whole Thing Could Fall Apart in a Matter of Months" Democracy Now (Aquifer)
Motorman: Britain's other massive press scandal The Bureau (May S)
Working in Africa: Expatriates in little danger of seeing the money run out Financial Times
Is U.S. going above and beyond for Israel? Washington Post
New Details Are Released in Shooting of Trayvon Martin New York Times
St. Louis Fed President: Break Up the Banks Dave Dayen, Firedoglake (Carol B)
Will America's Premier Hub for Black Music Research Fall Prey to Drastic Budget Cuts? Alternet
Looting the Lives of the Poor Barbara Ehrenreich, Tom Engelhardt
Inside J.P. Morgan's Blunder Wall Street Journal
[JPM Whale-Watching Tour] The high yield tranche piece FT Alphaville
The Dog That Didn't Bark: Obama on JPMorgan Robert Reich
Investigating JPMorgan Chase Simon Johnson, New York Times
LTCM. Amaranth. JP Morgan? Roger Ehrenberg
Much to Answer For: James Q. Wilson's Legacy Boston Review (Chuck L). Today's must read.
* * *
D – 113 and counting. *
And I've been in the Washington Zoo. –"Show Biz Kids," Countdown to Ecstasy, Steely Dan
Lambert here:
G8 Summit. Atmospheric piece on Thurmont, MD, nearest town to Camp David, by Dan Zak. Median income: $71,400. Ends with local government applying for new refrigerators and freezers for the food bank.
NATO summit. Eight arrested in Bridgeport in warrantless police raid; beer making equipment, cellphone seized. ABC I-Team: Cops in uniform and bikes flood protest zones. Around the corner, 15-passenger vans with officers in black commando uniforms, with extra padding, personal riot gear. Multi-Agency Communications Center: 43 agencies, 10 big screens, sekrit location out in the burbs. "Resembles something from a Jerry Lewis telethon, with rows of tables and telephones ready to be answered." Maps here, and here.
ACLU: [Secret Service] cannot use H.R. 347 to "sanitize" the summit. SS: Summit's one of year's three high-priority "national security events". Other two the legacy party conventions. FBI: "absolutely no indication" of terror attack threat. Journamalism: anarchists r n ur computur!!
Panel: "Social Responsibility and National Security: Towards a New NATO" (video). At the Pritzer Military Library. (Yes, those Pritzers. Hi, Penny! Hi, J.B.! [waves]) McCormick Center as metaphor: "There are a plethora of signs directing media to different areas, but no real signage for how to get out" (picture). Rahm pulls permit for National Nurses United rally. Many protesters older, over 40. OccupyDC in Chicago (picture).
For dessert: The "Pavé of Bittersweet Complexitie, a concoction of chocolate, caramel, fleur de sel, and popcorn." Pass the pavés…
Occupy. Blockupy Frankfurt Day 2. Student protests continue in Quebec (picture). Quebec parliament debates Bill 78: "Any group of 10 persons or more to give at least eight hours notice to police for any demonstration." Protests also in Quebec City, Gatineau, Sherbrooke, Trois-Rivieres.
FL (Swing State) Volusia County Council approves Central FL's first countywide domestic partnership registry 6-1. Kudos.
IA (Swing State) Obama to give speech on the economy "plus" campaign stop (TTH).
MI (Swing state). The State Board of Canvassers rejected the petition for a referendum to repeal MI's emergency manager law because of the ballot wasn't in 14 point. On appeal, we find that although the MI SoS asked a graphics professor for his opinion, they never passed his conclusion ("a pretty good guess that Calibri Bold at 14 pt is used") on to the Board, so now the petitioners can't bring it up. (I'd bet the MI SoS supplied a reproduction for review, not the original or a file, so a good guess would be all the professor could make.)
NV (Swing State). RNC and Romney will erect a "shadow state party" to bypass the regular (now Paul dominated) apparat.
TX Paleodem Silvestre Reyes (TX-16) blasts challenger Beto O'Rourke for advocating marijuana legalization. (Reyes on FISA; Bush intel chiefs).
WI (swing state). Oversampling error in last Marquette poll? Race could be closer! New residency rules could cut student vote. No plans for Obama or Romney to visit. Sweetheart, get me rewrite! Journal-Sentinel headline before: "State loses 6,200 private sector jobs in April". And after: "Controversial Survey Shows Estimated April Job Losses of 6,200." (Thing is, on "Jobs!" can Walker (or Barrett) increase aggregate demand? No?)
WI locals feel DNC money is about Obama November 6 not Barret June 5. DNC feels that's harsh. Meanwhile, I've gotten spam from DNCC and DFA using DNC #FAIL as a fundraising hook. "Hey, Obama Campaign guy…Don't get lippy with me when I tell you I'll volunteer as a poll watcher after the DNC cuts a check for Barrett. Just pass the comment up the chain of command and carry on." "They came by the hundreds of thousands. In the snow, in the rain…. That's what the DNC is risking…. I was in the crowd that day and I've never seen anything like that, never ever. I didn't believe we were still like that, people."
Inside Baseball. Larry Sabatto defines and discusses "feeding frenzies". How to cover the air war: "You can tell, if you talk to enough voters, whether catch phrases from TV ads are popping up in their conversation." NPR audience growth flatlines. I can't think why. Grand Bargain™-brand catfood watch: Mark Udall, D-CO: "I think [energy bills] are all held hostage to a grand bargain, a grand deal, a long-term plan to put the country's fiscal house in order."
Prediction is difficult. Shorter Nate Silver: "Events, dear boy. Events."
Ron Paul. Paul to appear at MN convention tomorrow. "I do not believe a republic can exist if you permit the military to arrest American citizens and put them in secret prisons and be denied a trial," Paul said. Crazy talk!
Robama vs. Obomney Watch. Robama [heart] Reagan, Obomney [heart] Clinton. (Word of the day: Snowclone.) Good neo-liberals all!
Romney. Romney raises $40.1 million in April, nearly matching Obama. (With all that money, can't the R design team build a website that doesn't look like it sold reconditioned automobile parts?) Romney gains "personal best" 50% favorable rating (not high). But see feeding frenzy below.
Obama. Gaming Wonderland's Obama game: 10,500 plays. The Romney version: 4,500. A first-person shooter, no doubt? "'Men in Black' moment: Will Smith and son Jaden get real [!] with Pres. Obama". Squee!
Jeremiah Wright feeding frenzy. Times at news cycle start: "G.O.P. 'Super PAC' Weighs Hard-Line Attack on Obama". Spiral-bound proposal, by "strategist" Fred Davis, to billionaire Joe Ricketts, would have linked Obama to his "former spiritual advisor," the Rev. Jeremiah A. Wright, painting Obama as a "metrosexual, black Abe Lincoln" (! So which slaves did Obama free, exactly?) Proposal: "[D]o exactly what John McCain would not let us do". (I always said the Rs weren't serious in 2008 (10/15/2008)).
Ricketts immediately throws Davis under the bus: A "third party vendor" whose approach to politics Ricketts rejects. (True, billionaires do tend to get proposals. One of them came from Deb Fischer's campaign.) Fun facts about Ricketts: His publishing operation scooped both New York tabs on Manhattan madam Anna Gristina. Son Tom owns the Cubbies and wants Obama's buddy Rahm to help him rebuild Wrigley Field. Daughter Laura is a gay bundler for Obama.
Staggered, Romney steps on his own message and hands the Ds a soundbite for the ages: "I'm not familiar precisely with exactly what I said, but I stand by what I said, whatever it was." A blank screen…
At news cycle's end, AP: "Romney denounces idea of Obama-Wright campaign ads." AFP: "Romney repudiates mooted attack on Obama." Status quo ante, except for that soundbite…
Think piece. The Archdruid.
* 113 days 'til the Democratic National Convention ends with a torchlight parade on the floor Bank of America Stadium, Charlotte, NC. Fire exists the first in light, And then consolidates,—Only the chemist can disclose Into what carbonates.
READERS: Again, here are the swing states: AZ, CO, FL, IA, MI, NV, NH, NM, NC, OH, PA, VA and WI. I'm very interested in any local or state links you can send me from those states about people "doing politics" that aren't about the horserace; original reporting, not wire services stuff. Now I have help with CO thanks to MR, and Iowa thanks to TTH but there are more!
* * *
Antidote du jour: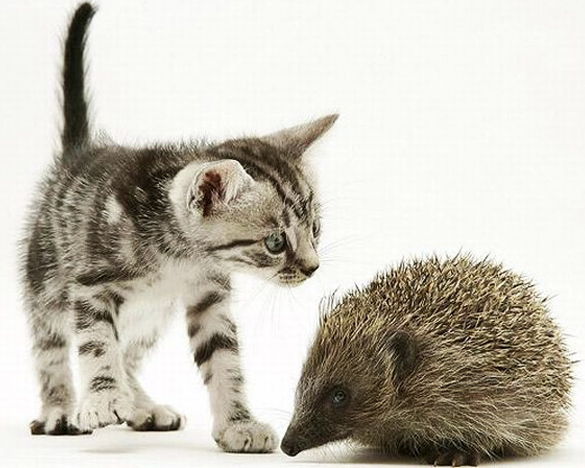 And a bonus from furzy mouse. I can't embed it, but you can view it here. Very cool.