Bloomberg has a useful piece up tonight describing how markets are reacting in no consistent way to ratings agency actions on sovereign debt. The story is long and prominent enough that it looks to be an indicator of shifting stances in the media on deficit cutting. A mere few months ago, it was hard to find major press stories that didn't push deficit hawkery.
This story stresses there have been noteworthy examples of downgrades leading to bond yields tightening, which is the reverse of what you'd expect to see. It also makes clear that the ratings agencies have based their grades on deficit orthodoxy: that balancing budgets are a Good Thing. In fact, as we've explained and results increasingly prove out, trying to cut government spending when the private sector is deleveraging will produce a downward spiral. GDP falls faster than deficits do (in fact, they often rise as tax revenues fall and banks get sicker), making debt to GDP ratios even worse.
The most noteworthy example of markets dissing a rating action was S&P's effort to browbeat the US over its downgrade from AAA, which we predicted would wind up looking like a scare. The key excerpt from the Bloomberg story:
Almost half the time, government bond yields fall when a rating action suggests they should climb, or they increase even as a change signals a decline, according to data compiled by Bloomberg on 314 upgrades, downgrades and outlook changes going back as far as 38 years. The rates moved in the opposite direction 47 percent of the time for Moody's and for S&P. The data measured yields after a month relative to U.S. Treasury debt, the global benchmark…

Other organizations have also used market prices to study the effectiveness of credit grades, including the International Monetary Fund, the European Central Bank and academics at Rice University, Indiana University and American University. In a January analysis of Moody's rating changes, researchers at the IMF used credit derivatives to show that prices moved in the expected direction 45 percent of the time for developed countries and 51 percent for emerging economies.
And it has cute interactive graphics: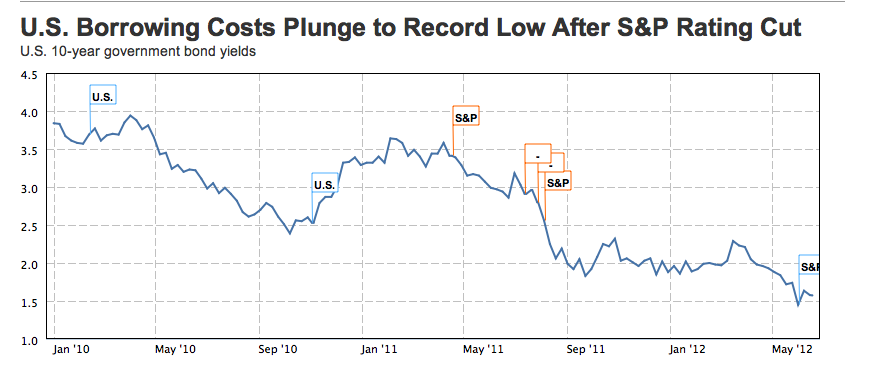 Cuteness aside, it would have been nice if Bloomberg had parsed out sovereign currency issuers (whose defaults are voluntary/political) versus countries that don't control their currency (who can't "print" and therefore can be priced out of markets). You'd expect to see a much greater correlation for members of the Eurozone (who are not sovereign issues) and countries running currency pegs (who have given up monetary sovereignity) than the others.
However, it also looks as if Bloomberg is falling in line with the new Wall Street push to stop or at least lessen the impact of the coming "fiscal cliff," which is a combination of end of tax breaks and spending cuts that will lead to a fiscal contraction which most economists peg as having an impact of 5% to 8% of GDP (note a few have argued those estimates are too grim). So the shifting media posture may actually reflect some empiricism finally penetrating the pro-deficit-cutting ideology, or it may simply reflect Wall Street economists changing their tune. The story makes the pitch:
The austerity policies prized by the rating companies have the global economy on the brink of renewed recession, according to Paul Krugman, the Nobel laureate economics professor at Princeton University. As government funding shortfalls from the U.S. to France to Spain widened during the recession, S&P and Moody's stepped up warnings and downgrades of sovereign debt…

As part of the deal that raised the U.S. debt limit three days before S&P's downgrade, $1.2 trillion in automatic spending cuts over the next decade will begin to take effect at the end of this year unless Congress and President Barack Obama block them. The tax cuts enacted by George W. Bush in 2001 are set to expire Jan. 1. That fiscal cliff may send the U.S. into recession again, the Congressional Budget Office said in May.
So it's good to see a bit of progress on this front, even if it's late in coming. But there is still a lack of airtime for the most important remedy for our current mess: that of writedowns and restructuring of private debt that is badly impaired. Yet a lot of commentators seem to react that recognizing losses is the same as creating losses (well, if you are holding overvalued bank stocks or MBS, you might want to keep the truth under wraps until you can unload your position). The myth is something like Scrodinger's cat in reverse: if you put a dead cat in a box, you can pretend it's in an indeterminate state and really might be alive if you open the box again. But the magnitude of to-be-realized losses on residential real estate will eventually force a change in tune on that front as well.