Zach Carter has a must-read new article up at Huffington Post on leaked documents from trade negotiations that have been posted at the website Public Citizen. You should read his entire article, pronto, but here is the money quote:
The newly leaked document is one of the most controversial of the Trans-Pacific Partnership trade pact. It addresses a broad sweep of regulations governing international investment and reveals the Obama administration's advocacy for policies that environmental activists, financial reform advocates and labor unions have long rejected for eroding key protections currently in domestic laws.

Under the agreement currently being advocated by the Obama administration, American corporations would continue to be subject to domestic laws and regulations on the environment, banking and other issues. But foreign corporations operating within the U.S. would be permitted to appeal key American legal or regulatory rulings to an international tribunal. That international tribunal would be granted the power to overrule American law and impose trade sanctions on the United States for failing to abide by its rulings.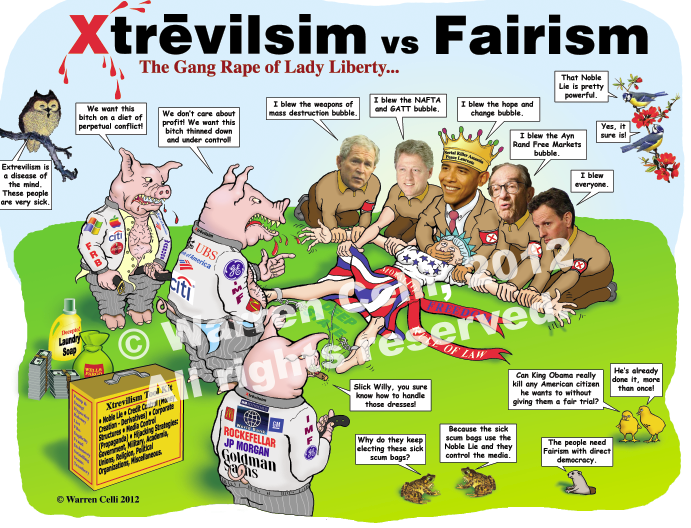 [Courtesy Waren Celli, click for larger image]
This is an active effort to undermine US laws and make certain US laws subordinate to non-US tribunal that sits outside any democratic process. President Obama took an oath to uphold the land. I'd like to throw this out to readers. As much as trade agreements (which were approved by Congress) have sometimes run into friction with existing laws, this move by Obama looks to be a far more radical effort to increase the power of multinational companies. And US companies would argue for, and likely eventually get, similar breaks, assuring a legal/regulatory race to the bottom (if you think what we have is bad now, do not underestimate how much worse it could get).
Let's set aside the fact that no current Congress will stand in the way of a pro-business measure. I'd like readers to tell me whether they think this initiative is an impeachable offense. Does this sort of effort to gut US laws rise to the level of "high crimes and misdemeanors"?
Update: The use of the "I' word has led some readers to argue (basically) "What are you talking about? This is just a negotiation." True, but it is also revealing how little we expect of Congress and how much its standing has fallen. This idea should be so far outside the pale that both the substance as well as the process would, in another era, have elicited a serious pushback from Congress. But of course, in that other era, a cagey politician like Obama would never have gone this far either. We seem to be living the Frederick Douglass quote:
Find out just what any people will quietly submit to and you have the exact measure of the injustice and wrong which will be imposed on them.