By Delusional Economics, who is horrified at the state of economic commentary in Australia and is determined to cleanse the daily flow of vested interests propaganda to produce a balanced counterpoint. Cross posted from MacroBusiness.
As we head towards Greece's weekend election, rumoured to be celebrated by the locals by moving ever larger sums of money elsewhere, the Eurozone appears to be seriously straining under the constant pressure of its ongoing crisis. I have long felt that Italy would be the limit for the monetary union, most notable for its sheer size, and due to this I expected much more decisive action, one way or the other, once the crisis returned to Italian shores.
Last week I noted a warning from the head of the IMF suggesting Europe only has a short period of time left and did wonder whether it was triggered by growing concerns that Italy was next after Spain:
As the clock ticks down to Greece's crunch election on June 17, which is being seen as a referendum on the country's membership of the euro zone, the warnings that European leaders need to act to prevent a collapse of the currency union are getting stronger by the day.

Now, Christine Lagarde, head of the International Monetary Fund (IMF), has warned that the euro zone has less than three months to get its act together. In an interview broadcast on Monday evening, Lagarde told the television station CNN that action to save the euro is needed in "more shortly (sic) than three months." She was referring to a recent prediction by billionaire investor George Soros that Europe has three months to save the euro.
Not to be outdone, the UK finance minster has also suggested that it could be time to let Greece go in order to shift Germany into action:
Europe may need to sacrifice Greece's membership of its single currency bloc in order to convince Germany to put in more money to save the euro, Britain's finance minister George Osborne suggested in remarks certain to enrage euro zone leaders.

…

"I ultimately don't know whether Greece needs to leave the euro in order for the euro zone to do the things necessary to make their currency survive," Osborne said in remarks published on Wednesday in The Times newspaper.

"I just don't know whether the German government requires a Greek exit to explain to their public why they need to do certain things like a banking union, euro bonds and things in common with that.
Such stability.
Last night was the first night of three in which the Italians are again taking to the debt markets and the results weren't impressive. The country auctioned €6.5bn of 1 year paper at 3.972% up from 2.34% just one month ago. The cover was 1.73 but the auction was reduced in size in advance due to market nervousness. Tonight Italy will to auction up to €4.5 billion of longer dated debt which has the potential to see larger changes in yields.
Meanwhile it appears that Mario Monti is facing increasing issues with new fiscal settings as demand and production continue to fall in the face of new taxes:
Italian Prime Minister Mario Monti is facing signs that tax increases are beginning to backfire as his new levy on real estate goes into effect.

Value-added tax receipts have declined since Monti's predecessor, Silvio Berlusconi, raised the rate by 1 percentage point in September as the economy was slipping into recession,government data released June 5 showed. The amount collected fell in the 12 months ended April 30 to the lowest since 2006.

Finding the right deficit-reduction mix as Monti fights to meet budget targets is critical for Italy to avoid becoming the biggest victim yet of Europe's financial crisis. A slump that is driving up welfare spending is adding urgency to Monti's effort to make the economy more competitive amid a growing backlash across Europe against austerity.

"This government has raised taxes too much," said Alberto Alesina, a professor of political economy at Harvard University. "It would be much, much better to lower spending."
As I have spoken about previously Italy has multiple issues with its economy, including a serious demographics problem, but much of its sovereign debt, currently at around 120% of GDP or approximately €2 trn, is long dated and so the economic issues of Italy are building up slowly. In addition, the Italian private sector has a large amount of wealth which could potentially offset the governments debt, but in the long run what is really needed in order to save Italy is increased productivity leading to economic growth.
The major issue is that Italy appears to be going in the opposite direction with growth stagnation over the last decade followed by a recent period of negative numbers. In addition, although the country is home to some of the most recognisable brands in the world, it's industrial production has been falling for nearly two years and is now approximately 25% lower than it was pre-GFC: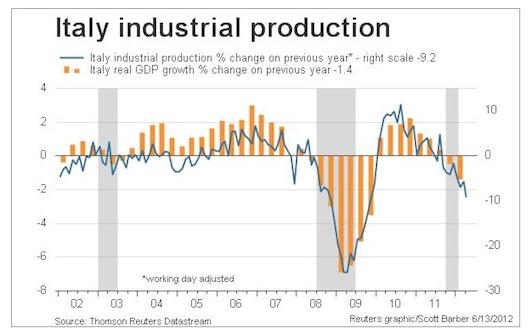 As you can also see from the chart, GDP growth is now negative with the 2012 Q1 figure coming in at -0.8% taking Italy deeper into recession. The Bank of Italy suggested the yearly figure will come in around -1.5% but with a solid trend in place that figure could now be optimistic. Unemployment has also increased by 2% this year to stand at Eurozone record high of 9.8% with youth unemployment hovering in the mid 30s. To add to the woe, business confidence is the lowest it has been since the GFC and consumer confidence is now at record lows: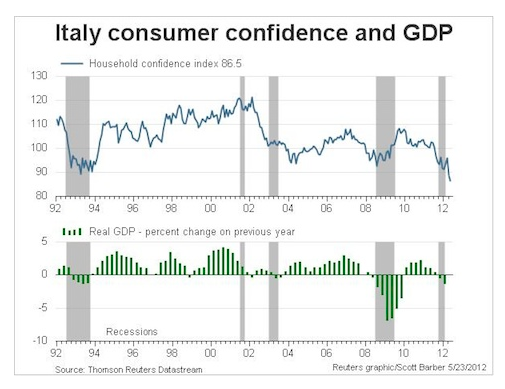 As usual, however, Germany is there to give moral support to a fellow country in need:
Germany told Italians on Wednesday they must keep taking Prime Minister Mario Monti's tough economic medicine to avoid becoming the next victim of the euro zone debt crisis after a bailout for Spain's banks failed to calm markets.

"If Italy continues along Monti's path there will be no risks," German Finance Minister Wolfgang Schaeuble said in an interview with La Stampa daily when asked whether Rome was next in the markets' firing line.
Under these circumstance it is no real surprise that Mario Monti is a member, perhaps the lead, of a growing chorus demanding that Europe changes it current policy course:
Spain and Italy appealed to European policy makers to step up their response to the financial crisis after a 100 billion-euro ($125 billion) lifeline for Spanish banks failed to calm markets.

Spanish Prime Minister Mariano Rajoy said today he'll "battle" central bankers refusing to buy debt from peripheral nations. Rajoy published a letter to European Union leaders calling for the European Central Bank to buy debt from peripheral nations.

"That is the battle we have to wage in Europe," Rajoy told the Spanish parliament in Madrid today. "I am waging it." His Italian counterpart, Mario Monti, told lawmakers in Rome Europe faces a "crucial" moment.
But, as I said yesterday, I am sceptical anything will change in the German camp until the weaker economies of Europe are shackled to the fiscal compact, one way or another.
Angela Merkel still has a stumbling block, however. The future European shared responsibility mechanism to support weaker countries, the ESM, is yet to be ratified by her own parliament and her opposition isn't making it too easy:
Germany's government and opposition parties failed on Wednesday to resolve a row holding up parliamentary ratification of both the EU's new fiscal treaty and the euro zone's permanent rescue fund, and will resume talks next week.

The delay is potentially embarrassing for Chancellor Angela Merkel because she has insisted that Germany's European partners sign up to the tougher budget rules enshrined in the compact.

The bailout fund, the European Stability Mechanism (ESM), which may be used to provide help for Spain's ailing banks, is meant to start working from July 1 but cannot do so without the approval of Germany, the euro zone's biggest economy.

Merkel wants parliament to approve the two items at the same time, but needs opposition support for the fiscal treaty. The opposition Social Democrats (SPD) and Greens are pressing for a financial transaction tax as well as more steps to generate European growth and jobs in exchange for their support.
Not really a surprise then that the rest of the world continues to look nervously at the Continent.