By Delusional Economics, who is horrified at the state of economic commentary in Australia and is determined to cleanse the daily flow of vested interests propaganda to produce a balanced counterpoint. Cross posted from MacroBusiness.
Spain took a beating overnight after Moody's downgraded the long term debt and deposit ratings of 28 Spanish banks on the back of the sovereign downgrade earlier in the month. Yields on short term debt spiked at auction:
Spain's short-term borrowing costs nearly tripled at auction on Tuesday, underlining the country's precarious finances as it struggles against recession and juggles with a debt crisis among its newly downgraded banks.

The yield paid on a 3-month bill was 2.362 percent, up from just 0.846 percent a month ago. For six-month paper, it leapt to 3.237 percent from 1.737 percent in May.
Longer term yields were also up with 10 years heading back towards 7%. Spain, however, was not the only bearer of dour news. Data from Italy continues to disappoint, this time it was retail sales:
Italian retail sales plummeted in April, falling 1.6% in seasonally-adjusted terms from the month before as residents of the euro zone's third-largest economy reduced purchases of both food and other goods and services, national statistics institute Istat said Tuesday.

The drop–the largest in at least eight years–was far larger than the average 0.2% monthly drop forecast in a poll of economists by Dow Jones Newswires.

Retail sales in Italy are now down 6.8% in unadjusted terms from April 2011, Istat said.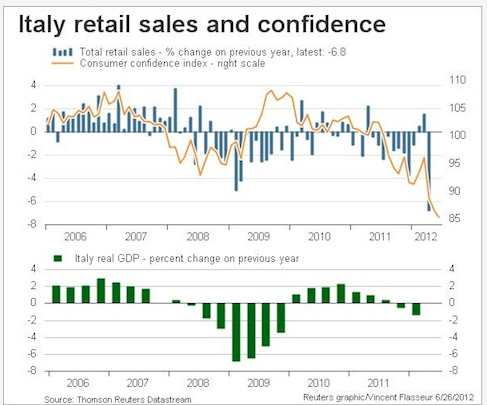 Not to be left out there was also Cyprus:
Cyprus, which became the fifth euro zone country on Monday to seek emergency funding from Brussels, may require a bailout amount worth up to half the size of its economy, domestic media reported on Tuesday.

The Mediterranean island, with a banking sector heavily exposed to debt-crippled Greece, said on Monday it was formally applying for aid from the European Union's rescue funds.

Cyprus needs to plug a 1.8 billion euro – or 10 percent of its GDP – regulatory capital shortfall in its second largest lender by June 30. Potential aid could be more comprehensive to cover fiscal requirements, Finance Minister Vassos Shiarly told Reuters.

Newspapers reported that aid could be anything between 6 and 10 billion euros.
That's somewhere around 50% of GDP by the way, however Cypriot officials later claimed that the final figure hasn't been determined yet.
And, to the resolution…
Overnight the Europe's fabulous 4 (European Commission President Jose Manuel Barroso, European Central Bank President Mario Draghi, Eurogroup Chairman Jean-Claude Juncker and European Council President Herman Van Rompuy) released an already shortened draft paper for the up-coming EU summit. The draft (available below) is jam packed with all of the plans I have been discussing over the last few weeks including banking unions, shared issuances and the move of fiscal sovereignty to Brussels which includes the right of veto over national budgets. As I discussed yesterday this is the grand vision for Europe but there are 4 major issues with the document.
Firstly, there really isn't much in the seven pages that I consider new which, given the expectations of the summit, is already a problem. Secondly, the new draft is absent of any short term resolutions. Thirdly, as I hinted at yesterday, there is this line from the document:
These four building blocks offer a coherent and complete architecture that will have to be put in place over the next decade.
A decade ? Cyprus has become the 5th bailout nation, Greece is on the verge of collapse, Portugal is struggling to meet targets, Spain is crumbling and Italy is now in serious trouble. Can anyone honestly think Europe has another 10 years to build a sustainable economic architecture?
And lastly, there is this:
Chancellor Angela Merkel hardened her resistance to euro-area debt sharing to resolve the region's financial crisis, setting Germany on a collision course with its allies at a summit of European leaders this week.

Merkel, speaking to a conference in Berlin today as Spain announced it would formally seek aid for its banks, dismissed "euro bonds, euro bills and European deposit insurance with joint liability and much more" as "economically wrong and counterproductive," saying that they ran against the German constitution.
Yesterday José Manuel Barroso gave a speech (transcript here) at the European policy centre explaining much of the document below where he also touched on a number of other topics including periphery banking Zombification. From his opening statements it would appear that he is well aware of what is at stake at this week's summit yet also recognises that his sense of urgency is not be shared across Europe:
The last weeks have been a time of heightened tension in the European Union and in the Euro area in particular. It is now clear that the world expects Europe to commit to credible and concrete solutions to become more integrated and more united. Indeed this is now a real systemic global necessity if we are to ensure worldwide financial and economic stability.

We are now, as I have been saying for some time, in a defining moment for European integration. We must articulate the vision of where Europe must go, and a concrete path for how to get there. I am not sure whether the urgency of this is fully understood in all the capitals of the European Union.
I'm not sure what else to say, it's bloody depressing stuff.
Although I agree with many of the long term architectural goals, the likely practical short term outcomes of this week's summit appear to be increasingly disconnected from economic reality. The crisis is once again ahead of the policy response which means European leaders are patching up holes and fighting fires instead of delivering realisable and credible plans. The basic chicken and egg problem of debt sharing and national sovereignty appears completely unresolved and unfortunately I see very little to suggest the Eurocrats are about to leap ahead of their problems. I am therefore becoming increasingly concerned that this week's summit will be a massive disappointment which is likely to create a huge problems for the rest of the world.
I genuinely hope I am wrong on this and I welcome any comments to convince me that I am. I need a coffee.