Dear patient readers,
I am in broadband hell again. My service has suddenly become erratic: OK performance mixed with webpages not loading or taking forever to load. Verizon maintains they show decent speeds on my line, but my results at DSLReports say otherwise, and I finally got their attention when the Verizon speedtest wouldn't run even with multiple attempts. That means I have impaired access, and therefore you are getting less in the way of stuff generated by me than you would otherwise. Apologies.
Verizon is Willfully Driving DSL Users Into the Arms of Cable DSL Reports
Silicon Valley Urges Break From Devices New York Times
Plant Tomatoes. Harvest Lower Crime Rates Mother Jones (furzy mouse)
Lab-engineered jellyfish may mend a broken heart AFP (furzy mouse)
Family Shooting Center (Lambert)
Security hawks should be freaked out about population growth Grist
Cute Diplomacy: A Putin Puppy-Island Deal? WSJ Japan Real Time (YY, who also provided a better Akita picture here). Weren't Akitas ruined as a breed in the US? I recall a period in the 1980s when they were really popular, and now I rarely see them.
China Shadow Bankers Go Online As Peer-To-Peer Sites Boom Bloomberg
A Beijing Family's Holiday From Pollution New York Times (martha r)
Germany, Netherlands Rating Outlooks Cut To Negative By Moody's Bloomberg
Europe losing battle against debt crisis Financial Times. Ya think?
Congress Presses New York Fed for More Details on Rate-Rigging Scandal New York Times
What I Learned in Law School hecatedemeter (Doug Smith)
DNI Admits FISA Surveillance Violated the 4th Amendment Slashdot
Dark side of a Bain success Salon. From last week, still worth reading.
Lobbying Works! Big Spenders Reap Big Stock Gains Says Trennert Yahoo Finance
BofA Withdraws 9% of ATMs From Malls, Gas Stations Bloomberg
Chris Hedges' Appearance in NYC on July 25 Jesse. I know a lot of NC readers are not Hedges fans, but I was asked to promote this (and Rob Johnson, who is a very insightful guy, is also speaking)
Model-Driven Regulation Fueled Bubble, Hobbles Recovery American Banker. Amar Bhide made a similar critique in his book A Call to Judgment, except he saw the much bigger problem as the standardized model based approaches the banks themselves used.
Did Malcolm Gladwell Cause The Recession? Andrew Sullivan
* * *
D – 47 and counting
lambert here:
Det. James 'Jimmy' McNulty: If Snotboogie always stole the money, why'd you let him play? Witness: You got to, this America, man. –The Wire
Montreal. 22 manif: "[T]his fifth national demonstration on the 22nd of the month brought from 15,000 (according to AFP) to 80,000 (according to CLASSE) to the streets of Montreal. The student coalition had invited the participants to come out via a Facebook page with the stated aim of ousting the neo-liberals." Either way, those numbers are great.
Occupy. Summer reading: "[DAVID] I think that as long as communities do not control their resources and as long as profit is the dominant orientation of our society (both key features of capitalism) we will continue to hurtle towards the cliff. These things must change if we want a just and livable future." And: "ginger baker: c'mon, mr. gitlin, think it through. you know ows doesnt have a chance after 2012 if it compromises for "the lesser of the two evil" it has to articulate clear distance from the two-party scheme. Both parties have failed. A more radical alternative, long-term it may be, has to get off the ground." Very interesting interchange.
FL. Gun nuts: "A Tampa Bay Times analysis of 'stand your ground' cases found that it has been mostly people with records of violence who have benefited from the law." Shocker!
IL. Food: "Growing Home has altered the landscape of the neighborhood—and it employs local residents, many of whom because of past indiscretions have trouble finding work elsewhere" (FM).
GA.Transparency: "Local governments in Georgia are ignoring a new law requiring they make public an electronic copy of their annual budgets in a move meant to increase transparency."
IA.2016: "Hillary Clinton continues to have a dominant lead in IA D preferences for their 2016 presidential nominee almost three years before actual candidates will begin chowing down on cobs of corn." Too late. That's why Warren.
IL. Ballot access: "[Presidential candidates Goode, Alexander, Anderson, and Hawkins were removed from the ballot." The man who had challenged their petitions had decided to withdraw his challenges to their petitions. But the hearing officer refused to let him speak, so he wasn't able to withdraw the challenges.
NY. Fracking: "Mineral reserves seen as an economic windfall in Susquehanna County, PA are considered a liability to land preservationists in Otsego County, NY. The landmark Middlefield/Dryden case will determine the extent that towns can determine their own destiny regarding shale gas development – a concept know as home rule."
PA. Sanduskuy: "As to the tearful Penn State students seen crying as the news was announced, I would like to offer some motherly advice: Don't pick your college on the basis of its sports teams."
TX. Budget: " Do people have the expectation that the cuts made in 2011 were simply in response to the finances of the day, with the equivalent expectation that better times means putting things back as they had been, or do people believe this is the new normal?" … Public good: "The [House Committee for Land and Resource Management] discussed whether [as at present pipeline] operators themselves should be able to decide whether they are 'common carriers' with the right to use eminent domain or whether the state should have more oversight in the process."
VA. Public good: "[We waded] up to a sign posted on an oak tree on the bank that puzzled us. It read: 'Kings Grant Land. No fishing. No Trespassing.' if you are an angler like me, you are probably screaming the words 'Public Trust!' (navigable waters belong to all the people – held in trust). Not the case here."
VT. Zoning: "Keep your eye on the permit and do not rely on what an applicant proposed yesterday. It has already changed." Goes for fracking, too.
Grand Bargain-™ Catfood watch, Bill Keller Op-Ed in Izvestia: "[T]he bipartisan Simpson-Bowles commission assembled a grand bargain. Obama has a bold option at hand [to pass it], should he choose to use it. And some of his fellow Democrats are starting to warm to the idea. It has been called the nuclear option*… [I]t may be our best hope." * Abolishing the filibuster. NC readers know Reid recently signaled his willingness to do just this. So, no nuclear option in 2009 for health care, housing, states and localities, or massive unemployment. But, the nuclear option in 2013 to gut Social Security and Medicare. … Hagiography: "[Hatch] very clear about what he wants: As the senior Republican in the Senate, his party's top voice on the tax-writing Finance Committee, Hatch wants a deal that restructures the tax code while also slowing and even stopping the government's accumulation of debt [by gutting Social Security and Medicare]. To get it, he says he'll practice the art of compromise over the take-my-marbles-and-leave mentality that has tied up Congress in recent years."
Outside Baseball. Fracking: "As the U.S. enjoys a natural-gas boom from a process called hydraulic fracturing, or fracking, producers are taking a page from the tobacco industry playbook: funding research at established universities that arrives at conclusions that counter concerns raised by critics." … Public good: "[A] new report, "The Financially Sustainable University," details the rising spending, increasing leverage and deteriorating finances of American colleges and Universities. The publishers, Bain & Co. and Sterling Partners, withheld the juiciest numbers, presumably in the interest of generating more consulting business." The "publishers"? Bain, a "publisher"? … What It Takes: "[In 1987,] Gephardt, Bush, Biden, Dole, Hart and Dukakis were all in top form. They had had their trials but by that year, they were respectable and in command. Compare that with the 2012 cycle that saw several undistinguished or washed up candidates hold center stage."
Ron Paul. RNCon: "'[The Romney campaign have] just treated us like a friend and like a coalition,' Jesse Benton, a spokesman for the Paul campaign, told USA Today. 'They have been honest brokers in working with us and treated us with respect.'"
The trail. "The economy:" "Despite concerted D attacks on his business record, R challenger Mitt Romney scores a significant advantage over President Obama when it comes to managing the economy, reducing the federal budget deficit and creating jobs, a national USA TODAY/Gallup Poll finds." … Creative class: "[T]he rise of a new professional, political class: a core group of young technology experts who are shunning traditional campaign titles, starting companies and making millions off the most expensive presidential campaign in history." Here's the canonical "creative class" post [put down your coffee!] These shameless D weasels ran funded campaigns for ObamaCare on their blogs, and suppressed single payer advocacy, often with bans. One might also look at the web sites for health exchanges mandated by ObamaCare as welfare for this crowd, rather like road construction for contractors at the state level.
Romney. Tax return flap: "My own guess, however, is that what the Romney tax returns would lay bare is the extent of his donations to his church."
Obama. Mind games: "'One of the things we learned during the R primaries is that you can rattle Romney more easily than people think,' says a senior Obama strategist." … Vote suppression: "Conflicted voters, especially those holding negative views [Bain!!] of both candidates, are likely to skip voting altogether. Romney is particularly vulnerable to a campaign designed to suppress turnout because his support is more tepid than Obama's. Vote suppression is important for Obama because his numbers among whites without degrees are worsening."
I was expecting a lot of bellowing and a "pivot" to Romney and the Ryan plan, which would cut Medicare. A few blips two days ago, and then nada. A real contrast to the drumbeat on Bain and tax returns. Aurora? Or did I not get the memo?
* 47 days until the Democratic National Convention ends with lobsters and New England sweet corn. It's "Pass the butter!" time on the floor of the Bank of America Panther Stadium, Charlotte, NC. 47 is the favorite number of Pomonoa College, CA, and many of its graduates.
Antidote du jour: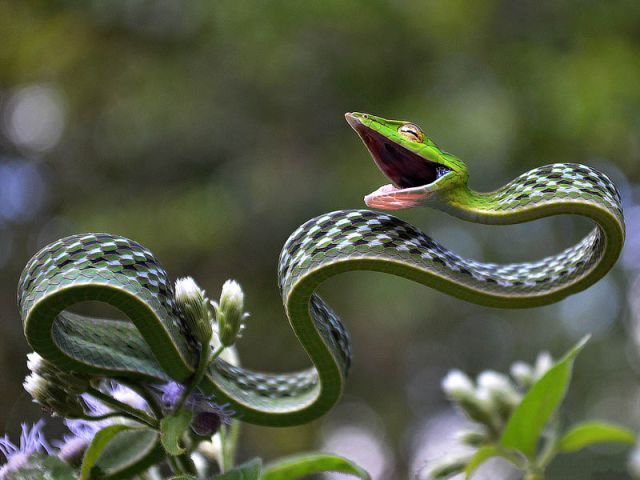 And a bonus antidote from one of my brothers: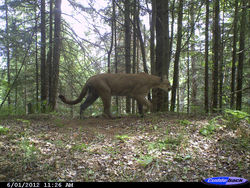 The attached photo was taken by a trail cam in Marquette County earlier this year. It is the BEST picture of an animal the DNR (Dept. of Natural Resources) denied existed in the State of Michigan until about 5 years ago. They maintain these cats are "transient" and that there isn't a breeding population here. To my mind this is ridiculous, considering the number of sightings and that there is so much uncultivated land (as well as prey) for them to thrive upon. I'm sure they are "rare" but nevertheless a feline species that has a constant presence in Upper Michigan.