By Delusional Economics, who is determined to cleanse the daily flow of vested interests propaganda to produce a balanced counterpoint. Cross posted from MacroBusiness.
Probably best if you spike your morning coffee before reading any further.
Another night of Flash PMI data from the Eurozone, and as expected it isn't getting any better over there. This from Chris Williamson, Chief Economist at Markit Economics.
The Eurozone downturn gathered further momentum in September, suggesting that the region suffered the worst quarter for three years. The flash PMI is consistent with GDP contracting by 0.6% in the third quarter and sending the region back into a technical recession.

"We had hoped that the news regarding the ECB's intervention to alleviate the debt crisis would have lifted business confidence, but instead sentiment appears to have taken a turn for the worse, with businesses the most gloomy since early-2009 due to ongoing headwinds from slower global growth. This gloom is clearly reflected in headcounts falling at the fastest rate since January 2010 as companies seek to adjust to weaker demand.

"At the same time, input costs have risen markedly, linked largely to higher oil prices. Weak demand has meant companies have been unable to pass these costs on to customers, meaning output prices fell again in September. The combination of higher costs and lower selling prices will inevitably hit profit margins.

"Some good news came from an easing in the rate of contraction in Germany, though the rate of decline accelerated markedly in France and a deepening downturn was also evident in the periphery. It remains too early to say, however, whether Germany will continue to buck the trend, especially as it continued to see a strong rate of loss of new orders in both manufacturing and services."
So Germany and France have swapped positions from August, but the summary statement about Germany doesn't give me much optimism that this is going to be a sustained reversal.
Germany managed to shake off the summertime blues in September, with renewed services growth helping to stabilise private sector output as a whole. Manufacturing also made a contribution to the slightly less gloomy picture, albeit simply by achieving a slower contraction of production compared to August.

However, the halt to the private sector downturn seems to have a fragile veneer, given the reliance on pipeline projects over new business to stabilise output. A lack of incoming new work, combined with a sharp drop in year-ahead expectations for activity, meant that service providers cut back on staffing levels at the most marked pace since May 2009.
That sounds to me like the lead up towards Christmas will probably disappoint as the orders for new work, although better than in August, still appear weak.
I talked about France early last week and warned again that the nation's current economic structure means that it is unlikely to fare well under a regime of higher taxation. I doubt whether the newly proposed tax increases where to blame for the renewed downturn, but I do expect France to become yet another counterpoint to Ricardian equivalence over the next few months, if it isn't already. You can see from the charts below that the downtrend is solid and the contraction is accelerating, and can I again remind you that France is the 5th largest economy in the world.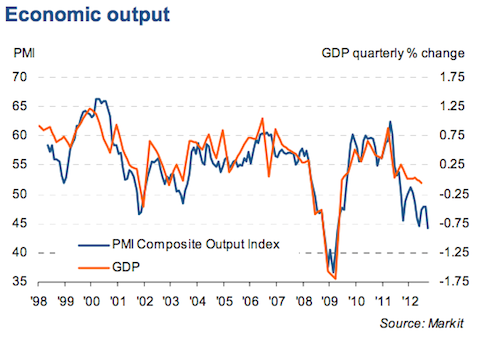 French economic output Index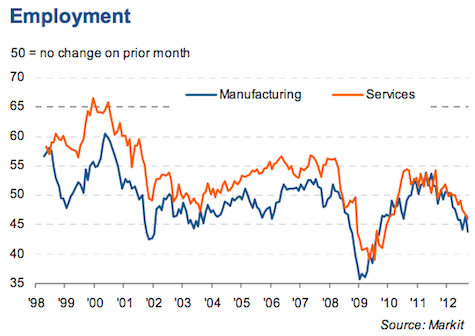 French Employment Index
The story in the rest of Europe looks no better with the index reading an even faster contraction than France. These are readings we haven't seen since the height of the GFC.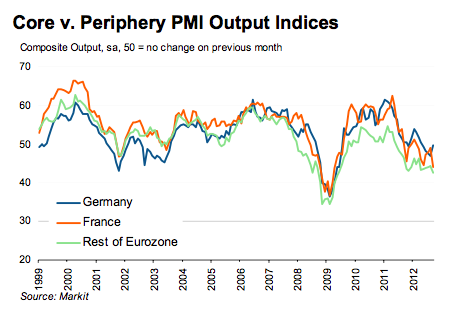 All up its another depressing picture from the Eurozone and once again highlights the incompatibility of current policy with economic growth. As I said back in December 2011.
So while there is no credible counter-balance for the effects of supra-European austerity any attempt to implement the new "fiscal compact" will make Europe's economic issues worse. The continent is already on the way to recession and unless we see some additional action from the ECB, or a huge swing against this new framework, the push to implement the outcomes of the summit will simply accelerate that outcome. My assumption is that, if Europe does ratify this framework (there are a few stragglers), after 12-24 months of trying the effect will be so disastrous that they will eventually give up. But until then my base case for Europe is a significantly worse economic outcome.
Obviously my base case remains unchanged. Full reports below.
Germany: Markit Flash Germany PMI
France: Markit Flash France PMI