By Delusional Economics, who is determined to cleanse the daily flow of vested interests propaganda to produce a balanced counterpoint. Cross posted from MacroBusiness.
As I talked about yesterday the outcomes of the failing policies enacted by European leaders in the face of the economic crisis boil down to a lose-lose struggle between international creditors and national citizens. This struggle is increasing political and social tensions across the Eurozone and is likely to continue to break open old wounds.
There is no better example of this than Spain where, as I mentioned two weeks ago, regional tensions are rising. Yesterday an anti-austerity rally outside the Spanish parliament building in Madrid became violent with 60+ people injured and in the last 24 hours the president of Catalonia has called a snap election in an endeavour to forward his agenda for regional independence:
Artur Mas, the president of Catalonia in northeastern Spain defied calls from Spain's government for unity in the face of the deepening economic crisis and announced elections for November 25.

The vote is widely seen as a de facto referendum on his demands for greater independence for the region after Prime Minister Mariano Rajoy last week rejected proposals for a new fiscal pact which would grant Catalonia greater taxing and spending powers.
In the face of 25% unemployment and what the Bank of Spain called overnight a "significant decline" in the economic activity Mariano Rajoy's party is expected to announce further economic reforms today, although at this stage the exact details are a little vague:
The Spanish government will restrict programs that allow people to take early retirement as part of overhauls to rein in the country's debt and shore up its shrinking economy, Prime Minister Mariano Rajoy said on Tuesday.

..

Mr. Rajoy said measures to be unveiled Thursday would also include the creation of an independent agency to monitor compliance with budget targets, new job-training programs and legislation to sweep away many onerous government regulations.
The latest data from Spain showed the budget deficit grew to 4.8% for the first 8 months of this year and the overall goal of reducing the government deficit by 2.6% over the year looks in doubt. Adding to Spain's troubles was a joint statement issued by German, the Netherlands and Finnish authorities which appears to have effectively unwound the June European summit outcome in which it was agreed that the ESM could be used for a direct Spanish bank recapitalisation independent of a sovereign program:
Regarding longer term issues, we discussed basic principles for enabling direct ESM bank recapitalisation, which can only take place once the single supervisory mechanism is established and its effectiveness has been determined. Principles that should be incorporated in design of the instrument for direct recapitalization include:

1) direct recapitalisation decisions need to be taken by a regular decision of the ESM to be accompanied with a MoU;

2) the ESM can take direct responsibility of problems that occur under the new supervision, but legacy assets should be under the responsibility of national authorities;

3) the recapitalisation should always occur using estimated real economic values;

4) direct bank recapitalisation by the ESM should take place based on an approach that adheres to the basic order of first using private capital, then national public capital and only as a last resort the ESM
It's little wonder the Spanish 10 year bond yield moved back up above 6% on the realisation that once again Spain is directly on the hook for its banks, and let's not forget the mess about who owns some of that "private capital".
In other dour news, the Bank of Spain released its September economic bulletin which continues to show significant weakening across both the economy and the banking system. The documents also contains a set of extremely scary charts on Spanish bank deposit flows: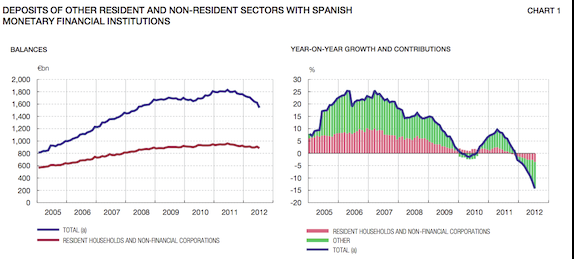 That looks to me to be a pretty solid acceleration.
Full reports below: