By Delusional Economics, who is determined to cleanse the daily flow of vested interests propaganda to produce a balanced counterpoint. Cross posted from MacroBusiness.
Lambert here. Yves comments: "A nice explanation of why austerity in Europe isn't working (even though the writer is weirdly defensive about saying it in those terms)."
As the signs of social unrest continue to grow in the southern peripheries of Europe, highlighted again by the over night action in Spain, I thought it was timely to take a step back from the day-to-day and re-assess exactly what we are witnessing in the Eurozone from the longer macro-view.
If you've been reading my near-daily pontifications about Europe for any length of time you should be aware that I consider the policy approach being taken in the Eurozone to be the makings of a real disaster. I have been accused by some of being anti-austerity but that isn't my real issue with the policy at all. My major concerns has been that policy targets of internal devaluation and export driven recovery in the absence of debt forgiveness on a near-contintent wide scale will fail because:
a ) the initial outcome will be a rapid decline in industrial production and national incomes which mean existing debts will become unserviceable
b ) external surpluses require a counter-party external deficit
c ) structural adjustments require investment
So basically, the three targeted outcomes for the existing policy a) service existing debts, b) lower government deficits c) become export competitive are incompatible because the expectation that falling internal demand will quickly be replaced export driven production is a form of utopian economic fantasy.
Over the last two years Greece has been held up as a 'outlier' for what should occur but the reality is, as Spain and Portugal are now demonstrating, that this outcome is the most likely and, as I have been discussing , completely predictable.
As I mentioned a few weeks ago, Portugal, the poster child of austerity, is failing to meet its targets even though it appeared to be on target over the previous 18 months. What we see in Portugal is a country bouncing off the limits of the current policy.
The basic premise of European policy is to tighten government budgets in an effort to drive down deficits. In the absence of a current account surplus in order to maintain a level of national income this requires an expansion of private sector balance sheets. If this does not occur then the most likely outcome is a slowing of internal demand and therefore a slowing of imports. This in turn should drive the balance of trade towards positive territory, but at the same time lower overall GDP.
Falling GDP leads to falling national income, which in the absence of real across the board wage deflation means more unemployment and therefore slowing government revenues which, as I've said previously, leads to a self-defeating process of re-newed cuts to government budgets.
So in essence this whole process becomes a struggle between the balance of the external sector, real wages and unemployment and this is the dynamic we have been witnessing in much of the periphery over the last 18 months. What I have noticed recently is that the adjustments in periphery nations balance of trade has been seen by some as a sign of recovery, which in part it is, but ultimately what is required is a sustained current account surplus.
The counter-weight to these external sector adjustments is on-going social retrenchment that occurs as unemployment rises. This is why the existing debt and lack of currency devaluation are such barriers because without them it is likely to be impossible for struggling nations to reach a current account surplus, especially as they are all trying to enact the same policies all at once.
In short, much of the economic framework that allowed the periphery to get into this situation in the first place is now making it far more difficult for them to get out and it would now appear we are reaching the limits of the social and political systems within these nations to deal with the stresses. Obviously it's not to much of a stretch to realise this situation could escalate quickly, and I have warned previously that political capital was likely to be tested over the next 12 months as the continuing deterioration in the Eurozone economy frays the remaining goodwill. I see the back-track from the Portuguese government and the growing tension in both Madrid and Catalonia as recent examples of just this.
Below are some corresponding charts of the metrics I have discussed above.
Portugal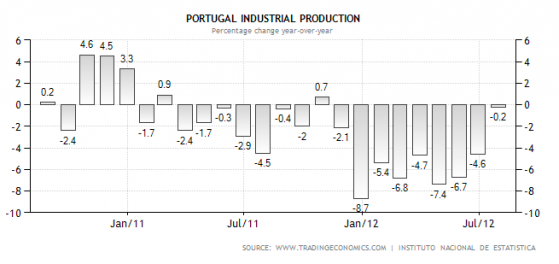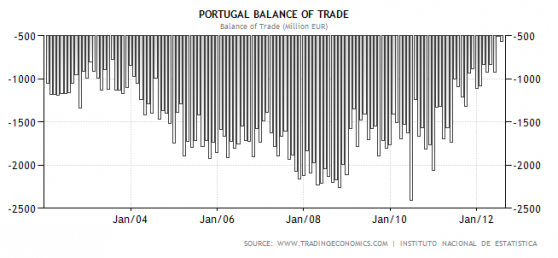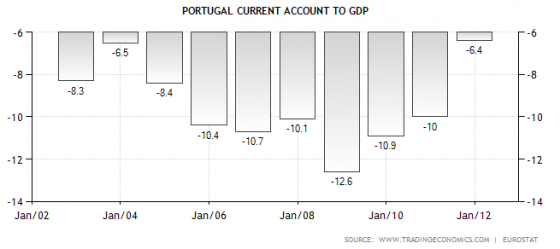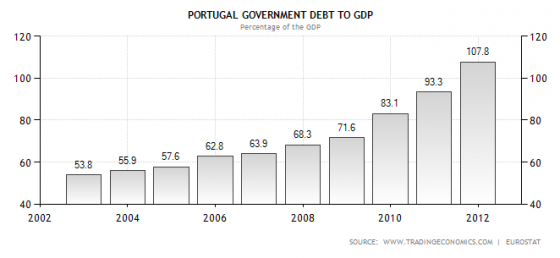 Spain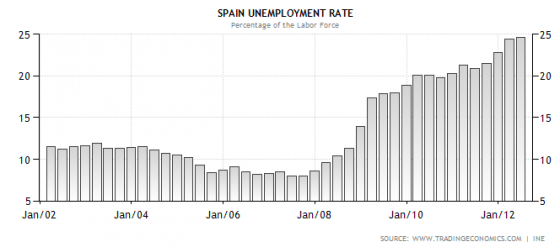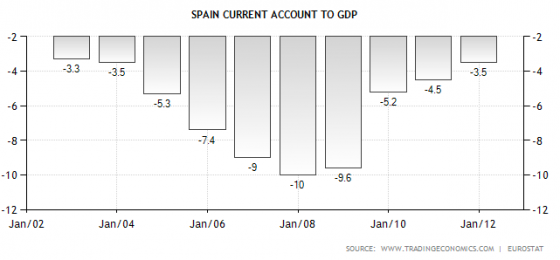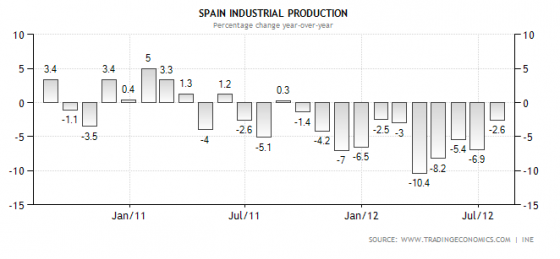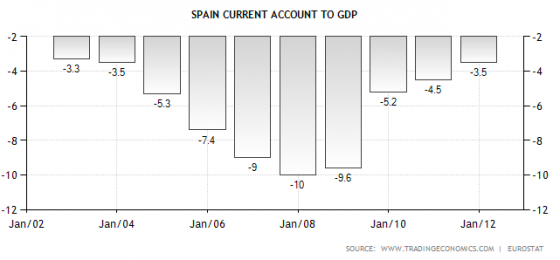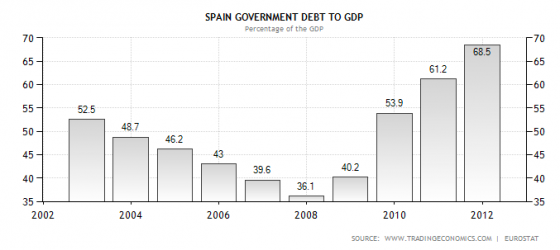 Greece