By Delusional Economics, who is determined to cleanse the daily flow of vested interests propaganda to produce a balanced counterpoint. Cross posted from MacroBusiness.
It's taken me the entire weekend to digest just how underwhelming the latest EU summit was. I spent much of Saturday searching for an important announcement that I must have missed, but alas I couldn't find one.
As ever the major issues going into the summit were those of the nations that are currently under economic stress, yet this appears to have been barely touched upon over the two days of chin-wagging. All that has come out of the summit is an agreement on a calendar to deliver a legal framework on a single supervisory mechanism for the EU-wide banking system:
We need to move towards an integrated financial framework, open to the extent possible to all Member States wishing to participate. In this context, the European Council invites the legislators to proceed with work on the legislative proposals on the Single Supervisory Mechanism (SSM) as a matter of priority, with the objective of agreeing on the legislative framework by 1 January 2013. Work on the operational implementation will take place in the course of 2013. In this respect, fully respecting the integrity of the Single Market is crucial.
But again, this lacks any real substance and leaves the door open for further slippages, and let's not forget the outright detractors such as Britain. Mario Draghi has previously stated it would take 12 months to set up the supervisor given the negotiations with national regulators that would be required in the interim. That schedule already pushes the timetable very close to the German election of September 2013, and it is unrealistic to believe such key decisions could be implemented at that time.
Under Germany's plan with no SSM, a banking union cannot even begin to be stablished and the discussion around re-capitalisation have gone nowhere. In fact, given comments by Angela Merkel post summit, it would appear we're still going backwards:
German Chancellor Angela Merkel said on Friday banks could not be retrospectively recapitalized via the euro zone's permanent bailout fund once a pan-European bank watchdog in place.

"There will not be any back-dated direct recapitalization. If recapitalization is possible, it will only be possible for the future so I think that when the banking supervisor is in place we won't have any more problems with the Spanish banks, at least I hope not," she said at a news conference on the second day of summit of EU leaders in Brussels.

Merkel said banks could also only be directly recapitalized via the European Stability Mechanism (ESM) once a fund which banks pay into had been set up.
This isn't new, it's simply a re-affirmation of previous joint statement by German, Dutch and Finnish officials, but what it does show is that there has been no movement on the more fundamental issues. Athens, Nicosia, Madrid and Dublin are still very much on the hook for their banks, and the EU summit statement from June about decoupling sovereigns and banks, which was repeated in this summit's statement, is as far from becoming a reality today as it was a year ago.
More fundamentally, nothing has been done to address the immediate issues of the continuing economic slow-down. We may now have a timeline for a legal framework, but 2014 is now looking like the delivery date for anything of substance when it comes to further Eurozone integration. The OMT has bought some time, lower sovereign yields are proof of that, but the economies of Europe are continuing to slow under the current fiscal program and the underlying dynamics haven't changed as was once again demonstrated by the latest ECB bulletin's credit data: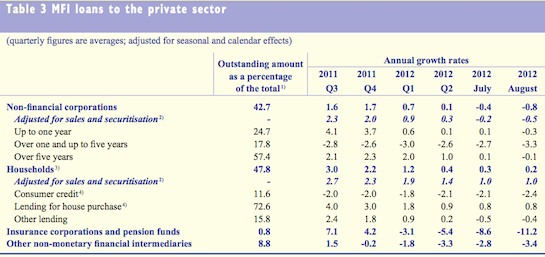 Antonis Samaras, Greece's PM spoke at the summit stating that his country will be flat broke on November 16th while issuing a warning that:
The economy and society are at their limits, the bloodline of the economy that is liquidity is at point zero; unemployment has reached nightmarish levels and every Greek is facing a personal tragedy
But all that was offered in return were words of support mixed with demands to continue implementing the Troika's program including the new round of €12bn in cuts. Some EU officials have stated that Greece will get more time and the next tranche, but it's all too late as the Greek situation is completely untenable. Greece requires a further debt write-off but nothing of the sort was even mentioned at this summit:
There was also very little said directly about Spain which reminded me of Moody's Spanish rating decision of last week which concluded with:
The ECB's OMT announcement has bought time for the euro area authorities to push forward the broader financial, fiscal and economic reforms that are needed to address the institutional flaws that led to the crisis and to avoid further shocks to the financial system. However, there is significant uncertainty around the limits on the ECB's willingness to undertake debt purchase operations on a large scale. Moreover, while progress continues to be made, the future path of policy remains very unclear. For example, while the proposed euro-wide banking union is a potentially significant step toward integration of financial regulation, the continued clear tensions between member states have the potential to materially slow down the process. Also, the possible exit of Greece from the euro area remains a risk and further source of contagion. Overall, Moody's assessment assumes that the Spanish government will continue to be able to refinance its maturing debt at affordable rates. Should any of the factors listed above lead the rating agency to conclude that the Spanish government had either lost, or was very likely to lose, access to private markets, then Moody's would need to reassess its debt rating.

WHAT COULD CHANGE THE RATING UP/DOWN:

Moody's would downgrade Spain's rating if its current expectations regarding euro area and ECB support were to fail to materialise, or if the Spanish government failed to implement the necessary fiscal and other reform measures. In view of the currently negative outlook on Spain's sovereign rating, no upward rating movement is likely over the short term
The summit outcomes don't fare to well against some of those criteria IMHO.
Overall it's completely underwhelming. The "chicken and egg" issues that have split North from South since the crisis began have once again raised their head and the fractures are stalling further policy implementation. In the meantime fiscal constriction is slowing Europe's economy far more quickly than predicted by these same people, many of whom were completely misguided on its overall effect believing it would actually be expansionary due to "confidence effects".
To counter the deflationary outcomes of the current fiscal policy regime Europe needs mechanisms in place to provide counter-balance support, but this effort now appears to be stalling and no adjustments of any kind were announced that will improve the real economy. That being the case I think it is prudent to not read to much into the current sovereign yields as this crisis is far from over.
I'm not sure if the Eurocrats have confused the OMT's temporary umbrella with success, but if they have I suspect another couple of months of EuroStat and Markit Economics data will shake that out of them.
Full EU summit statement below.