The aftermath of Hurricane Sandy looks to be a soggy, protracted, costly affair. Over 8 million people are still without electricity. Over 35 have died as a result of the storm, 18 in New York City alone. Even though the storm surge looks to have been worse than predicted, Sandy picked up its pace, so damage resulting from persistent heavy rains appears not to be a major risk.
I wonder what sightings readers have, both directly and from people in affected areas. In Manhattan, you could pretend things were normal if you were in an area that had power and didn't look very hard (well, take even that back, on one side street, I saw a fallen tree and a second one seriously damaged). People were out on the street, store windows were lit, and busses were running. But (creepy if you are a native) the cars weren't parked tightly and there were even empty spaces on major avenues. Many of the stores that were cheerily lit up were closed; many had gratings up. Grocery stores, chain drug stores, and the so-called "Koreans", the small convenience stores, were the one type that seemed to be uniformly open. But the grocery stores I checked out hadn't been restocked, so the fresh bread and veggies were pretty much gone, as was a lot of the fruit and most of the fresh meat and cheese (don't worry, there is still tons of frozen food, we are not at risk of starving here).
Fuggeddabout frock shops, although I did see one nail salon that was operational. Specialty food stores, health food stores, tailors, shoe shops, newsstands, and most but not all chain restaurants were shuttered (no Starbucks, Burger Hut, or Subway, but Pizzeria Unos was in business). Local restaurants were mixed, although I was pleased to see the small restaurants around Lenox Hill Hospital open (I'd hate to see hospital staff not able to go to their usual haunts). Fedex Kinkos was dark. I'd assume most doctors offices are shut (I can't imagine any of the commercial labs are up and running).
And we are in good shape up here. Power continues to be out below 34th Street (that's an imprecise statement; I gather the boundary is more like 31st-32nd around 8th and 9th Avenue, for instance). Reader nathan in the dark zone (actually, he is in a limited equity complex in Chelsea which has its own generators) went up to 34th Street and said all the restaurants there are completely packed, as people who can walk out of the blackout area for a break and a prepared meal. He also said police were putting flares on the corners where the traffic lights were out.
This message, along with the photo, was forwarded early this afternoon by reader Scott:
XXX and I have taken refuge on the upper east side where there is power and hot coffee. When we explored outside our apartment this morning, the damage above-ground seemed pretty minimal, though. A few trees down in Battery Park and the tunnel to the FDR from the West Side Hwy is still flooded to its roof (see attached). And no power below 40th street on the west side. I talked to a ConEd guy outside my building who said they'd been pumping out the vaults under the sidewalk where the equipment is for our electricity supply. After two hours, the water level hadn't moved, so I expect we'll be out of power for days. The flood waters completely receded above sidewalk level, though.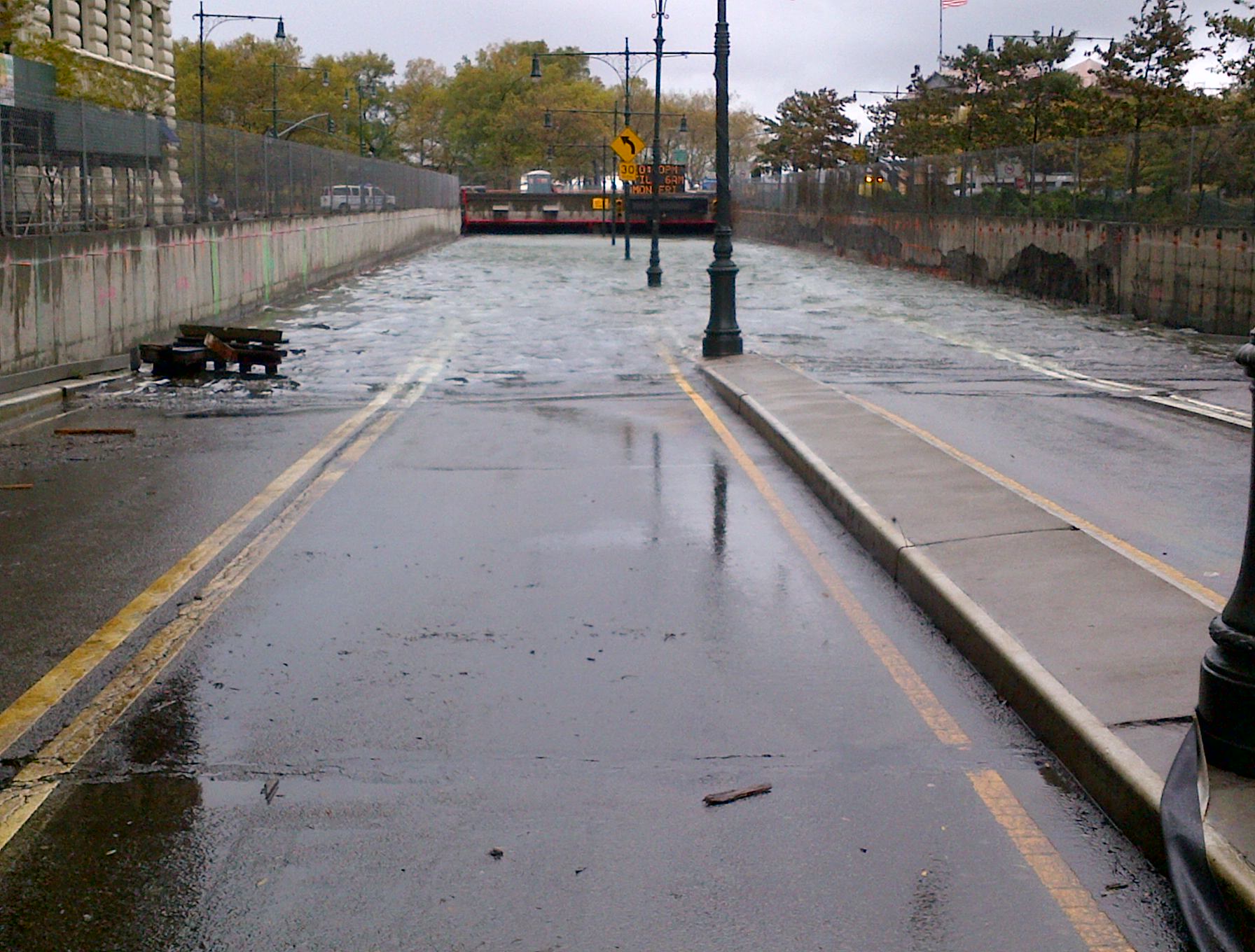 As we've said, the city is very dependent on the subway and the PATH trains to bring workers in and out, and both are down now. Presumably, we'll see some inching towards normalcy as bus service and the tunnels are back in service, but they can only compensate in a limited way for the subways and the PATH. One of the staff members in my building decided to crash with friends in Manhattan so he could help alleviate the load on his co-workers; I suspect there is even more of that happening with hospital staff and businesses like major hotels. But how long can operations like that go on with overloaded employees if the subways aren't up and running soon? The MTA is pointedly refusing to give any kind of estimate when it might be able to resume even partial service. From Bloomberg Tuesday afternoon:
Damage on the MTA, the largest U.S. transit system providing 3.2 billion trips a year, was so widespread that officials today said they couldn't say when they'll be able to assess it….

"The first step is getting the water out," Judy Glave, an MTA spokeswoman, said by telephone. "You can't even start until the levels go down."

Everything, including the electrified third rail, will have to be cleaned before power can be restored. Anything damaged will have to be replaced.

"Salt water is corrosive," Glave said. "Every bit has to be cleaned off. It's a massive job."

The task will involve inspecting each of thousands of connections for the signal system that detects where trains are on its lines, Downey said. A similar system failed on Washington's subway system in 2009, causing the deadliest crash in its history.

"It's an enormous amount of wiring and an enormous amount of connections that go to what's called relay rooms," Downey said. "They've got to turn the system on and if it seems to be working. I think they've got to go to every component and check it and get rid of all the salt. What you don't want is a short circuit that causes the system to fail."
This picture, which is apparently of 86 Street in Brooklyn, gives an idea of how badly the system has been hit in many areas (note the validity of this photo was initially debated but later reports suggest it is real, or at least not unrepresentative of that part of the system):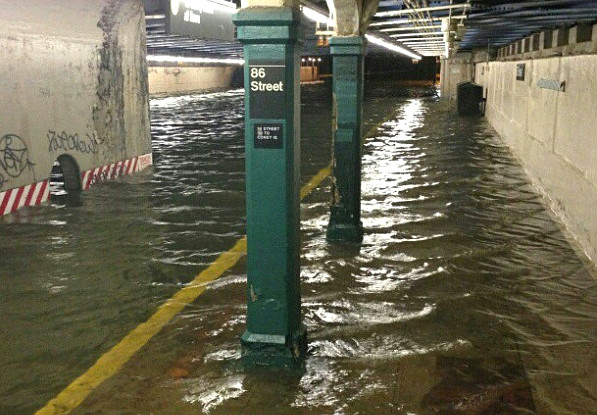 There is a more cheery MTA video of the South Ferry/Whitehall Street Station that shows pretty much all of the water has drained out there.
And remember, the Wall Street Journal quoted a pre-Sandy study that said it could take as long as 29 days just to pump the water out in the case of a "full inundation".
Con Ed has said that for users dependent on underground power (which includes Manhattanites) that they expect to have power fully restored in four days. That's an eternity if you've already had no power for two days. They are estimating it could take up to ten days in area with downed trees. Some other utilities are not giving estimates yet.
How does it look in your area? What reports have you gotten? I hope you are all safe and doing as well as you can, if you are in one of the hard-hit areas.