Here we are, a mere nine days after Sandy, and what would ordinarily be a mere "sorta bad" winter storm is doing disproportionate harm by virtue of coming so close on the heels of the hurricane. But even this storm has two characteristics which are troubling: first, high wind speeds (up to 60 MPH) which are bringing down trees in hard hit New Jersey, and unusually heavy snow for this time of year. This storm may beat snowfall records for New York City for a storm in October or November. Remember, both more extreme storms and unusual weather patterns have been predicted as results of global warming.
Things are so bad in New Jersey that it's getting hard not to feel sorry for Chris Christie, along with other residents of that battered state. From CBS:
Exactly as authorities feared, the nor'easter brought down tree limbs and electrical wires, and utilities in New York and New Jersey reported that nearly 60,000 customers who lost power because of Sandy lost it all over again as a result of the nor'easter….

"I am waiting for the locusts and pestilence next," New Jersey Gov. Chris Christie said. "We may take a setback in the next 24 hours."…

On New York's Staten Island, workers and residents on a washed-out block in Midland Beach continued to pull debris — old lawn chairs, stuffed animals, a basketball hoop — from their homes, even as the bad weather blew in…

At the peak of the outages from Sandy, more than 8.5 million customers lost power. Before the nor'easter hit, that number was down to 675,000, nearly all of them in New Jersey and New York.
This image comes from a photo series at Time by Eugene Richards of the devastation in Staten Island: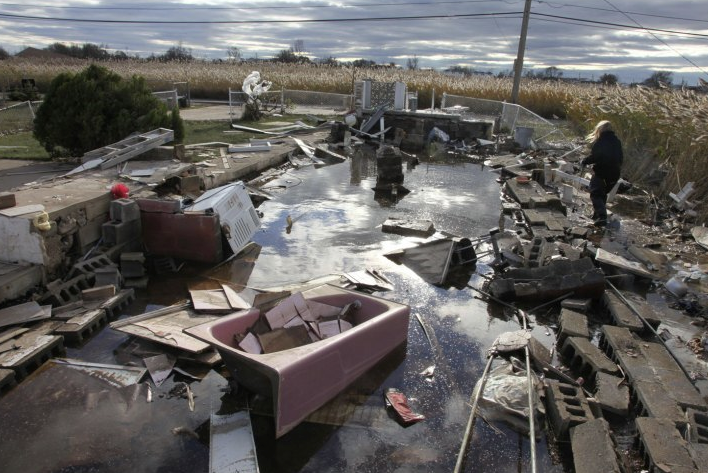 And the cation to picture 8 was revealing: "Clothing, blankets, supplies and water, mostly donated by fellow Staten Islanders, are distributed at Egbert Intermediate School in Midland Beach." As Lambert chronicled in Campaign Countdown, not only were NYC efforts to deliver supplies and help to Staten Islanders thin, but supplying Central Park for the marathon was given priority and when it was cancelled, the city couldn't be bothered to get the water and Mylar blankets to the sodden, cold borough.
The Financial Times tonight has a good report, which does not reflect the impact of the mini blizzard, on how Sandy has done real damage to the fuel shipping infrastructure. The piece interweaves considerable discussion of the New York harbor to futures traders; we'll stick to the physical side. Key extracts:
Bulk terminals contain plenty of fuel, but stations have been running dry after Sandy damaged docks, tanks, pumps and power lines across the region. The situation puts a spotlight on the harbour's status as the hub of the global petroleum products market and raises new questions about security of energy supplies…

"It is a very critical node for the east coast physical market, for the financial market and for the international market," says Antoine Halff, head of the oil markets division at the International Energy Agency, the western countries' oil watchdog. "The price in New York resonates across the world."

The harbour is the meeting place for petrol delivered by pipeline from the Gulf of Mexico, by tanker from countries as far away as India and from nearby refineries…

Sandy exposed the vulnerabilities of this decentralised supply network, shaking futures on the New York Mercantile Exchange. As November-delivered gasoline last traded October 31, prices briefly surged by as much as 7.7 per cent. And traders say a handful of physical cargoes have in the past week traded at an almost 10 per cent premium to the prevailing price in the futures market, emphasising the scale of the disruption in the harbour.

The US government on Wednesday released data showing how hard Sandy hit: East coast refined product imports fell 63 per cent last week…

The Exxon station across from the biggest terminal, known as IMTT in the city of Bayonne, was operating on an electric generator before turning away cars on Tuesday. The nearby Phillips 66's refinery in Linden, New Jersey, splashed by salt water, will take weeks to return to normal.
This is all good talk, but how much follow through will we see? Perversely, the financial traders might undermine efforts to come up with a more robust delivery system. Again from the FT (emphasis ours):
A combination of oil companies with big trading arms, such as BP and Royal Dutch Shell, trading houses such as Glencore, the investment bank Morgan Stanley and less-known distributors such as George E Warren, import fuel to the harbour. Analysts and executives say tank storage has shifted from a logistical function for integrated oil companies to an asset around which to trade…

Rapid growth in fuel exports from the US Gulf of Mexico coast threatens the harbour's dominance in fuel pricing. But its status as the centre of the futures market will be hard to break.

"It's like you've got this firetrap singles club that has 500 people and then a spanking new one with nobody on the dance floor. Which one am I going to go to?" asks Tom Kloza of the Oil Price Information Service. "I'm going to the firetrap."
If you see worries about fragile delivery systems and the risks of extended supply chains fade quickly from financial news, it's likely that even after Sandy, companies and officials lack will to take issues like infrastructure risk seriously. And when predictable bad things happen, the costs will again be borne by ordinary citizens.