A tangible sign that the issue of income inequality is taking hold in the American psyche: Tyler Cowen has made a patently ridiculous effort to try to change the topic, and Megan McArdle is dutifully amplifying it (aside: par for the course, McArdle has a remarkably uninformed discussion of thyroid treatment at the top of her short piece. I won't waste reader time with a discussion, but suffice it to say I have personal experience with the exact symptom pattern she describes, and she's misrepresenting both the diagnostic approach and endocrinologists' responses).
Cowen's contribution falls into the category of agnotology, which is "culturally induced ignorance," or to put it in crasser terms, consciously seeking to make people stupider. His argument:
I get uneasy when I read sentences such as "inequality caused X." "Inequality" didn't cause anything. Inequality is a statistical residue of some other actual processes. It is better to say what caused X (say "the rage and poverty of inner city residents") and, if relevant, connect this to inequality as well. Except that the cyclically adjusted deficit is an even more problematic causal concept than "inequality" because it relies on measurement of a modal, namely potential output.
This is actually not trivial to unpack. Cowen is basically arguing that because inequality is defined and measured statistically, it is not a real phenomenon of its own, but results from something else, ergo, we should go after the "something else". But that's a false causal chain. If we accept his logic, no statistically measured phenomenon should be examined on its face. That's patently ridiculous. Tail risk in financial markets is a statistically defined phenomenon too. No one would suggest it is either feasible or possible to decompose all the causes; Mandelbrot would laugh him out of the room, particularly since these distributions (and the resulting fat tails) are actually random, but a not-normal (non-Gaussian) sort of randomness.
And his demand, that people who discuss inequality go after root causes and tie those to specific outcomes, is a deliberate effort to muddy debate. Cowen can't pretend not to know that inequality is the result of numerous causes, including tax, education and employment policies, and social safety nets. And it's not hard to notice how he makes a not very subtle appeal to prejudice, with his evocation of angry poor urban people (those brown and black underclass types!) as problems in and of themselves.
Now a much fairer question to raise is that a lot of the complaints about the effects of inequality are based on correlations and may not be causal. But he does not say that. He asserts that there must be some underlying, other cause(s), and it's incumbent on researchers to find that. But, strangely enough, most of the time, economists are perfectly content to treat correlations as causal on far more immediate policy debates, and Serious Economists rarely engage in pushback. One of the worst current examples (which heterodox economists and folks like yours truly have criticized repeatedly) is the manner in which recent work by Carmen Reinhart and Ken Rogoff has found that countries that reach a 90% national government debt to GDP ratio show lower growth levels. That 90% figure has served as the mother of deficit hysteria. Yet it's garbage: it conflates gold standard countries with fiat currency countries, and it appears most often that the causality does not run in the manner asserted. In most cases, the spike up in debt levels was the result of a financial crisis, which resulted in low growth (cue Japan and balance sheet recessions generally).
The second problem with the Cowen/McArdle argument is that in fact, there are plenty of social outcomes that do seem to correlate strongly with inequality (as in more inequality leads to worse social outcomes), which bolsters the idea that inequality in and of itself may be the driver. If you look at broader indicators of social well being, you see the same finding: greater income inequality is associated with worse outcomes. From a presentation by Kate Pickett, Senior lecturer at the University of York and author of The Spirit Level, at the INET conference in April 2010: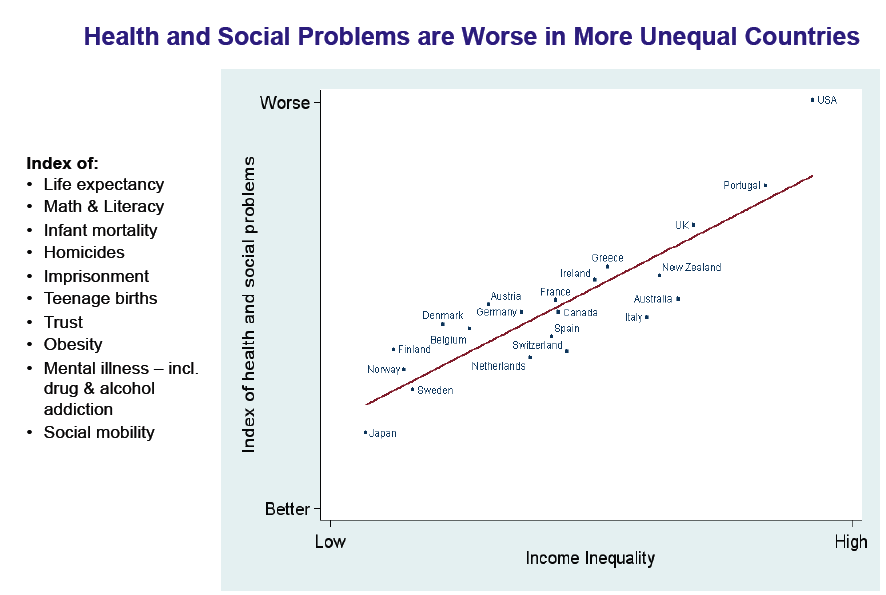 And there is reason to think this relationship is causal. One oft unrecognized factor is that alienation and social stress are directly related to income inequality. This is hardly a new finding among public health experts, but it seldom gets media coverage in the plutocratic US. And it has concrete, measurable costs. As Michael Prowse explained in the Financial Times (this before Greece was put on the austerity rack):
…..if you look for differences between countries, the relationship between income and health largely disintegrates. Rich Americans, for instance, are healthier on average than poor Americans, as measured by life expectancy. But, although the US is a much richer country than, say, Greece, Americans on average have a lower life expectancy than Greeks. More income, it seems, gives you a health advantage with respect to your fellow citizens, but not with respect to people living in other countries….

Once a floor standard of living is attained, people tend to be healthier when three conditions hold: they are valued and respected by others; they feel 'in control' in their work and home lives; and they enjoy a dense network of social contacts. Economically unequal societies tend to do poorly in all three respects: they tend to be characterised by big status differences, by big differences in people's sense of control and by low levels of civic participation….

Unequal societies, in other words, will remain unhealthy societies – and also unhappy societies – no matter how wealthy they become. Their advocates – those who see no reason whatever to curb ever-widening income differentials – have a lot of explaining to do.
As James Lardner pointed out in the New York Review of Books in June 2007, before the wheels started coming off the economy, the social contract in the US was pretty frayed, but a concerted propaganda campaign PR effort promoted the fiction that it was the best of all possible worlds. And Cowen and McArdle, both with strong ties to the Koch Brothers and Cato, look to be cogs in this well established messaging operation:
To gain their political ends, the robber barons and monopolists of the Gilded Age were content with corrupting officials and buying elections. Their modern counterparts have taken things a big step further, erecting a loose network of think tanks, corporate spokespeople, and friendly press commentators to shape the way Americans think about the economy…. the new communications apparatus wants us to believe that our economic wellbeing depends almost entirely on the so-called free market—a euphemism for letting the private sector set its own rules. The success of this great effort can be measured in the remarkable fact that, despite the corporate scandals and the social damage that these authors explore; despite three decades of deregulation and privatization and tax-and-benefit-slashing with, as the clearest single result, the relentless rise of economic inequality to levels so extreme that since 2001 "the economy" has racked up five straight years of impressive growth without producing any measurable income gains for most Americans—even now, discussions of solutions or alternatives can be stopped almost dead in their tracks by mention of the word government.
So it has finally reached the point that the fact that the ordinary person has been had is undeniable, but Cowen's and McArdle's approach is the equivalent of "Look, over there!" in order to muddy the discussion. Nice try, but we are well beyond the point where that will work on anyone other than those who have a keen interest in promoting denial.