By Delusional Economics, who is determined to cleanse the daily flow of vested interests propaganda to produce a balanced counterpoint. Cross posted from MacroBusiness.
Eurozone Flash PMI for January came out overnight and the news was relatively good overall, although it must be noted that contraction continues across the zone.
The January flash PMI data suggest that the Eurozone economic downturn has eased at the start of 2013. While official data are likely to confirm that the region contracted at a stronger rate in the final quarter of last year, the outlook has since brightened with January seeing the smallest drop in business activity since last March.

"Forward-looking indicators – such as business confidence and the new orders-to-inventory ratio – also suggest that the rate of decline will continue to slow in the coming months, and a return to growth looks to be on the cards during the first half of 2013.

"Worrying signs of weakness persist, however, with companies cutting staff at a faster rate, reflecting the need to keep costs as low as possible in the face of ongoing uncertainty about the economic outlook.

"Trends also remained worryingly divergent within the single currency area, creating tensions for policymakers. While Germany is reporting a strengthening upturn, France is seeing the steepest downturn since early-2009.
So Germany up led by services, but France continues to slide down as austerity bites and everywhere else still deep in the mire but slightly less so:
January's Flash PMI data signal a very disappointing start to 2013 and add to concerns that the French economy is sliding towards recession. Sickly performances from both the manufacturing and service sectors resulted in the steepest drop in overall output for almost four years, while the pace of job losses gathered pace.

Although it's hard to find many positives in this gloomy set of figures, there were a couple of glimmers of hope from the service sector, where the decline in new business eased and firms signalled a modest improvement in expectations regarding activity.

However, persistent strong competitive pressures resulted in another fall in overall output prices which, combined with a further rise in input costs, maintained the squeeze on company margins.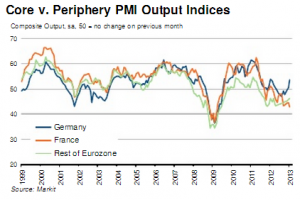 I've argued previously that France is far more of a periphery nation than one of the 'core' one in terms of economic structure, so this continued slowdown isn't a surprise. It is now doing worse than some "periphery" nations. France, however, wasn't the only one with poor news. Spanish unemployment has reached yet another record:
Spain's unemployment rate has hit another high, with almost six million people out of work in the southern European nation. While the figures are gloomy enough, the situation looks set to deteriorate.

At the end of the last quarter in 2012, Spain's unemployment rate reached 26 percent, the national statistics body INE reported on Thursday. It climbed from a rate of 25 percent in the previous three months.
This is very much in line with Spanish GDP data that came out this week:
Spain's central bank said a recession in the euro zone's fourth-largest economy deepened in the last quarter of 2012 after Prime Minister Mariano Rajoy's government in late September approved its fifth austerity package in a year to head off tougher conditions demanded as part of a potential European bailout.

In the first estimate of fourth-quarter economic performance, the Bank of Spain said the economy contracted 1.7 percent compared with the same period a year ago and likely contracted 0.6 percent from the previous quarter.
And similar news from Italy:
Italy's recession will be worse than previously expected, the country's central bank said today as it cut its 2013 estimate for gross domestic product on weakness in the global economy and disappointing internal demand.

Italian GDP will probably contract 1 percent this year, the Bank of Italy said today in its economic bulletin. That compares with a July estimate from the central bank for a 0.2 percent reduction.

"In our country, internal demand still hasn't reached an inflection point," the Bank of Italy said. The lower GDP forecast was "due to the worsening of the international scenario and the continuation of the weakness in business activity in recent months."
And to round off the dour news, Dutch consumer spending fell 3.0% YoY.
But Germany is enjoying a sharp resurgence, with services up 3.3 points to 55 and manufacturing up 2.8 points to 48.8 and close to expansion. No doubt on the improving sentiment apparent in the ZEW and perhaps external demand, though it's not yet apparent in export official data.
From the above chart you can see that the French and Germany PMIs have never diverged from each other for long so it will be interesting to watch which wins the current tug-of-war.
Full Eurozone PMI report below.
Eurozone Markit PMI Jan 2013 by economicdelusion