Richard Koo of Nomura published an important piece earlier this week which got some attention in the financial blogosphere (Clusterstock, FT Alphaville). It takes issue with a critical part of the economist optimists' case, namely, that consumer deleveraging is about done and therefore the economy is likely to perform much better in the next few years.
I have doubts even with the thesis as stated, given that the assumption is that having consumers releverage would be a good thing. We have stagnant wages and short job tenures and concerns that demographics will no longer drive growth in the US, combined with the fact that the BIS has found that household debt to GDP ratio of over 85% are associated with a negative impact on economic growth, and we are still above that level: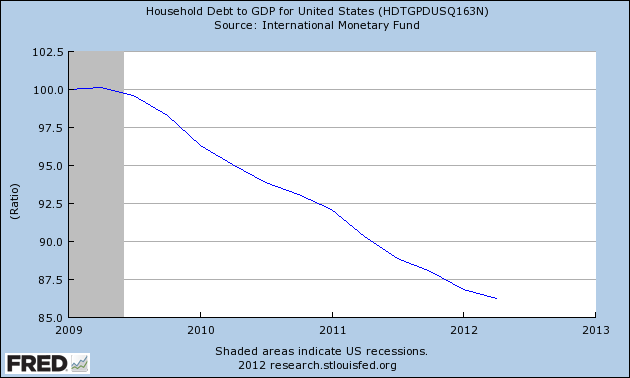 And that's before you get into the issue of the composition of debt: a lot of the deleveraging has been involuntary (foreclosures and bankruptcies) and has been partially offset by rising levels of student, which is more pernicious than credit card or mortgage debt, since it can't be discharged in bankruptcy, and is accumulated at the beginning of an adult's income-earning years.
Koo makes a different point: that some of the figures that the bulls have cited as positive are anything but:
Those making this argument [that deleveraging is over] seem to be basing their views on the fact that the Fed's Flow of Funds Accounts show the US household sector as a net investor in 2012 Q3, the first time that has happened since 2007 Q2…the US household sector was characterized by a financial deficit of 2.8% of GDP, and this, I suspect,
led some to argue that the US balance sheet recession was over.
Koo refers to this chart to make his point (click to enlarge):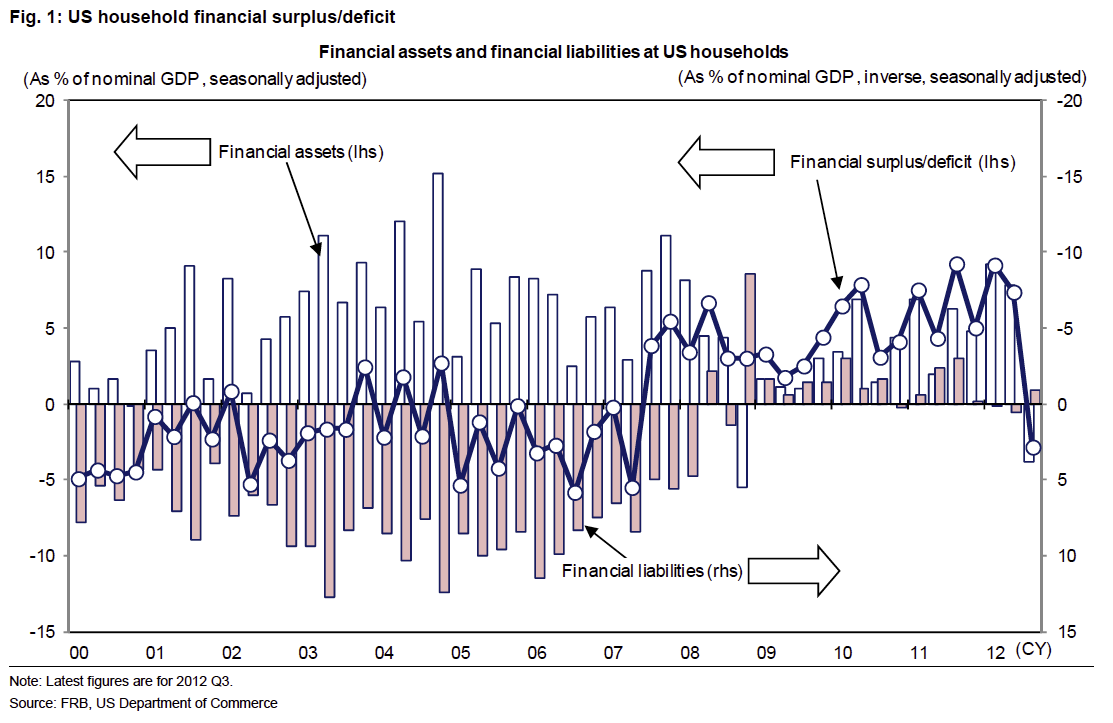 The white bars are financial assets and the red bars are liabilities. The blue line is the difference between the two. Koo again:
While US households did indeed run a financial deficit in Q3, the deficit was not necessarily driven by positive factors. If people who had been paying down debt to repair their balance sheets had actually resumed borrowing, it would mean that balance sheet problems were behind us. However, the fact that the latest colored bar in Figure 1 is above zero indicates that US households are still paying down debt.

Inasmuch as this act of reducing financial liabilities in spite of zero interest rates runs counter to the principle of maximizing profits, it suggests that US households continue to undertake balance sheet adjustments.
And the implications…
The answer can also be found in Figure 1:the fact that the latest white bar is below zero means households drew down financial assets in the quarter. And that is hardly a good sign. It has happened only three times since 2000, including the present occasion.

The first instance (barely visible in the graph) was in 2000 Q4, when the Internet bubble collapsed. The second was in 2008 Q4, when the failure of Lehman Brothers sparked a global financial crisis. People faced cash flow problems in both periods andprobably were forced to draw down existing savings to make necessary payments.

During the bubble period towards the middle of Figure 1, much attention was paid to the fact that the US household savings rate had turned negative. While the sector did run a financial deficit during this period, the deficit was attributable to the fact that the increase in financial liabilities (ie growth in borrowing) was greater than the increase in financial assets (ie growth in savings). There was no drawdown of financial assets.

Hence we need to pay attention to the fact that the latest figure shows only the third drawdown of financial assets since 2000 and that this drawdown is responsible for the financial deficit in the broader household sector. The reason: if household consumption is being financed by the drawdown of financial assets, it is not likely to be sustainable.

This pattern of drawing down financial assets while reducing financial liabilities has been frequently observed in Greece during the last two years and is definitely not a positive development, in my view.
I know the plural of anecdote is not data, but I'm not hearing a lot of optimism in the cohorts I'm in contact with. Most people are less freaked out than they were in 2009 and 2010 but while you can say that trend-wise, it's an improvement in confidence, that does not translate into confidence in the animal spirits sense. One telling story: a former client who was a partner in a financial firm that was sold at a very handsome price and has a net worth somewhere north of $15 million (how much I have no idea) was visiting New York. He and his wife live part of the year in Chicago and are renovating their apartment. She remarked that she had just been in the D&D Building because the showrooms for the Chicago decorators had become very spare since the downturn. I said I was surprised, prices at art auctions were hitting new highs. She said that the people at the top might be spending, but it was different at the next layer. For instance, when she called the contractor she had used before to ask about his schedule for the spring, he signaled he was wide open. Later he said that his 4th quarter had been "OK" and if the rest of the year had been as weak as his first quarter 2012 had suggested, he wouldn't be in business.
Koo also pointed out that the business sector is still net saving. As we've written before, when the household sector and the business sector are both saving, the government sector needs to run a deficit or the economy contracts (unless you can run a trade surplus, which is not the situation the US is in):
The US corporate sector, which is said to be healthier than the household sector, remains a net saver in spite of zero interest rates—in other words, savings are still increasing.

It is often argued that US companies are healthier financially than US households. However, the white bars in Figure 2 show that businesses were forced to draw down financial assets for five straight quarters from 2008 Q1 through 2009 Q1.

This is the period that started with the challenge of Bear Stearns, triggering extreme dysfunction in the US financial system. As a result many companies found it extremely difficult to obtain funding. This should also be clear from the fact that funds raised by US corporations (ie increase in financial liabilities) declined sharply from 2008 Q1 onwards.

For four quarters starting in 2009 Q1, US businesses paid down debt at a time of zero interest rates—in other words, growth in financial liabilities turned negative. US households and businesses alike were desperately deleveraging in an attempt to repair their balance sheets.

The debt repayment subsequently stopped and companies began borrowing again, but that was more than offset by an
increase in financial assets. The financial surplus condition at US companies has continued to the present in spite of zero interest rates.

In that sense, I think we can say that balance sheet adjustments continue in the corporate sector, although perhaps not to the extent of the household sector….

Even in the aftermath of the Internet bubble collapse, during which the necessary adjustments were far milder, it took 12
quarters—three full years—for corporate sector behavior to return to pre-bubble norms.

Given that the shock of the housing bubble collapse was several times greater, I suspect that at least several more years will be needed before US companies stop increasing savings and resume borrowing money to expand operations.
Even with this, Koo is overstating the degree of the return to normalcy. We noted that corporations were net savers in a November 2005 article:
Companies typically invest in times like these, when profits are high and interest rates low. Yet a recent JP Morgan report notes that, since 2002, American companies have incurred an average net financial surplus of 1.7 percent of GDP, which contrasts with an average deficit of 1.2 percent of GDP for the preceding forty years. While firms in aggregate have occasionally run a surplus, ". . . the recent level of saving by corporates is unprecedented. . . . It is important to stress that the present situation is in some sense unnatural. A more normal situation would be for the global corporate sector—in both the G6 and emerging economies—to be borrowing, and for households in the G6 economies to be saving more, ahead of the deterio- ration in demographics."
Obsession with quarterly profits has produced an unhealthy tendency towards underinvestment even in economic expansions, since capital investments also entail expenses (marketing, hiring staff, etc) before the new project is productive. It's thus hard to see how anyone (except stock brokers) is buying the CBO line that cutting the deficit when unemployment is still high and companies are tightfisted will only produce a two quarter downturn before the confidence fairy emerges and growth resumes. That sort of forecast looks an awful lot like the classic hockey stick in presentations to venture capitalists: invest in us, we'll have a short period when we'll lose money as we are ramping up, but then we'll show juicy growth and profits. VCs know to be plenty skeptical. It's too bad that the media and policy makers aren't.