My, my, SEC head of enforcement Robert Khuzami has revealed himself to be both remarkably thin skinned and not very good at making a case for himself.
Former IMF chief economist and MIT professor Simon Johnson took a comparatively mild swipe at Khuzami last week in a post at the New York Times' Economix blog. Johnson was arguing that the SEC needed a tough head of enforcement and put former SIGTARP chief Neil Barofsky up for the job. Johnson 'fessed up that that was a bit of a downgrade, since he had earlier pumped for having Barofsky head the agency.
Here is Johnson's discussion of Khuzami:
The departing director of the division of enforcement at the S.E.C. is Robert Khuzami, a former general counsel for the Americas at Deutsche Bank, a job he held from 2004 through early 2009. Although Mr. Khuzami was once a distinguished prosecutor, his appointment to the S.E.C. turned out to be a mistake because Deutsche Bank was so deeply involved in the securitization morass that led to the financial crisis of 2008.

(For more details, I recommend this Web page, with information collated by UniteHere, a trade union. You should also read this assessment by Yves Smith on her nakedcapitalism blog.)

Mr. Khuzami has vigorously defended his record and insisted it would have been "unwise" to press Wall Street firms and their executives for admissions of guilt. Whether the S.E.C. failed to prosecute the executives who made the key decisions because it had no case or because of Mr. Khuzami's views, we may never know.

In addition, concerns continue to grow regarding the extent of mismanagement and illegal activity at Deutsche Bank during Mr. Khuzami's time there; Mr. Khuzami has recused himself from the latest S.E.C. investigations.

According to Jordan Thomas, a lawyer representing one of the whistleblowers from Deutsche Bank, as quoted in the Financial Times,

During the financial crisis, many financial institutions faced an existential threat and the evidence suggests that Deutsche Bank crossed the line by substantially inflating the value of its credit derivatives portfolio – the largest risk area in its trading book.

This is precisely the kind of complex case that requires a skilled prosecutor with detailed knowledge of how the industry works. At the same time, it cannot be someone who has worked for a major financial institution either directly or as its outside counsel. The potential for a perceived conflict of interest is too great.
Khuzami responded in the comments section (I'm assuming it is indeed Khuzami; the post has been up for days and several readers pinged me about it. The SEC would surely be aware of it and would presumably have asked for it to be removed if it was a fabrication):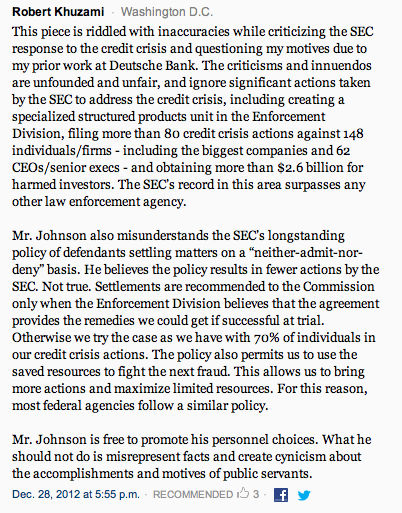 Readers may not be attuned to political and media protocol, but the fact that Khuzami responded to tame and well mannered criticism is simply stunning. This breaks with established form in two ways: first, he deigned to acknowledge the piece, and then that he took issue in a blog comments section.
This sort of loss of dignity is why people like Khuzami have staff. Someone at his level is supposed to be sufficiently well housebroken ignore public criticism unless it is from someone who can damage you or your organization. And if it gets to them, then the fallback is to draft a reply, sleep on it, and decide not to send it, or next best, run a sanity check with someone else at the agency, who would lead to him being told firmly that it would be a seriously bad idea to say anything. And even if someone senior were foolishly to go ahead, the comments section is the wrong place. If he thinks the article is inaccurate (which is Khuzami's contention) he should take it up with the editors and demand a correction. Or if he thinks it's unfair, a letter to the editor is a much more fitting venue for airing grievances.
Given that the Times run articles that verged on dictation from Khuzami , this whiney and weak rebuttal is stunning. He's about to get his payoff; he can easily land a high six-possible low seven figure job at a major law firm. Getting exercised about this article in public is bad judgment, period.
As for the substance of Khuzami's remarks, it amounts to saying that the fact that the SEC handed out a lot of parking tickets is a worth accomplishment. Huh? We just went through the biggest loss of both financial wealth and economic output ever, with the US the epicenter of the crisis, and Khuzami is proud of $2.6 billion in fines? An order of magnitude more wouldn't even begin to scratch the surface. The Times readers were having none of it: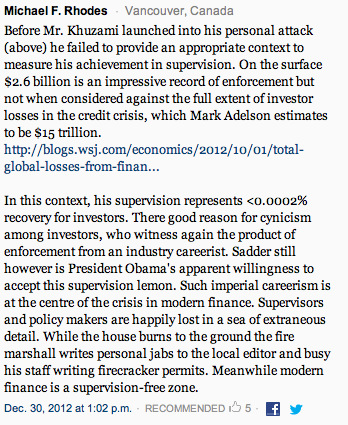 Actually, Adelson's estimate is light. Andrew Haldane of the Bank of England has penciled out the cost of the crisis in terms of output losses (lowered economic growth) and the low end of his range is one time global GDP, which in 2007 was $47 trillion.
Since the Times' readers did a good job of debunking, we'll let them handle the other argument (such as it was) from Khuzami: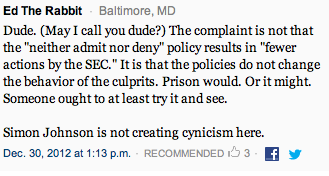 It shows a lack of engagement with reality that Khuzami thinks his record holds up to scrutiny. As we wrote:
Let's look at the SEC's record of enforcement fiascoes under Khuzami. The only thing he can claims is getting some bigger fry than usual on the insider trading front: Raj Rajaratnam, Rajat Gupta, and closing in on the SEC's big target, Steve Cohen. Well, I suppose it's nice that the SEC is becoming a better one-trick pony. But the wake of the biggest financial crisis in three generations was the time for the agency to up its game, and the SEC has failed miserably.

We'll go through some examples of glaring Khuzami failures. Mind you, I've had to restrain myself; I could easily have written a post three times as long.

Khuzami's overarching failure is the SEC's embarrassing record in pursing fraud that was instrumental in causing the financial crisis. Khuzami has repeatedly claimed that it's hard to go after these cases. Yes, if you aren't competent, anything looks hard……

Third is Khuzami's was complicit in some of the worst behavior during the crisis. He should have resigned when it became clear that CDOs were central to the crisis and the SEC would not be able to avoid dealing with them. The SEC appears to have taken a policy of suing on one CDO per major firm and settling. This is heinous, since each and every one of these firms sold more than one CDO and the bad practices were pervasive. From a December 2011 post:

So why has the SEC not pursued this area more vigorously? …

Look no further for an answer than the SEC chief of enforcement, Robert Khuzami… He was General Counsel for the Americas for Deutsche Bank from 2004 to 2009. That means he had oversight responsibility for the arguable patient zero of the CDO business, one Greg Lippmann, a senior trader at Deutsche, who played a major role in the growth of the CDOs, and in particular, synthetic or hybrid CDOs, which required enlisting short sellers and packaging the credit default swaps they liked, typically on the BBB tranches of the very worst subprime bonds, into CDOs that were then sold to unsuspecting longs. (Readers of Michael Lewis' The Big Short will remember Lippmann featured prominently. That is not an accident of Lewis' device of selecting particular actors on which to hang his narrative, but reflects Lippmann's considerable role in developing that product).

Any serious investigation of CDO bad practices would implicate Deutsche Bank, and presumably, Khuzami. Why was a Goldman Abacus trade probed, and not deals from Deutsche Bank's similar CDO program, Start? Khuzami simply can't afford to dig too deeply in this toxic terrain; questions would correctly be raised as to why Deutsche was not being scrutinized similarly. And recusing himself would be insufficient. Do you really think staffers are sufficiently inattentive of the politics so as to pursue investigations aggressively that might damage the head of their unit?
Mind you, this is a short section of a detailed piece; I strongly encourage you to read it in full.
The pathetic part is that Khuzami seems unable to recognize how terribly he performed at the SEC, that is, if you think the job of the SEC is to protect the public rather than big financial services firms. The fact that his ego has been bruised is apparently more important than how his enforcement failures are helping to set us up for the next crisis. Johnson was even more correct than he imagined in taking Khuzami's performance to task and insisting we get someone skilled, toughminded, and independent like Neil Barofksy in his place.