Lambert Strether blogs at Corrente.
Each of these passages has faults of its own, but, quite apart from avoidable ugliness, two qualities are common to all of them. The first is staleness of imagery; the other is lack of precision. … As soon as certain topics are raised, the concrete melts into the abstract and no one seems able to think of turns of speech that are not hackneyed: prose consists less and less of words chosen for the sake of their meaning, and more and more of phrases tacked together like the sections of a prefabricated henhouse. – George Orwell, Politics and the English Language.
With this post, I'll conclude analysis of Obama's second Inaugural speech (the first post is here) – just in time for the SOTU!
Obama's second inaugural speech falls naturally into four parts. The previous post covered Parts I and II; this will cover Parts III and IV. Part I deployed a dense network of allusions to the framers and key documents from American history to demonstrate the essential continuity between Obama and former Presidents (cf. Matthew 5:17) and to justify Obama's right to speak for the country as a whole, and for the American enterprise. In Part II, Obama began to do so, pleading for unity, and concluding: "[W]e are made for this moment and we will seize it, so long as we seize it together."
In Part III, Obama lightly sketches some policy outcomes for his unity-based approach. In Part IV, Obama gives his view of what unifies the body politic. As we shall see, Parts III and IV comprise an uneasy mixture of populism and neo-liberalism. And in at least one essential aspect, Part IV contradicts Part I.
Just as in the previous post, I'm color-coding the speech according to the following table:
| Category | Note |
| --- | --- |
| Secular religion | A mish-mash of phrases from the Framer's, Lincoln and MLK echoes, and so forth |
| Bathos/MBA-speak | Bathos is an abrupt transition in style from the exalted to the commonplace |
| Neo-liberal catchphrase | "Free market," "innovation," "hard choices" etc. |
| Populism | "Our most vulnerable citizens" |
| Bipartisan shibboleth | "The troops," for example |
| Dead metaphors/cliche | "Ring the changes on," "take up the cudgel for," "toe the line," "ride roughshod over," etc. (Orwell) |
| Sheer nonsense | Word salad |
| Falsehood or truthiness | |
| Equivocation | Lawyerly parsing and weasel wording |
| Boilerplate | "Ladies and gentleman," and so forth. |
Part III: Plea for unity, future
Part II begins and ends with the word "together." Part III loosely and lightly sketches – and when I use the word "sketch" I definitely mean to imply "sketchy" – some values and policy proposals for what "we," "together," might do. While the values are on the populist side, the policy proposals are on the neo-liberal side. Unlike Parts I and II, Part III is not intricately patterned: Its rhetorical device is congeries ("piling up"). In its populist aspect, it piles up shout-outs to issues ("climate change") and constituencies ("middle class"); in its neo-liberal aspect, it piles up catch-phrases and dog whistles ("hard choices"). In terms of partisan politics, it takes a few jabs at Republican randroidism (when some might feel that a full-throated denunciation is more than called for.) And then there's foreign policy, because the empire. Throughout, the word to keep in mind is shibboleth. I've called the shibboleths tosses to left Democrats "red tofu," because of course nobody ever tosses them meat!
For we, the people 1 , understand that our country cannot succeed when a shrinking few do very well and a growing many 2 barely make it.
(APPLAUSE)
We believe that America's prosperity must rest upon the broad shoulders 3 of a rising middle class. We know that America thrives when every person 4 can find independence and pride in their work, when the wages of honest labor will liberate families from the brink 5 of hardship. 6
OBAMA: We are true to our creed when a little girl born into the bleakest poverty knows that she has the same chance to succeed 7 as anybody else because she is an American, she is free, and she is equal not just in the eyes of God but also in our own.
(APPLAUSE)
We understand that outworn (ph) programs are inadequate to the needs of our time 8 . So we must harness new ideas and technology 9 to remake our government 10 , revamp our tax code, reform our schools 11 , and empower our citizens with the skills 12 they need to work hard or learn more, reach higher.
But while the means will change, our purpose endures. A nation that rewards the effort and determination of every single American, that is what this moment requires. That is what will give real meaning to our creed.
We, the people, still 13 believe that every citizen deserves a basic measure of security and dignity 14 . We must make the hard choices to reduce the cost of health care and the size of our deficit.15
(APPLAUSE)
But we reject the belief that America must choose between caring for t he generation that built this country and investing in the generation that will build its future 16 .
(APPLAUSE)
For we remember the lessons of our past, when twilight years were spent in poverty and parents of a child with a disability had nowhere to turn. We do not believe that in this country freedom is reserved for the lucky or happiness for the few. We recognize that no matter how responsibly we live our lives, any one of us at any time may face a job loss 17 or a sudden illness or a home swept away in a terrible storm. The commitments we make to each other through Medicare and Medicaid and Social Security, these things do not sap our initiative .
(APPLAUSE)
They do not make us a nation of takers. They free us to take the risks that make this country great 18 .
(APPLAUSE)
We, the people, still believe that our obligations as Americans are not just to ourselves, but to all posterity. We will respond to the threat of climate change 19 , knowing that the failure to do so would betray our children and future generations.
(APPLAUSE)
Some may still deny the overwhelming judgment of science, but none can avoid the devastating impact of raging fires, and crippling drought, and more powerful storms. The path towards sustainable energy sources will be long and sometimes difficult. But American cannot resist this transition. We must lead it.
(APPLAUSE)
We cannot cede to other nations the technology that will power new jobs and new industries. We must claim its promise. That's how we will maintain our economic vitality and our national treasure, our forests and waterways, our crop lands and snow capped peaks. That is how we will preserve our planet, commanded to our care by God. That's what will lend meaning to the creed our fathers once declared.
OBAMA: We, the people, still believe that enduring security and lasting peace do not require perpetual war.
(APPLAUSE)
Our brave men and women in uniform tempered by the flames of battle are unmatched in skill and courage.
(APPLAUSE)
Our citizens seared by the memory of those we have lost, know too well the price that is paid for liberty. The knowledge of their sacrifice will keep us forever vigilant against those who would do us harm. But we are also heirs to those who won the peace, and not just the war. Who turn sworn enemies into the surest of friends. And we must carry those lessons into this time as well. We will defend our people, and uphold our values through strength of arms, and the rule of law . 20
We will show the courage to try and resolve our differences with other nations peacefully. Not because we are naive about the dangers we face, but because engagement can more durably lift suspicion and fear.
(APPLAUSE)
OBAMA: America will remain the anchor of strong alliances in every corner of the globe. And we will renew those institutions that extend our capacity to manage crisis abroad. For no one has a greater stake in a peaceful world than its most powerful nation. We will support democracy from Asia to Africa, from the Americas to the Middle East, because our interests and our conscience compel us to act on behalf of those who long for freedom. And we must be a source of hope to the poor, the sick, the marginalized, the victims of prejudice.
OBAMA: Not out of mere charity 21 , but because peace in our time 22 requires the constant advance of those principles that our common creed describes; tolerance and opportunity, human dignity and justice. We the people declare today that the most evident of truth that all of us are created equal 23 — is the star that guides us still; just as it guided our forebears through Seneca Falls and Selma and Stonewall 24 ; just as it guided all those men and women, sung and unsung, who left footprints along this great mall 27 , to hear a preacher say that we cannot walk alone; to hear a King 28 proclaim that our individual freedom is inextricably bound to the freedom of every soul on Earth.
(APPLAUSE)
Notes to Part III
Constitution of the United States, Preamble: "We the people of the United States, in order to form a more perfect union…"

"Shrinking few… growing many." Thank you, Occupy!

Cf. Carl Sandburg, "[The] Chicago [Way?]," "City of the Big Shoulders."

"Every person" should read "every person, within the constraint of an 8% NAIRU."

With "brink," Obama again uses lawyerly parsing to minimize government's potential role.

Nonsense: How does one "liberate" from a "brink"?

The "opportunity society."

Which "outworn programs," exactly? The U.S. Post Office? Medicare? Social Security?

Which "new ideas and technology," exactly? Hidden fees to rentiers?

"Remake government? Why not try proper staffing levels?

"Reform our schools" through charters?

"Empower our citizens with skills" by making them debt slaves?

"Still"? Is there some reason they might not?

"Basic" is lawyerly parsing, minimizing government's role.

"Hard choices" is a euphemism for austerity. The really hard choice on health care would be single payer. The really hard choice on the deficit would be admitting that solvency is not an issue for a sovereign government.

Nonsense: Last I checked, the "generation" that built this country lived in the 1700s. And which generation is it that "will build" this country? Children? Teenagers? Twenty-somethings? All generations? Generations yet unborn?

If you've got a union, you don't "face a job loss" "at any time."

"Red tofu" for left Democrats; refighting campaign 2012.

"Red tofu" for left Democrats.

"Rule of law"? Obama's mortage settlement "set a price for forgeries and fabricating documents. It's $2000 per loan."

Cf. Lincoln, Second Inaugural, 1865: "With malice toward none, with charity for all.." And surely, to a professed Christian, charity is not "mere"?

Cf. Neville Chamberlain, 1938: "My good friends this is the second time in our history that there has come back from Germany to Downing Street peace with honor. I believe it is peace in our time."

The Declaration of Independence: "We hold these truths to be self-evident, that all men are created equal…."

"Red tofu," though it's good to hear the names, and especially Selma and Stonewall together, though oddly, or not, not Flint.

"Footprints" is nonsense, at least after the National Park Service resods everything. Perhaps "footsteps" was meant? Or perhaps Favreau is vaguely echoing Longfellow—or Carolyn Joyce Carty.

The "preacher" is Martin Luther King; and the last thing MLK would have wanted on the holiday named for him is being dubbed a "King", even by America's first black President, and as a play on words.
PART IV: Call for action
Part IV, like Part II, is a congeries. The populist shout-outs to constituencies ("gay brothers and sisters") continue to pile up, but both populist issues and neo-liberal catchphrases (mostly) disappear, to be replaced by a not even vaguely adumbrated trope of a "journey" – beginning, destination, and route all carefully unspecified, but to be undertaken by "our generation." (Which is odd, because Obama's a boomer, even if David Brooks doesn't think so.) However, the ending is remarkable: Obama tells an outrageous whopper about his own oath of office.
It is now our generation's 1 task to carry on what those pioneers began, for our journey Is not complete until our wives, our mothers and daughters 2 can earn a living equal to their efforts.
(APPLAUSE)
Our journey is not complete until our gay brothers and sisters 3 are treated like anyone else under the law, for if we are truly created equal 4 , then surely the love we commit to one another must be equal, as well.
(APPLAUSE)
Our journey is not complete until no citizen is forced to wait for hours to exercise the right to vote 5 .
(APPLAUSE)
Our journey is not complete until we find a better way to welcome the striving, hopeful immigrants 6 who still 7 see America as a land of opportunity, until bright young students and engineers are enlisted in our workforce rather than expelled from our country 8 .
(APPLAUSE)
OBAMA: Our journey is not complete until all our children 9 , from the streets of Detroit to the hills of Appalachia to the quiet lanes of Newtown 10 , know that they are cared for and cherished and always safe from harm.
OBAMA: That is our generation's task, to make these works, these rights, these values of life and liberty and the pursuit of happiness 11 real for every American 12 .
Being true to our founding documents 13 does not require us to agree on every contour of life 14 . It does not mean we all define liberty in exactly the same way or follow the same precise 15 path to happiness.
Progress does not compel us to settle century's long debates about the role of government for all time, but it does require us to act in our time.
For now, decisions are upon us and we cannot afford delay. We cannot mistake absolutism for principle or substitute spectacle for politics, or treat name-calling as reasoned debate 16 .
(APPLAUSE)
We must act. We must act knowing that our work will be imperfect (ph). We must act knowing that today's victories will be only partial, and that it will be up to those who stand here in four years and 40 years and 400 years hence to advance the timeless spirit once conferred to us in a spare 17 Philadelphia hall.
OBAMA: My fellow Americans, the oath I have sworn before you today 18 , like the one recited 19 by others who serve in this Capitol, was a n oath to God 20 and country, not party or faction.
And we 21 must faithfully execute 22 that pledge during the duration of our service. But the words I spoke today are not so different from the oath that is taken each time a soldier 23 signs up for duty, or an immigrant realizes her dream. My oath is not so different from the pledge we all make to the flag 24 that waves above and that fills our hearts with pride. They are the words of citizens, and they represent our greatest hope. You and I, as citizens, have the power to set this country's course. You and I, as citizens, have the obligation to shape the debates of our time, not only with the votes we cast, but the voices we lift in defense of our most ancient values and enduring ideas.
(APPLAUSE)
Let each of us now embrace with solemn duty , and awesome joy, what is our lasting birthright. With common effort and common purpose, with passion and dedication, let us answer the call of history and carry into an uncertain future that precious light of freedom.
Thank you.
God bless you.
And may He forever bless these United States of America.
Notes to Part IV
John F. Kennedy Inaugural Address, January 20, 1961: "…the torch has been passed to a new generation of Americans…."

Red tofu.

Red tofu.

The main issues with voting are not waiting in line, but polling place Photo ID restrictions, and election theft.

Red tofu.

"Still"? Is there some reason they might not?

"Bright" "students and engineers" are not available in the United States? Perhaps among the unemployed, even if they are not necessarily "young?"

Red tofu.

Red tofu, and a slap at gun culture.

The Declaration of Independence: "… endowed by their Creator with certain unalienable Rights, that among these are Life, Liberty and the pursuit of Happiness…."

"Make these works… real" is nonsense.

"True to our founding documents" in nonsense. One can be true to the principles expressed in a document, or to the meaning of a document, but the only sorts of people who could be possibly be said to be "true" to documents as such would be archivists or restorers.

Jack Kerouc, Belief & Technique for Modern Prose : "20. Believe in the holy contour of life."

"Precise" is lawyerly parsing that adds no value. Omit needless words.

Red tofu, and a not-so-veiled assault on Congressional Republicans.

Presumably not "extra," as in "spare roon."

If one tends to keep on oath, one "takes" it. Otherwise, one "recites" it.

A lie: The Presidential oath is not to God. Article II, Section 1: "Before he enter on the execution of his office, he shall take the following oath or affirmation:–"I do solemnly swear (or affirm) that I will faithfully execute the office of President of the United States, and will to the best of my ability, preserve, protect and defend the Constitution of the United States." No mention of God whatever. A remarkable mistake, if mistake it be, for a Constitutional scholar.

The royal "we"?

"Faithfully execute": See note 20.

"Not so different" is a lie, and not mere lawyerly parsing. Here is the soldier's oath (10 U.S.C. § 502): ""I, XXXXXXXXXX, do solemnly swear (or affirm) that I will support and defend the Constitution of the United States against all enemies, foreign and domestic; that I will bear true faith and allegiance to the same; and that I will obey the orders of the President of the United States and the orders of the officers appointed over me, according to regulations and the Uniform Code of Military Justice. So help me God." First, the President's oath is written into the text of the Constitution (note 20); the soldier's oath is a statute. Second, by definition there is no "officer appointed over" Obama (unless we admit the ludicrous spectacle of Obama, in his capacity as Commander in Chief, giving himself orders in his capacity as a soldier. Third, the responsibilities the soldier are limited in scope: "Against all enemies." The responsibilities of a President are not so limited. Finally, the soldiers oath mentions God, and the Presidential oath does not. (See here and here for a discussion of "Obama's militarized vision of civil society-as-unit" in last year's SOTU.)

"Not so different" is again a lie. Here is the text of the Pledge of Allegiance, also from statute (4 USC § 4): "I pledge Allegiance to the flag of the United States of America and to the Republic for which it stands, one nation under God, indivisible, with Liberty and Justice for all." I don't see any mention of the Constitution there, do you?
Conclusion
So, now to the payoff from all that coloring. Here's a miniature image of the speech, which shows the distributions of the color-coded categories. Part I is on the left, Parts II and III are in the middle, and Part IV is on the right.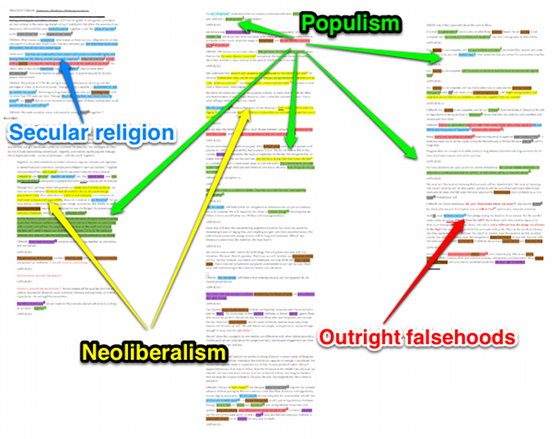 As you can see, taking the accuracy of my coloring as a given:
Secular religion is concentrated in part one part one;
Populism and neoliberalism mark parts two and three
Falsehoods are concentrated in part four.
Dead metaphors, bipartisan shibboleths, and bathos are evenly distributed throughout; equivocation is evenly distributed as well, but occurs mostly when the role of government is discussed. It will be interesting to see if the same categories could be used to code tomorrow's SOTU and, if so, how the codign will be distributed.
First, let's look at the congeries of populist and neo-liberal shibboleths in Parts III and IV. We don't see random intermingling of the two categories: Rather, we see alternating stretches of populist green and neo-liberal yellow. We might also recall that while the populist content is shout-outs to constituencies ("middle class!") and causes ("climate change!"), the neo-liberal content is programmatic ("hard choices"). This suggests a certain lack of integration in Obama's views; a certain fragility to his populism. Will left Democrats be satisfied with shout-outs? Has Obama signaled his program choices? Time will tell; or may perhaps have already told.
While Parts II and III show the uneasy integration of populism and neo-liberalism, Parts I and IV are in outright contradiction. Here is why.
In Part IV, Obama is at great pains to claim that the oaths that he, as President, soldiers, and citizens take are "not so different." As we see in notes 20 through 24, this claim is false, as a moment's thought will show: Surely nobody other than Obama would claim with a straight face that a child reciting the Pledge of Pledge of Allegiance and a President taking the oath of office are "not so different" — unless Obama believes that the "connective tissue" of the body politic is oath-taking. Of course, that's doubly absurd, since (a) that would be f… eudalism, and (b) Obama retroactively legalized fraud and forgery on a gross scale with this Mortgage Settlement, and corporate felonies with FISA reform, and Jeebus, sh*t like that's got to break some oath or other, right?*
Here's what Federalist #17 has to say about oaths, feudalism, and fealty:
Though the ancient feudal systems were not, strictly speaking, confederacies, yet they partook of the nature of that species of association. There was a common head, chieftain, or sovereign, whose authority extended over the whole nation; and a number of subordinate vassals, or feudatories, who had large portions of land allotted to them, and numerous trains of INFERIOR vassals or retainers, who occupied and cultivated that land upon the tenure of or obedience, to the persons of whom they held it. Each principal vassal was a kind of sovereign, within his particular demesnes. The consequences of this situation were a continual opposition to authority of the sovereign, and frequent wars between the great barons or chief feudatories themselves. The power of the head of the nation was commonly too weak, either to preserve the public peace, or to protect the people against the oppressions of their immediate lords. This period of European affairs is emphatically styled by historians, the times of .
Regardless of the merits of Publius's potted history, and regardless of whether Obama's vision of a society where unity is achieved through oath-taking leads to warlordism and anarchy, it is clear that Obama's vision is not the Framer's vision. Hence Part IV directly contradicts Part I.
It's quite late, and if I may briefly whine, I destroyed yesterday's version of this piece in a computer disaster, so my reasoning may not be as crisp as it should be. That said, considered as a speech, Obama's Second Inaugural is indeed a prefabricated henhouse: Cliche-ridden, prolix, analytically sloppy, internally contradictory in multiple ways, and liable at best to be a cynical ploy in the legacy parties' ongoing destruction of the New Deal.
However, considered as a harbinger of a change in the Constitutional order, Obama's Second Inaugural is no chicken house at all. Perhaps it's a castle. Or a panopticon. Or a server farm. Or an agora. Or un bordel. Or some combination! Because, again, Obama's views on how oaths bind society seem quite radical, remarkable, and unprecedented to me. "Change" is indeed coming, although not the sort that some of us hoped to see, and not even the sort many of us have been so justly cynical about.
NOTE * See here and here for Obama's last SOTU, where he takes the view that a "warrior ethos" — i.e., authoritarian followership — should permeate civil society.