It isn't clear how effective the pushback against stratospheric top-level compensation will be, but the howls in the European media suggests that the corporate overlords really are concerned. But the problem in that folks in finance in the US have taken to wildly exaggerating the effects of any incursion on what they see as their God-given right to loot profit. If the authorities planned to escalate from wet noodle-lashings to wet towel snappings, it is depicted as if they were plotting the Rape of Nanking with new horror added, like salting the earth.
Nevertheless, if one is to take the banks' complaints, as reported by the Financial Times, at face value, they really are mundo unhappy about proposed EU rules which would restrict bank bonuses to two times salary. Bankers are already up in arms, threatening to move staff to the US or the Far East. The problem is, however, that London remained a critical trading center, leading New York in many core businesses, such as foreign exchange. Why? First is the time zone advantage: it overlaps with the Asian and US trading day. Second is the heft of the EU economies. They are still the largest in the world, despite the austerians' fierce efforts to diminish them. Corporate and many institutional customers don't do business impersonally; the salesmanship (and for otherwise commodity businesses like foreign exchange, the wining and dining) are key to winning business. Even if you can move the traders elsewhere, you need to keep your salesmen in place. We will see how far the banks go in creative ways around these limits, such as expense accounts, payments to pension plans, and other techniques (hat tip Richard Smith):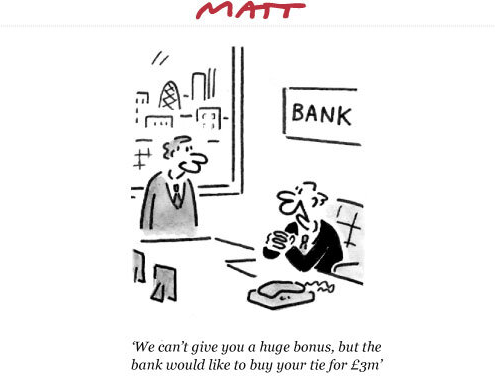 The latest indignity about to be foisted on the Masters of the Universe is that shareholders in Swiss companies might actually have "say on pay" votes with real teeth. From Aljazeera (hat tip Marshall):
Swiss citizens voted to impose some of the world's strictest controls on executive pay, forcing public companies to give shareholders a binding vote on compensation, initial result projections showed.

Claude Longchamp, of pollsters Gfs Bern, told Swiss state television on Sunday early returns in a referendum showed 68 percent backed plans for shareholders to veto executive pay and for a ban on big rewards for new and departing managers.

The clear majority was unusual given fierce opposition and intense campaigning by a business lobby group, which warned the proposals will damage the country's competitiveness and scare away international talent.

Support for the move was fired by anger over the big bonuses blamed for fuelling risky investments that nearly felled Swiss bank UBS, as well as outrage over a proposed $78m payment to outgoing Novartis chairman Daniel Vasella.

Longchamp said the public outcry last month that forced Novartis to cancel Vasella's "golden goodbye" helped drive the campaign.
The article did not make any bold calls as to what this change would mean in practice. It does not appear likely that large companies will reorganize to escape the requirement. But it also is not clear how many companies will be on the receiving end of successful campaigns. Nearly half of the biggest Swiss companies already allow for non-binding votes on pay, and none has yet a majority of shareholders vote against executive pay levels. Of course, this may also be self-selection, that it's the ones who aren't giving shareholders any voice that have the problem cases.
The measure is broad and tough-minded, so even a close vote might change corporate behavior:
Minder's initiative forces binding votes on compensation every year as well as on board composition and would also ban bonus payments to managers if their companies are taken over.

The plan also includes possible jail sentences and fines for breaching the new rules.
The FT indicates that the Swiss government may take a year to draft the law. It also notes that other EU governments are getting more serious about restricting runaway executive compensation:
Other EU states are eyeing even more stringent restrictions. The Netherlands, which has been involved in multiple bank rescues, imposed a bonus cap in 2010 and is considering tightening the limit to 20 per cent of salary.

The UK is also introducing reforms to give shareholders a binding vote on pay in October, as well as measures to make remuneration packages more transparent.
John Hempton, an Australian hedge fund manager, has said no executive is worth more than $2 million. The CEO's union has done such a good job of protecting and promoting its interests that it's hard to fathom how fragmented, transient investors will ever roll the corporate pay boondoggle back. But any steps in that direction need to be applauded.