Yves here. Due to being perpetually distracted, I kept thinking about lightening up on the GLD still in the family portfolio I run (more accurately, neglect these days) and barely missed having a limit order execute at just above $1800. I kept thinking about putting in a sell order for a third to half and kept not doing it (as in I did not want to deal with the stress, since I stupidly stress over every trade). Whoops!
On the narrow question of "whither gold" I have no idea near term. Trading mavens like to say that violent downturns lead to dramatic retraces, but that would likely be followed by further declines. Supporting that point of view is that there is apparently a considerable short interest in gold that will presumably be closed out. But the end of the last big gold bull market, in the early 1980s, saw a blowout and plunge over a mere three day period. So if the past is any guide, it does not point in the direction of much of a recovery from here.
If you subscribe to the theory that this was a bear raid (and some sources say they were told by well placed contacts a month ago that this was coming, wish they had sent me the memo), I'm not sure that this makes for as strong a rebound case as the gold fans might hope.
The problem is that gold was perceived as a safe haven by people who hated what central banks were doing and/or were still traumatized by the crisis and mistrustful of most risky assets. But the 15% fall in two days makes for a holding too volatile for the safety-minded to stomach readily. And if you are of the school that central banks were behind the downdraft (yes this is in tinfoil hat territory but I have several otherwise sane people who have central bank contacts and claim they got warnings), that would put going long as fighting them, one of the no-nos of investing.
Longer-term depends on what you think the risk to the markets and the economy is, inflation or deflation. The gold enthusiasts say that nothing fundamental has changed, if anything the case for gold is stronger than ever with Japan going for The Big Print and the Fed likely to extend QE as the economy weakens thanks to the drag of budget cuts taking hold and valuations become more extended (weirdly, no one seems to notice that S&P 500 earnings peaked in Q1 2012 and have been falling since then. Yes, this is the most current data, the 4Q result was released Monday morning). Frank Veneroso is also predicting that China will depreciate its currency in response to the fall in the yen, which is something that no one (yet) seems prepared for.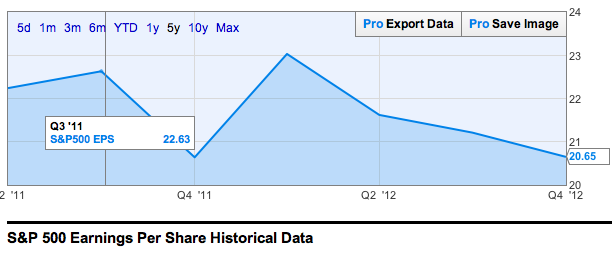 But I guess I question that. The last time around, gold and stocks moved down together in the crisis (in fact, you'd see days when gold would spike down with no obvious trigger, meaning it was probably some hedge fund hit with a margin call and dumping its least distressed position). A big private debt overhang, feeble banks (operating on vitamin injections and amphetamine), and labor with no bargaining power point to deflationary pressures dominating, even if we see liquidity-fuelled speculation helping goose certain types of assets. Gold also does well in deflation, but we are not there yet. And what is the "right" price for gold in deflation? I'd hazard that it is well shy of the $2000 and $3000 that gold believers saw as targets.
Macrobusiness has additional commentary that I hope you will find useful.
By David Llewellyn-Smith, founding publisher and former editor-in-chief of The Diplomat magazine, now the Asia Pacific's leading geo-politics website. Cross posted from MacroBusiness
The gold crash has really got going now (and hats off to Deus Forex Machina for calling it) and brings to mind an old truth in commodity investing: that prices ride the escalator up but catch the lift down. Here is the crash on the one year chart:

And 25 year chart:

Some are claiming that this is now a once in a 2 million year Golden Swan event which is just a bit rich. Nonetheless, it is dramatic.
But what's it saying? To understand we need know what makes gold go up in the first place. There are various marginal reasons – sovereign instability, inflation, jewellery demand – but one towers above all else, the value and stability of the dominant reserve currency, the US dollar. Here's the money chart:

You will note that despite a neat inverse relationship, gold has no one-to-one relationship with the dollar. That is, gold went up much more than the dollar went down. I argue that is because gold's real relationship is not to the dollar's value itself but the degree of stability or otherwise in the policies that determine that value.
That is, a high degree of instability in US monetary and fiscal policy, especially of the expansionary type, will lead to gold appreciation. It has a one-to-one relationship with chaos in value determining settings not real value itself.
So, the direct conclusion to draw is that gold is falling because the chaos that marked US fiscal and monetary policy since the GFC is ebbing. And that is the case with the US budget coming slowly under control and, in a world of mad central bankers, monetary policy suddenly seeming much less radical than it did.
Don't get me wrong, I'm not pretending to have all of the answers here. Gold defies such an approach. Ironically for the true believers of gold's intrinsic value, it is the ultimate social artifact, more reliant than any fiat currency for its value on the degree of faith or skepticism in policy settings.
Thus for me, the three key events that have caused gold to correct are those that have shifted the perceptions of US money policy stability:
• Mario Draghi joining the money printers
• Stabilisation in the US housing market and its gas boom
• Japan's mad and bad QE
All of these have prevented the $US falling any further for now and into the immediate future.
The gold correction is thus good news and bad. It heralds the return of King Dollar and is good for global inflation as all commodities deflate relative to this benchmark. But it also means the US is once again saddled with its exorbitant privilege and that that will slow its recovery.
For Australia, gold's tumble means several things. The good news is that the relative stabilisation in US policy means the Australian dollar will struggle to rise from here. The bad news is that gold is our third or fourth biggest export, roughly the same size as thermal coal, so the terms of trade is taking another hit:

Both undermine the Australian dollar and let's hope it falls soon because gold is signalling that the dream is over for commodities.