So, Facebook is good for something: A friend of mine posted on Christopher Alexander's new book, The Battle for the Life and Beauty of the Earth: A Struggle Between Two World Systems, and since I like beautiful books, I ordered a copy (Powells; Amazon). Alexander is doing the sort of architecture that a permaculturist would like: Site specific, but also do-able if we can't get dry wall from China, lumber from Canada, hardwood flooring from Indonesia, and if petroleum products like Pex or fiberglass insulation have gotten very, very expensive, along with anything (meaning everything) that depends on a petroleum-fueled supply chain. Alexander's "vernacular" method of building — he calls it "System A" — is, one might say, "collapse-ready," in a way that conventional architecture (the Manichean "System B") can never be. Like permaculture.
Battle is a "riveting case study" of how one "System A" site came to be: The Eishin Higashino High School Campus in Iruma, Saitama Prefecture, Japan, near Tokyo, winner of the "Best Building in Japan" award by the Japanese Institute of Architects. But I'm not going to do a full-dress review of Battle here; I don't feel ready. What I will do is briefly describe the system Alexander used to create, in collaboration with its users, the plan for the campus. Then, we'll examine the question of whether Eishin Higashino is a success for its users. Finally, I'll point to some political implications for champions of alternative systems. I should caveat that I know almost nothing of Japanese culture, so there are probably many nuances that I have missed.
But first, let me situate Eishin Higashino:
It was not a little thrilling to zoom in via the Satellite view and see the buildings described and beautifully photographed in Alexander's text, right there, on the ground. (I had visions that the entire site, which was, after all, built in 1985, had been bulldozed and turned into a golf-course or a mall.) Here's how an architectural guidebook describes the campus: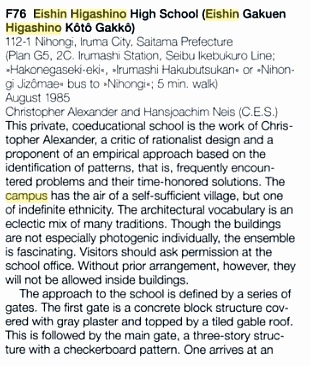 Here is a Google Street View that shows the front gate to the campus and, to the right, part of the checkerboard building (the page may take a minute to build). Interestingly, Google's camera car seems not to have been allowed inside the school; I thought I could do a video capture to create a fly through, but such was not to be.
System A at Eishin Higashino HS: A pattern language
Here's what a pattern language (116: "A word picture that describes the wholeness of a place") reads like: The main headings of the pattern language evolved for the Eishin Higahino campus.
1. Global Character of Campus

1.1. An outer boundary surrounds campus.
1.2. Contained by this outer boundary there is a outer precinct. The outer precinct surrounds an inner precinct.
1.3. The inner precinct is a densely built area where School and College have their major buildings and activities.
1.4. The Outer Precinct is an area for relaxation, sport, outdoor activities and recreation.
1.5. As a whole the Campus is given its character by stone foundation walls, natural concrete walls, wood columns, white plaster surfaces, some green surfaces, wide overhanging roofs, dark roofs, stones and grass and pebbles on the ground.

2.1. The Entrance Street to the campus is a highly visible pedestrian Way. It begins at the Outer Boundary of the Campus, and ends at the Inner Precinct.
2.2. The Small Gate marks the outer end of the Entrance Street.
2.3. The Entrance Street is flanked with walls and trees. It is extremely quiet.
2.4. Where the Entrance Street meets the Inner Precinct, there is a second, much larger, Main Gate. It is three stories high.
2.5. Beyond the Main Gate, there is a Public Yard. Opening onto this Public Yard, there is an immense building, the great Hall. The Great Hall shapes and forms the Public Yard.
2.6. Etc. (2.6-2.14)

3. Buildings of Inner Precinct (3.1-3.12)
4. Streets of Inner Precinct (4.1-4.15)
5. Outer Precinct (5.1-5.25)
6. Features of Inner Precinct (6.1-6.22)
7. Special Outdoor Details (7.1-7.8)
8. Interior Building Character (8.1-8.9)
Pattern numbers mentioned in the text are preceded with a hash mark: "#."
[Sidebar: Mehaffy, in an interesting series beginning here, makes much of the influence of Alexander's pattern language on software engineering (" If you have an iPhone, you may be surprised to know that you have Alexander's technology in your pocket. The software that runs the apps is built on a pattern language programming system.") While it is true that Ward Cunningham invented the wiki for the express purpose of developing a pattern language for software engineering (see, e.g., PatternLanguage) I think Mehaffy's collapsing several layers of abstraction by calling Alexander's practice a technology instead of a craft or an art. Biological systems are, after all, not digital.]
Here's Alexander's description of how the pattern language was made. (Here's a short summary with sketches.) 117 et seq.:
Our work on the Eishin Project began, as promised in the contract, with the construction of a pattern language. We spent four to five months engaging students, teachers, and administrators in creating this new pattern language, which would spring from their hopes and dreams as well as the land itself.

The very first thing we did was spend two weeks just talking to different teachers and students, to get a feeling for their hopes and dreams. These talks were one-on-one and often laster for an hour, for any one interview, during which we asked questions, talked, probed, explored dreams of an ideal campus, and tried to understand each person's deepest visions as a teacher, or as a student…. 

This was not easy to do. It required much of both the interviewer and the person being interviewed. … In the context of present-day Japan, where most schools are massive concrete boxes, with an asphalt playground on one side, it was hard to overcome this difficulty.  In any case, I always gently insisted…. In answer to this kind of gentle invitation, most people would begin to say something. Relucantly, hesitatingly, often with some embarrassment, they would begin to describe their feelings about things — shyly, as if it was not allowed, or if it was crazy for them to attempt it. …. For example, one teacher said something like this to me: "I imagine walking by a stream, small streams and islands, perhaps bridges, and trees hanging in the water — a place where I can walk quietly and think about my class, or collect my thoughts as I prepare to teach."

We shall see that many of these shyly presented, hesitating thoughts and feelings, were deeply true. They represented a real truth, which was demonstrated empirically once the school was built.
But was it?
Results of the pattern language at Eishin Higashino
It must be said that the Eishin campus is deeply beautiful. One might perhaps discount the "family pictures" in Alexander's book or related sites, but there are other pictures online; this Flickr set is excellent; as is this set, where the Small Gate (#2.2) starts the campus part of the show at slide 13; the earlier slides are useful to show the context in Japan. Here is an image of the Public Yard (#2.5), showing the Great Hall in the background. The materials used conform to #1.5: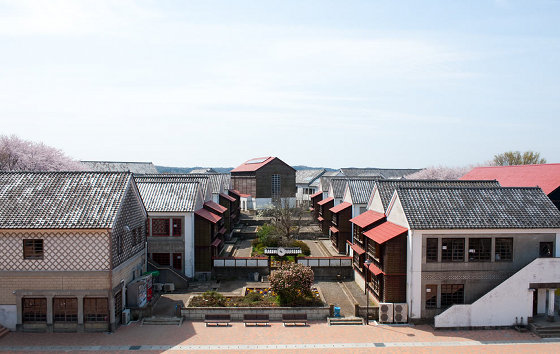 However, just because a building is beautiful, even site-specific, doesn't mean it's pleasant or even practical. The owner of Frank Lloyd Wright's iconic masterpiece, Fallingwater, labelled it a "seven-bucket building," nicknaming it "Rising Mildew," and it was prone to sagging from the beginning (a "concrete Titanic"). Did Alexander's pattern enable the hopes and dreams for a good school?
Here I'm handicapped, again, by my absolute ignorance of Japanese culture and language. (Readers?) I don't know where Eishin Higashino ranks in Japanese school league tables, for example. I can say that although the buildings, as viewed through Google Street View, show wear and tear, there's nothing excessive, especially given that the buildings are at least twenty years old. None of the photographs I've seen show buckets for leaks, or frames out of true, plywood windows, flapping tarpaper, temporary but permanent scaffolding, or any of the other kludges used to shore up a degrading structure. 
Nor do I see signs of unhappiness on the part of teachers or students, or institutional unhealthiness. The school's website shows institutional pride in their unique site; there are lively pictures that don't seem posed; artists come on sketch tours; there are pets buried on the grounds; there is an alumni association with an office on site; a designer seems to have done some rebranding. 
And we have at least one comment on the feeling the Eishin campus induces:
I did have a remarkable feeling when I left, that relates to another experience I had a long time ago. On a trip to London right after I graduated from architecture school, I paid a visit to Roehampton, a modernist housing estate that we had been taught about and advised to visit. I went out there by bus, and spent a couple of hours looking at its Corbusian scheme—high rises here, row houses there, shopping there, schools there, pedestrians separated from cars, large green areas, everything very orderly in a modernist way.

When I left to take the bus back to London, I went out to the main road, with garbage trucks and newsagents and cars and buses and a little disorder—and had a conscious feeling of being back in the real world and glad to be there. 

When we left the Eishin School it was the reverse, and I was immediately reminded of the London experience so many years ago. I felt a little bit let down: that the street lined with ordinary stucco houses, not particularly beautiful, was a disappointment compared to the place I'd just left. I might not ordinarily mention this, but the immediate connection to that London memory was so striking to me that I had to make the comparison.
[Sidebar: See here for Google-translated "reconsideration" of Alexander's oeuvre, including the comment that the campus has "an Oriental [ouch!] look of unknown nationality, [which gives] the impression of a cardboard stage." This resonates with me, since the stucco and wood exteriors reminded me forcibly of Sam Wanamaker's reconstituted Globe theatre. But so what? Let it be said, however, that if there were serious problems with the school, this author would certainly have cited them.]
Implications for champions of pattern languages
Here it is sufficient for me to quote from the book. Hosoi was the managing director of the Eishin Campus from 1981 through 1990, and the person who brought Alexander in, and backed his ideas. Pages 291-292:
[I]t became clear that the antipathy toward Hosoi had not abated. In 1986, Hosoi and his felllow trustees on the Eishin Board were meeting when, quite suddenly, there was a knock at the door, and a demand by some thugs and judo students that Hosoi must join them outside. The sounds of the beating could be heard by the Board members in their meeting room, nut they did not lift a finger to help, quite possibly out of fear. Hosoi was severely beaten. Hosoi's injuries required a stay in the hospital for broken bones in his face, including a 15 cm crack in his lower jaw. During his hospital stay, I was told that his wife and I were the only two people who knew which hospital he was in.
System B in action, eh? As Machiavelli remarked:
"It must be remembered that there is nothing more difficult to plan, more doubtful of success, nor more dangerous to manage than a new system. For the initiator has the enmity of all who would profit by the preservation of the old institution and merely lukewarm defenders in those who gain by the new ones. "
Especially, a post-modern Prince might add, when the construction industry is involved.
Or Jamie Dimon's private police force.
Nevertheless, the Eishin Higashino campus was built. Here is the entrance street (#2.1) from the Small Gate (#2.2) to the Main Gate (#2.4):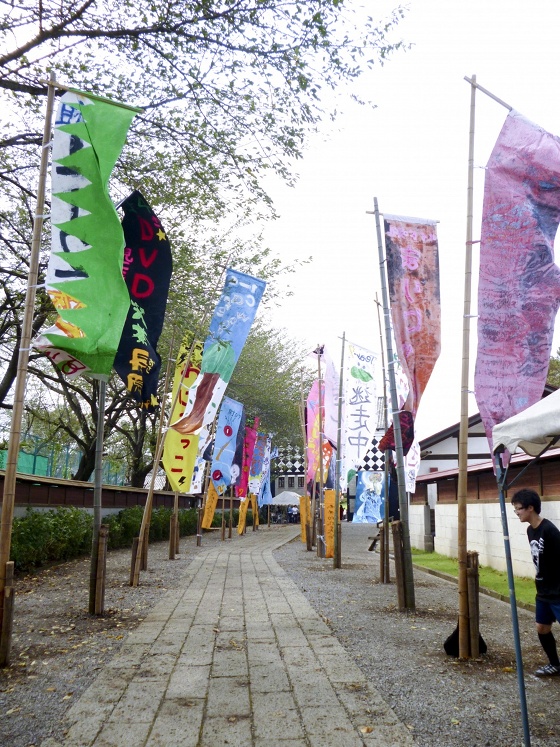 * * *
NOTE Alexander consistently refers to the project as "Eishin" ("Eishin Gakuen"; "Eishin Campus"). The Google prefers "Eishin Higashino," which I finally discovered through Pinterest, of all places.
UPDATE One might wonder if Gene Sharp's 198 Methods of Non-Violent Protest and Persuasion could serve as a pattern language. Certainly they look a lot like patterns, and they are numbered… I'm guessing not, because Alexander's patterns seem fractal (scale-free) and in some ways carry the rules by which they are to be assembled into a larger whole within themselves. Alexander's patterns seem relational in a way that Sharp's patterns are not. Then again, that could be a failure of perception on my part, or a success on my part but a creative failure on the part of practitioners, as if one had a gate without a street, for example. Hard to know, absent bold, persistent experimentation.