As much as people who were watching the shutdown of the foreclosure reviews expected the payouts to be grotesquely low, seeing the actual numbers is….revolting.
As readers may recall, borrowers who were foreclosed on or had foreclosure actions underway were given the opportunity to have foreclosures completed or underway in 2009 and 2010 reviewed by "independent" consultants. 510,000 borrowers submitted letters. But the process was shut down, with hardly any reviews completed and the ones that were done highly suspect, given that multiple whistleblowers (and not just ours!) reported the banks and reviewers were colluding to suppress any finding of harm. This is part of the OCC's payout matrix (click to enlarge); you can see it in full here.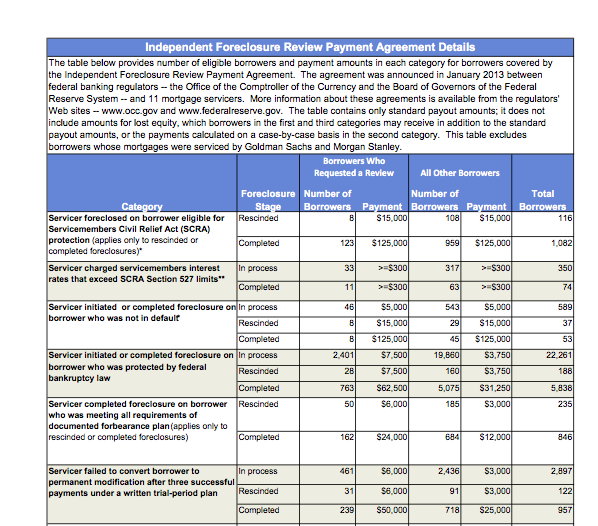 The numbers here beggar belief. They are seriously trying to claim only 8 people who submitted letters were foreclosed on who had made all their payments on time? I'm going to check with my Tampa Bay whistleblowers on this one, and I am highly confident that my seven sources (out of 900 temps employed at that site) saw more examples than that. An even more obvious howler is claiming that only 239 people weren't converted to permanent mods after completing three payments under a trial mod. The temps reported that borrowers were kept languishing seven, ten, even as long as 18 months in a trial mod while the bank kept receiving but pretending it hadn't gotten their required documentation (the temps also reported seeing images of the documents that had been faxed in yet were claimed to have gone missing).
Even though, as Shahien Nasiripour points out, the aggregate numbers 'fess up to large levels of mistakes, they've all been conveniently shifted to the less consequential categories. For instance, you'll see in the columns that show letters sent to the IFR, the absurd claim that only 8 people were foreclosed upon while 46 had foreclosures "in process". Ahem. This appears to reflect the fantasy that banks would catch their erroneous foreclosures or would halt the process if the borrowers provided proof of payment. But as anyone who has been on this beat knows, getting servicers to rectify errors is pretty much impossible, particularly once a foreclosure is underway. So the numbers have clearly been doctored to reflect bank PR. Remember the lengths the "independent" consultants went to to deny that anything bad happened. One of our Tampa Bay witnesses recounted how Promontory argued that a borrower had not been harmed when his payment checks were sent back by the servicer: "the bank was sending back payments because the borrower was not making any." Huh?
As reader MBS Guy said via e-mail:
What is the point of sending $300 to 2.4 million people? Under what scenario does that accomplish anything?
The banks spent over $10,000 a loan in the IFR so that they could send the borrowers $300?
The servicers don't even get a release from liability in exchange for the payments.
About the only thing that seems to have been accomplished is that the IFR was stopped before higher borrower losses could be uncovered.

Even by the sorry standards of the earlier Treasury Dept shams, this is particularly lame.
The Wall Street Journal also focuses on the modest payouts:
The vast majority of borrowers being compensated for mortgage-related abuses will get $1,000 or less apiece, a sobering coda to a protracted attempt to help those who may have been placed into foreclosure as a result of banks' mistakes…

Those affected by foreclosure mistakes questioned the fairness of the payouts. Eric Krasner, 52 years old, of Duluth, Ga., filed for bankruptcy before losing his Frederick, Md. house to foreclosure in 2010, a mistake that should mean a payment of $62,500 according to the regulators' compensation schedule. Mr. Krasner, who had a mortgage of $365,000, filed for bankruptcy after a gift shop he owned sunk under the weight of the recession and wound up losing his home.

If the "bulk of people get $500 or $800 after losing their houses, is that making good on things?" he said.
Well it did accomplish at least one thing. It greatly enriched the consultants, particularly Promontory. Various sources have estimated that Promontory pulled in $1 billion in gross fees. For a services firm, that's a monster payday. And the firm's leadership wasn't doing too badly before the foreclosure reviews. As the New York Times reports:
But Promontory and other consultants are now facing scrutiny in Congress, amid growing unease over their influence and their close ties to federal authorities. The Senate Banking Committee is set to hold a hearing on Thursday to examine whether regulators inappropriately "outsource" oversight to consultants like Promontory, which are paid billions of dollars by the banks….

Banks are also privately raising concerns about Promontory and its steep fees, which can total as much as $1,500 an hour, according to people with knowledge of the matter. Bank executives, who were not authorized to speak publicly, said they sometimes hired Promontory to appease regulators, who think highly of the firm's expertise.
If banks, who are used to paying big ticket M&A fees and not-shy-about-charging consultants like McKinsey are choking on Promontory's fees, you know something doesn't smell right. They don't think they are getting the value, yet Promontory's dominant position leaves them feeling they have no choice.
The article focuses on the role of the founder and CEO of the firm, former Comptroller of the Currency, Gene Ludwig:
Mr. Ludwig has occasionally invited Fed governors and other top officials to parties at this 13,000-square-foot Washington home, an $11.5 million estate replete with a tennis court and a modern art collection. Mr. Ludwig, a former executive at Bankers Trust, is also a regular at the Four Seasons restaurant in New York, where he is known by name and salad order.

Promontory said that Mr. Ludwig entertains regulators on occasion but that "there is no discussion of current matters."

According to people with knowledge of the matter, Mr. Ludwig regularly travels by private jet and earns more than $30 million annually, making him better paid than top executives at many big banks. He has shared some of his fortune with a range of philanthropic causes, including the National Academy Foundation, Yale Law School and community groups like the Neighborhood Assistance Corporation of America.

Through Promontory and other companies, Mr. Ludwig has a vast reach, overseeing a private equity firm that invested in struggling banks during the financial crisis and another business that helps banks bundle mortgages and other consumer loans. He also started the Promontory Interfinancial Network, an independent firm that splits up companies' large bank deposits into multiple $250,000 chunks so that the F.D.I.C. will insure the cash. The business processes more than $1 billion a week in customer funds, according to court filings.
I strongly suggest you call or e-mail Sherrod Brown and other members of his subcommittee to express outrage and suggest questions. His hearings are scheduled for Thursday. Please also campaign for hearings in the House. Maxine Waters, who is the ranking member of the House Financial Services Committee, has asked for them, and public pressure would overcome Republican inertia. The most important targets are Jeb Hensarling, Scott Garrett (Capital Markets/GSEs Subcommittee Chair) and Randy Neugebauer (Housing Subcommittee Chair).
Here are some suggestions for questions. Pick some of your favorites (feel free to improve on them) and insist they be addressed:
Wells Fargo admitted in bankruptcy court in Louisiana that its systematically overcharges borrowers in bankruptcy, and decided to pay punitive damages rather than fix its accounting. That contradicts your finding that "few borrowers were being found to be harmed." How do you square those two statements and how will you restore public trust?
From Abigail Field:
Is it harm if a foreclosure has been reduced to judgment, but the bank doesn't take title, so the homeowner (who thinks they lost the home) is still on the hook for property tax and is pursued by the municipality for the taxes? Was that harm part of the IFR? Why not?

Reports and myriad judicial opinions have documented deeply reckless record keeping:

–houses have been foreclosed when they were purchased with cash;
–payments by homeowners were systematically misapplied;
–insurance was force-placed when adequate insurance existed;
–borrower-submitted documentation was constantly lost by the bank;
–borrowers were routinely misinformed about the status of modification and foreclosure proceedings

Against such a backdrop of documented recklessness, do you believe it plausible that very few borrowers were harmed by the way banks conducted foreclosures?
From Matt Weidner:
Fannie Mae/Freddie Mac have been performing formal, systematic audits of the foreclosure law firms they hired to prosecute their foreclosure cases for years. Was any thought given to examining their audit process or results to determine what problems and issues they found? .

In high foreclosure states like Florida and California, I would imagine the judges that hear thousands of foreclosure cases see systemic problems….was any thought given to contacting judges who hear foreclosure cases to determine what problems and issues they found?

Was there any effort to reach out to lawyers that are defending consumers to find out what issues they assert plagued the process?

The entire process was so front loaded with accountants and process firms, but the errors and problems were legal in nature, involving understanding and interpretation of laws, why was there not more emphasis placed on having lawyers providing legal opinions and analysis?
From Michael Olenick, to the OCC:
You knew there were process problems ever since the OCC shut down reviewer Allonhill a year ago, after undisclosed conflicts came to light, correct?

You knew there were staffing issues because the Allonhill conflict was in easy to find public records the OCC ignored, correct?

Didn't the Allonhill debacle prove the OCC staff wasn't up to the task of hiring these firms many months ago?

After assuming your new role, why didn't you audit both the hiring process and price charts immediately?

Since the OCC missed flagrant conflicts, and approved unconscionable price charts, isn't it true they might also be misled on consumer harm?
Please add more in comments.