California Attorney General Kamala Harris is on a roll. There's been a fair bit of media coverage about abusive debt collection practices, particularly in credit cards, but at least until Harris filed a suit on Thursday against bank miscreant JP Morgan (hat tip Deontos), surprisingly little action.
Because the amounts are usually much smaller than in mortgages, banks have incentives to play fast and loose if they think they can wring some extra blood out of the turnip of an overextended consumer. But the result often goes well beyond just improperly submitting information to the court. JP Morgan and other banks have been accused of trying to collect on debt where they have the amounts wrong, where the debt was discharged in bankruptcy, or where the consumer was never notified an action was underway. And when the debt is sold to debt collectors, the same problems with inaccuracy of information, invalidity of the debt, and abuse of the legal system multiply.
Chase had its dirty laundry aired in public by whistleblower Linda Almonte, who filed an SEC suit in 2010, settled, and then decided to break her confidentiality agreement in 2012. She was an important contributor to an American Banker story that also revealed that the OCC had been investigating. As we wrote:
The American Banker story discusses the operations of a unit that handled delinquent credit card borrowers. Handling these accounts involved using three different computer systems that communicated reasonably well on current borrowers but not with delinquent or defaulted ones. As a result, the operation had involved a high level of manual checks to make sure the amounts borrowers owed were accurate before they were sent off to collection (which in high population states, was an in-house operation, but for most, involved the use of outside law firms….

Linda Almonte, who was a process specialist who had worked at WaMu, joined in 2009 and was fired, as she charged in a wrongful termination lawsuit, for refusing to send files to collection that has obvious problems in them. Almonte filed a whistleblower complaint with the SEC in 2010 (see an Abigail Field story for more detail). Her charges:

1. Chase Bank sold to third party debt buyers hundreds of millions of dollars worth of credit card accounts. . .when in fact Chase Bank executives knew that many of those accounts had incorrect and overstated balances.

3. Chase Bank executives routinely destroyed information and communications from consumers rather than incorporate that information into the consumer's credit card file, including bankruptcy notices, powers of attorney, notice of cancellation of auto-pay, proof of payments and letters from debt settlement companies.

4. Chase Bank executives mass-executed thousands of affidavits in support of Chase Banks collection efforts and those Chase Bank executives did not have personal knowledge of the facts set forth in the affidavits.

…the American Banker story quotes current and recent employees who confirm that he bad practices that Almonte called out are still very much alive. Specifically:

"We did not verify a single one" of the affidavits attesting to the amounts Chase was seeking to collect, says Howard Hardin, who oversaw a team handling tens of thousands of Chase debt files in San Antonio. "We were told [by superiors] 'We're in a hurry. Go ahead and sign them.'"…

The records the law firms used to sue people sometimes differed from Chase's own files at an alarming rate, according to a routine Chase presentation prepared by Almonte and later submitted to the Securities and Exchange Commission. Some law firms' records disagreed with Chase's in almost 20% of cases sampled, a rate far above what is regarded as an acceptable level of errors.

"That's horrendous," says a former Chase attorney who was informed of the numbers by American Banker…

Borrower correspondence sent to the San Antonio facility, such as bankruptcy notifications, address changes, and hardship requests were being dropped on an unmanned desk, according to a 2009 printout from Chase's troubleshooting log….

"I understand there were documents trashed, yes," she says. [Carol] McGinn retired from the San Antonio facility in June of 2010 after she says she became uneasy with how it was being managed.
Back to the current post. In the interest of brevity, we skipped over the discussion of pervasive robosigning.
Now what happened out of all this exposure of bad conduct? Apparently squat until Harris rolled up her sleeves and dropped her claim on JP Morgan (and before you think this is a bit long in coming, it generally takes 2+ years to develop a Federal suit, so she's not been dilatory).
The suit is short and pointed. Here is the guts of it (click to enlarge):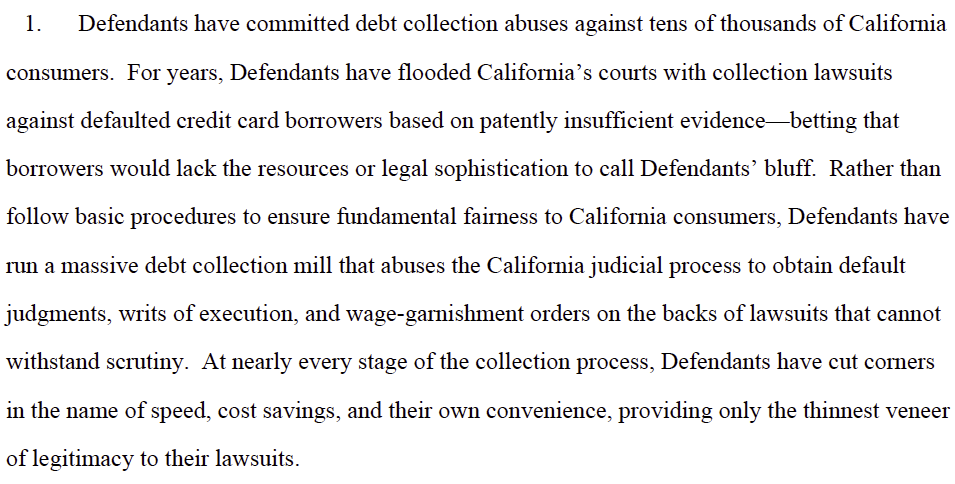 Harris mentions over 100,000 dubious lawsuits filed between January 2008 and April 2011 and contends that the illegal conduct extends from "pre-lawsuit correspondence" to the validation and papering up of debt sold to third parties.
The interesting bit is how the suit is framed. The defendants are the JP Morgan holding company plus two business units, as well as an unnamed "DOES 1 through 100, inclusive" where the AG intends to obtain their names and capacities. This raises the specter that she intends not only to sue other firms (such as the law firms that were Chase's arms and legs) but individuals at Chase and its agents. And this is where it gets fun (click to enlarge):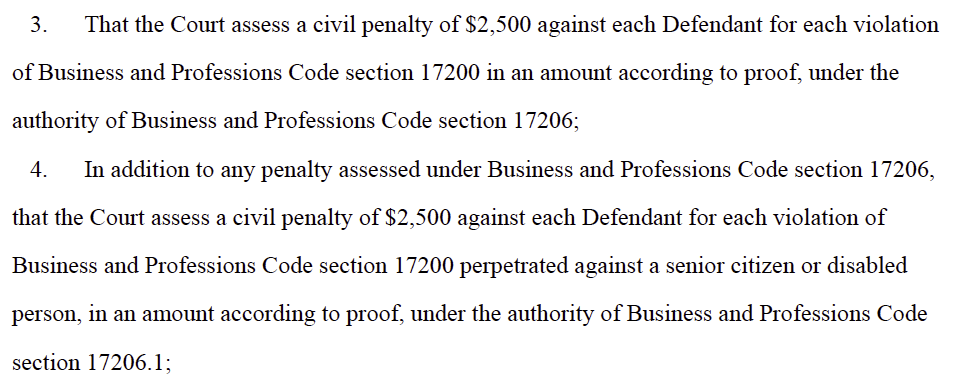 Each defendant for each violation. We have 100,000+ violations at Chase, with at least three entities involved, each a separate defendant. And if she can get the individuals who were supervising the robosigning operations (better yet, the C level execs ultimately responsible) and the complicit law firms, she might bankrupt some well placed people. This could be extremely entertaining.
Now Harris has been widely depicted as an opportunist. But she's kicking up more dirt on the banking front right now than any other official. And her action has enough teeth that the OCC has roused itself and is now supposedly about to launch an enforcement action (this is normal behavior when a Federal regulator is outflanked by a state AG or securities regulator. I sincerely doubt anything would have happened in the absence of the California lawsuit). So let's see how she runs.
This case has enough headline value that Harris might go a few rounds before settling. JP Morgan is known for throwing vast amounts of lawyers at opponents to bury them in legal costs and busywork, so this case, sadly, is unlikely to go to trial. But if she can get the goods on the right sort of DOES, she might make some individuals pay in a serious way, which would have far more deterrent effect. If nothing else, we should applaud what she's so far and press her to keep going.
I encourage you to read the suit in full.
California v. JP Morgan Chase May 9, 2013