Yves here. Take note in particular the discussion of the state of play in Italy. Even though other countries under the German yoke are complaining, Italy is the one that can credibly defy Germany, and the Germans know it.
I welcome comments from people who are following European media. I'm not sure that Latta's failure to round up supporters matters much. I'd imagine he wants to position himself as Berlusconi's messenger rather than a staunch ally.
By Delusional Economics, who is determined to cleanse the daily flow of vested interests propaganda to produce a balanced counterpoint. Cross posted from MacroBusiness.
As I mentioned earlier in the week Italy may have a new parliament but there is very familiar person who appears to be pulling the strings, and how long such an arrangement can last is questionable. Over the last couple of days Silvio Berlusconi has placed several demands on the new PM including a re-negotiation of Italy's deficit commitments and abolition of some taxes. So far the taxes have stayed, but Berlusconi has already made rumblings about withdrawing support while the new PM heads to Berlin attempting to run with Berlusconi's anti-austerity agenda:
Italy's prime minister has urged the European Union to drop its insistence on austerity policies and promote initiatives fostering growth instead.

Prime Minister Enrico Letta said on Tuesday in Germany that "it is absolutely necessary" to foster growth and job creation to help the 27-nation bloc's stalling economies "so that our citizens see Europe not as something negative but as something positive".

Letta's visit to Berlin for talks with Chancellor Angela Merkel marked his first official trip abroad and came only hours after his winning approval by the Senate in Rome.

Merkel said she saw no contradiction between budgetary discipline and the goal of economic growth.

"For us in Germany, budgetary consolidation and growth are not at cross-purposes but have to go hand in hand to lead to greater competitiveness and therefore more jobs," conservative Merkel told a joint news conference ahead of private talks with centre-left Letta.
As I've spoken about previously, this is going to go nowhere in a German election year. We may see some concessions in Q4 but until then Mr Letta isn't likely to see much in the way of help. In my opinion he would have been far better of taking a trip to Paris and/or Amsterdam to muster some support before heading directly for Merkel's door.
In the meantime, while the Italians attempt to re-negoitate their contract with the EU, the bad news just keeps coming out from the rest of the periphery:
Spain is heading for another year of recession after figures showed GDP contracted in the first three months of 2013 amid a widespread slowdown in consumer spending, rising unemployment and predictions of further declines in house prices.

The economy shrank by 0.5% in the first quarter, according to Spain's national statistics office, in line with government predictions that a recovery will be delayed until the end of the year.

One analyst said the economy, which started to decline in the summer of 2011, was on course to repeat last year's 1.9% contraction before stabilising in 2014.

The gloomy outlook followed a raft of weak figures showing that Spain remains in the grip of a deep recession. A report by the credit ratings agency Standard & Poor's showed that the housing market continued to be a drag on growth. House prices have already fallen by more than 40% in some areas, sparking a wave of repossessions. Tens of thousands of families are unable to sell their homes while they remain in negative equity.
You can head over to Tinsa to check out the house price movements. The Mediterranean coast has seen falls of over 40% from peak while the average of the other areas is close to 30%. Either way these are punishing numbers and the loss of private sector wealth attributed to them is a massive drain on the national economy. The troubling thing is that house prices aren't just still falling, but appear to be accelerating downwards in the latest figures. I've discussed previously what I see as balance-sheet recession dynamics in Spain and it is little wonder that the Spanish government continues to revise down revenues and economic estimates. Not so long ago Q3 2013 was the period where everything would bottom and begin to get better in the EuroZone, but it appears that we've finally seen the end to that delusion with the Spanish government now predicting this years deficit to be 6.3% of GDP and nothing that comes close to meeting the existing treaties until at least 2016.
Of course you only have to look at the latest employment figures from EuroStat to understand that nothing is getting any better for the south Europeans:
The euro area1 (EA17) seasonally-adjusted unemployment rate3 was 12.1% in March 2013, up from 12.0% in February4. The EU271 unemployment rate was 10.9%, stable compared with February. In both zones, rates have risen markedly compared with March 2012, when they were 11.0% and 10.3% respectively. These figures are published by Eurostat, the statistical office of the European Union.

Eurostat estimates that 26.521 million men and women in the EU27, of whom 19.211 million were in the euro area, were unemployed in March 2013. Compared with February 2013, the number of persons unemployed increased by 69 000 in the EU27 and by 62 000 in the euro area. Compared with March 2012, unemployment rose by 1.814 million in the EU27 and by 1.723 million in the euro area.

Among the Member States, the lowest unemployment rates were recorded in Austria (4.7%), Germany (5.4%) and Luxembourg (5.7%), and the highest in Greece (27.2% in January), Spain (26.7%) and Portugal (17.5%).
Compared with a year ago, the unemployment rate increased in nineteen Member States and fell in eight. The highest increases were registered in Greece (21.5% to 27.2% between January 2012 and January 2013), Cyprus (10.7% to 14.2%), Spain (24.1% to 26.7%) and Portugal (15.1% to 17.5%). The largest decreases were observed in Latvia (15.6% to 14.3% between the fourth quarters of 2011 and 2012), Estonia (10.6% to 9.4% between February 2012 and February 2013) and Ireland (15.0% to 14.1%).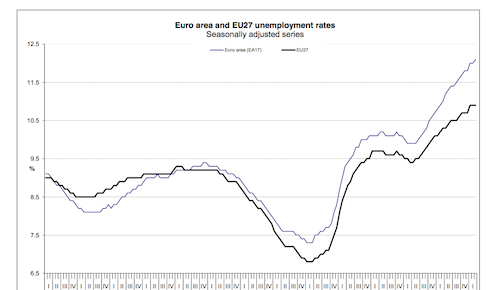 That blue line just keeps heading for the moon.